How much you can boost your ranking is influenced by various factors evaluated by the algorithm of the respective app store.
One key factor is the number of installs – the more people have installed the app the better the algorithm will rank your app.
In this article we present different app promotion strategies and how you can combine different types of installs in such strategies to make your app rank as good as possible.

Installation Types: Incentivized vs. Non-Incentivized
If you want use an app promotion strategy to push the quantity of installs for an app, there are different ways to increase it. You can buy installs and choose between incentivized and non-incentivized ones, meaning:
Users will either receive a reward for installing your application (incentivized) or
they will download your app out of true interest and won't get rewarded (non-incentivized).
Both types have different advantages and disadvantages.
Incentivized Installs: Exchanging Installs for Rewards
In general, you can choose between two app promotion strategies when driving incentivized installs for your app. One of them is based on the amount of installs generated in a certain time whereas the other one considers loyalty of your users.
Burst Campaign
With this app promotion strategy you can give your application a real push to increase its ranking in a minimum of time.
This will lead to  a higher ranking which means more visibility in the charts. If users search for certain apps the chance that yours will be displayed among the search results will be higher.
As consequence, you will receive organic installs as well which is an important factor for your app.
Loyal User Acquisition
This type of app promotion strategy stays in competition to campaigns based on non-incent installs and consequential costs per loyal user. One main factor influencing this concept is the so-called retention rate. In the chart below you can see some numbers regarding retention rates of users so you will better understand this term.
| Days | Users keeping the app | Retention rate |
| --- | --- | --- |
| 1 | 100 | Day1-retention: 10% |
| 3 | 50 | Day3-retention: 5% |
| 7 | 10 | Day7-retention: 1% |
Example for retention rates (Day 0 = 1000 downloads) © ayeT-Studios

Advantages and Disadvantages
As mentioned before, one advantage is the mass of installs you can receive very fast and the resulting boost of ranking. Another important factor you should keep in mind are the costs you need to spend for each kind of install:
The CPI (= Cost per install) for incentivized installs is way cheaper than an app promotion strategy only based on non-incentivized ones. The downside of incentivized installs is that users might download and install your app only for the reward, resulting in less user engagement, lower lifetime value and smaller retention rates.
According to mobyaffiliates, who refer to a study by Fiksu, 57% of users from non-incent installs converted to "loyal users" in contrast to 24% from incent installs. (It is not stated clearly what a 'loyal user' actually is – probably these data define users with a Day3-retention.)
How AyeT-Studios Improves User Retention
To counteract these facts, one app promotion strategy at ayeT-Studios are the so-called high-retention installs. With this special high-retention service users have to to keep an app for at least 3 days before getting rewarded, which leads to much better results for customers and their app promotion strategy.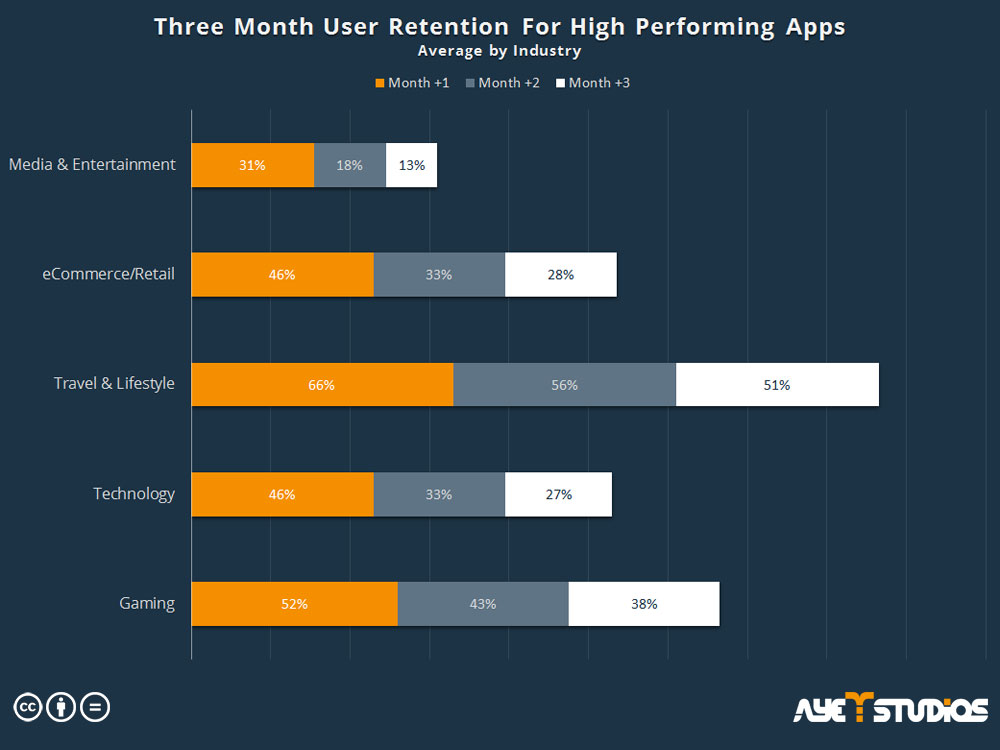 Retention Rates for high performing apps by app category © ayeT-Studios
Non-Incentivized Installs: When You don't Reward Users
Advantage on one side is the disadvantage on the other: Since users won't receive a reward for installing your app, you have more costs in order to receive the same amount of installs compared to a incentivized campaign. If you just started your app business this could take a big chunk of your marketing budget if you mainly base your app promotion strategy on this element.
Additionally, you won't be able to get huge amounts of installs in short time.
But it's worth it. Users will interact and use your app because of their true interest, which is a good basis for a loyal user base and a huge advantage for this type of app promotion strategy.

Either… Or?
Now the most important question needs to be asked: Which type of install will be more suitable for your app promotion strategy?
Can you choose a method where you will only deal with the benefits and leave the drawbacks behind? The answer is:
Take advantage of both of them. This mixture of rewarded and non-incent installs can let your app promotion strategy shoot up and your app will climb up the charts.
2 Steps to Success
It seems to be common practice that app promotion strategies start with incentivized installs which won't take long to deliver results and lead to a higher top chart position of the app.
Next measure will be to receive non-incentivized traffic to increase user engagement and enlarge user retention. In this part of your app promotion strategy you don't need masses of installs as you probably did before.
Dividing your promotion strategy into these 2 parts will make your app rank higher in the charts regarding various key factors.
Why You Need an App Promotion Strategy
It might not seem obvious for some app developers or marketers why they actually should go for a certain concept. There are many advantages when running such promotions.
For example, you can get a vital amount of downloads in a short time frame where most of these installs arise out of other sources:
1) Organic installs due to the ranking in the Play Store
2) Recommendations of users (mostly via a referral system integrated within the app)
3) Media-driven attention, leading to users searching for the brand directly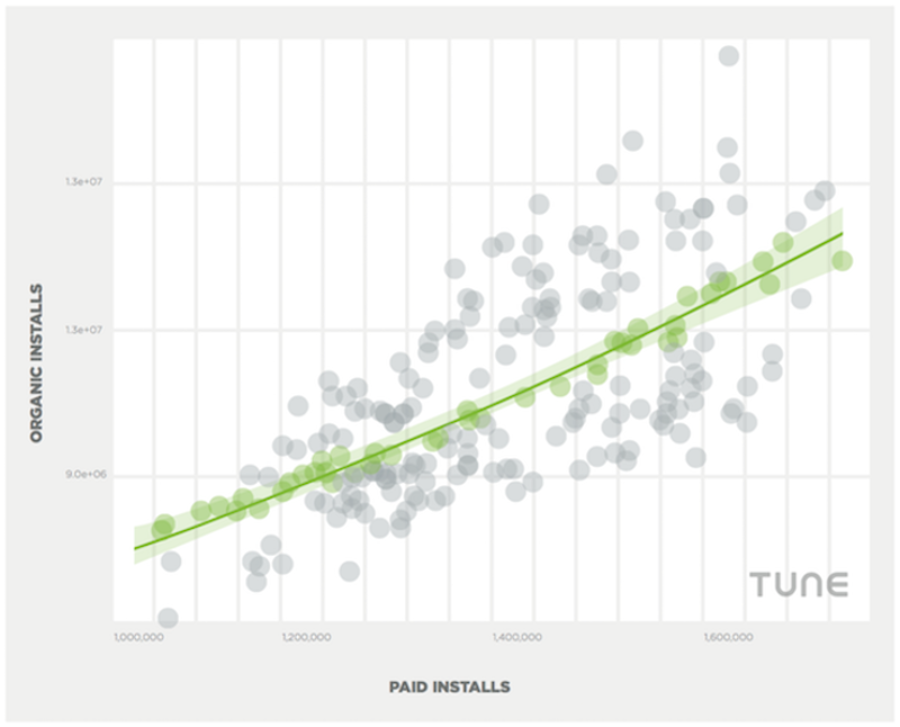 Organic iOS app installs resulting from paid app installs © TUNE

Is There a Plan C?
Is this the only choice app developers and marketers have when planning an app promotion strategy? Or is there an option available which can even bypass disadvantages and give a mixture of the advantages in one bundle?
In fact, there is the option of incentivized installs based on Cost Per Action (CPA). By this, you can persuade many users to not only install your app but also engage with it at the same time.
It's killing two birds with one stone in such an app promotion strategy – for little cost. The type of action can be anything realistic that won't take too much time, otherwise users are not interested in achieving the respective goal:
Registration
Reaching a certain level
Completing a tutorial
and many more
These are actions users can and will accomplish in order to earn a reward.
Conclusion
No sure formula exists for the perfect app promotion strategy if you buy app installs. Results are still dependent on your app as well as users who are getting in touch with it.
According to the category your app belongs to, your game plan can change in comparison to other apps.
But if yours is developed properly, appeals your major user base, and fulfils all conditions and functions it offers – then buying installs for your app promotion strategy will create a proper user base and lead to future organic traffic.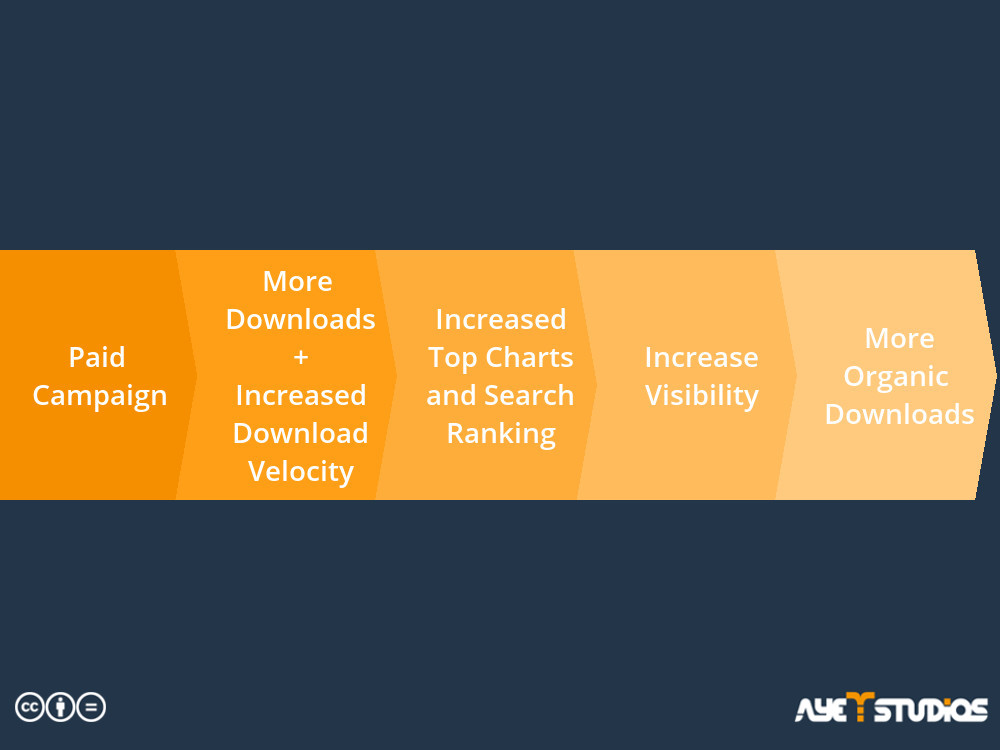 How paid campaigns for app promotion lead to more organic downloads © ayeT-Studios
If you are not sure how your app promotion strategy should look like: Don't worry. There are many mobile marketing companies available that will give advice about possible solutions.
ayeT-Studios is an experienced company in this business and offers a personal customized app promotion strategy to give you the best results, no matter if you have an Android or iOS application.

https://www.ayetstudios.com/wp-content/uploads/2016/10/Fotolia_123955528_S.jpg
566
849
Yvonne Peter
https://www.ayetstudios.com/wp-content/uploads/2017/05/ayetstudios_logo_03-200x49-1.png
Yvonne Peter
2016-11-17 08:52:05
2017-08-30 11:10:43
The Best App Promotion Strategy for Your Business