Free Tracking SDK for Android CPI and CPA Now Available
Many customers have been asking us lately if it is possible to drive high volume campaigns for Android without a third party tracking provider like AppsFlyer, Adjust or TUNE.
So far we sadly had to answer with "No, we can't".
However, we are aware that as a small publisher paying for tracking on top of every install can be hard on your budget. Therefore, we are happy to announce that things have changed:
We now provide Free Tracking for Android CPI and CPA Campaigns

Using a tracking SDK can help you in many ways:
It will enable us to guarantee that every user opens the app at least once after the download.
It helps us to prevent fraud on a higher level than ever before.
You can create CPA campaigns using our tracking solution not only to track all installs but also to start engaging the users on a whole new level.
The campaigns will be able to be scaled to provide you really large numbers of of installs
So, before you decide to save money on a third party tracking provider please recapture the big PROs for using them.
The legitimacy of third party tracking basically stems from two things:
They provide great infrastructure with very little downtime and sophisticated analytics.
They are a neutral third party, setting a common ground for metrics that advertisers and publishers can agree upon – especially when disagreeing on campaign outcomes.
Therefore, we highly recommend using a tracking SDK. If you want to cut the costs for third party tracking, we are more than happy to offer you our new, totally free tracking solution.
Integration is very easy and should not take more than 5 minutes, with just an 11kb library and 2 lines added to your project.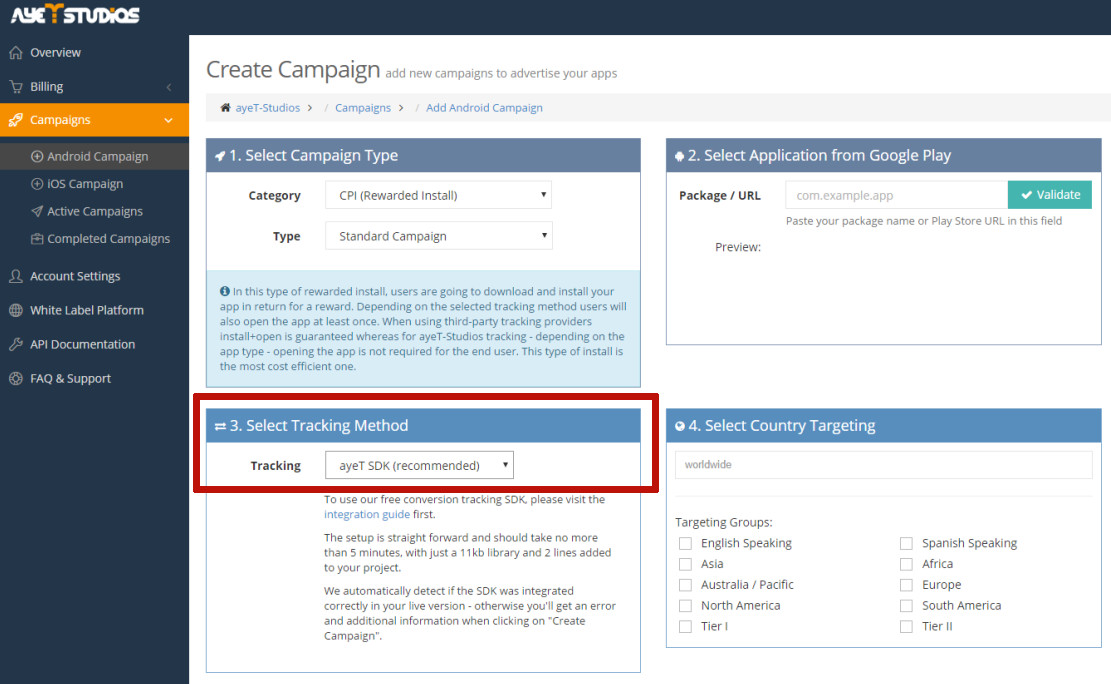 How to select the Free Tracking SDK in the ayeT-Studios dashboard © ayeT-Studios
You will find a complete integration guide when setting up a campaign in our dashboard and when choosing "ayeT SDK" as your preferred tracking.
Start Your Android Campaign with Our Tracking SDK Now!
If you have any questions or comments regarding our service, please reach out to one of our Account Managers or email support@ayetstudios.com.
Stay tuned for further improvements at ayeT-Studios!

https://www.ayetstudios.com/wp-content/uploads/2017/05/ayet-studios-free-sdk-android.jpg
941
1368
Pascal Ludynia
https://www.ayetstudios.com/wp-content/uploads/2017/05/ayetstudios_logo_03-200x49-1.png
Pascal Ludynia
2017-05-04 11:18:40
2019-11-14 08:49:45
Free Tracking SDK for Android CPI and CPA Now Available