Every company, which uses a brand marketing strategy, wants its product to be famous and well known. Statista predicts that more than 2,3 billion smartphone users will be on this planet in the year 2017. This fact makes the mobile sector an essential keystone of the most brand marketing campaigns. In this article, we want to give you a general overview of the assets and possibilities you have to leverage your brand recognition.

Display Advertising
The most common way to use mobile marketing as a tool to increase brand awareness is the so called non-incent advertisement. These types of ads have a long history and their roots reach back to classical non-digital marketing. We will now give you information about the most common non-incent advertising assets.
Banner
A banner ad is a rectangular graphic ad, either text or image based. It is placed on the side edges of a mobile interface and stays on screen while the user interacts with the app.
Ad servers deliver those banner ads to a certain application or website. If a banner ad is displayed, the user can click on it and is then taken to the App Store or a corresponding landing page.
Interstitial Ads
According to the IAB (Interactive Advertising Bureau), advertisers can place interstitial ads before, in between or after the primary content experience. In any case, there should be a natural break, for example when the user is navigating between content. On the contrary, ads that overlay or cover the content a user is looking at interrupt the user experience and aren't considered interstitial but pop-up ads.
Video Ads
Since all forms of moving images or active content are really popular these days, video ads are a great format choice for mobile ads. They embody an opportunity to effectively reach a high percentage of mobile users.
The IAB generally distinguishes between three different forms of video advertisements:
In-Stream: The video ad appears pre-, mid- or post-roll within the environment of a video content the user chose to watch, e.g. a video on YouTube.

Out-Stream: The video ad appears within other content that either includes text or images.

Other Non-Video Environment: The video ad appears in other content environments like in-feed or between content lists. Additionally, the advertiser can place his/her video ad within another display advertisement.

Native Ads
A native advertisement matches its environment in an application or on a website visually and behaves consistently with the native user experience. Like this, the advertisement should feel just like natural content to the user and it should avoid distracting the content experience.
Well-known examples for platforms, which use this type of advertising are social networks like Facebook, Twitter, Instagram and Tumblr.
Furthermore, they can appear in many different ways:
Content Recommendation

Search Ads

In-Feed Ads

Promoted Listings

In-Ad With Native Elements

Custom Ads
The main goal of native ads is to address the target audience to an enjoyable extent without being obtrusive.
Rich Media Ads
The idea of rich media ads is to encourage users to interact and engage more with the ad by combining different features like video and audio. Additionally, users can activate certain effects where an ad expands, floats etc.
Social Media
Social Media is very suitable to increase the popularity and the awareness of a brand. A good brand promotion strategy is a good start – but another part of the effort can be shouldered by influencers and marketers who make sure the audience gets to know your brand.
Social media brand promotion combines the basics of marketing with the far reaching access offered by social media.
Advertisers have to decide which platform would reach out to their target audience in the most effective way.
With Linkedin and Tumblr as exceptions, most other social media platforms are used with smartphones and tablets.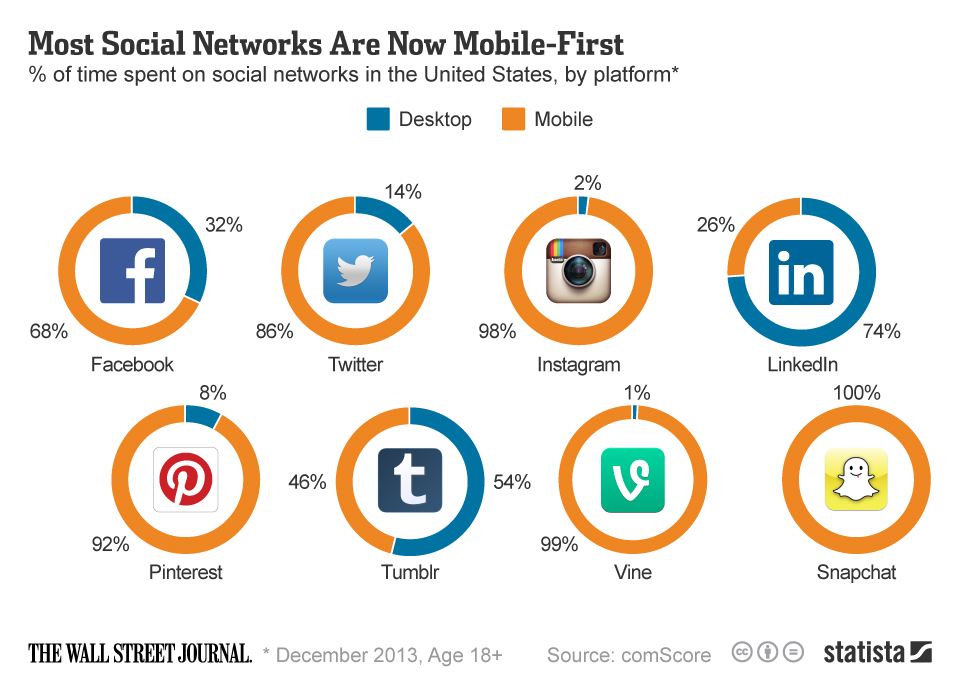 How do people use social media platforms © Statista
 We will now give a comprehensive overview of the biggest platforms and how to increase your brand's awareness.
Facebook
Facebook is by far the largest and farthest-reaching social media platform.
There are 2 main promotion strategies:
Advertisers can choose to use a Facebook feature to their advantage by creating a page. However, this may pose the risk of not having the reach nor the impact a client wants for their product.

Sponsored or paid advertisements on Facebook allow the site to advertise to users directly: This strategy provides a more forward and personal approach, as most marketing efforts are tailored to a user by assessing his/her interests.

Twitter
Twitter has a penchant for allowing products and content to go viral almost overnight.
For promoters this platform opens a large range of possibilities. Twitter not only offers a wider audience which is simpler to access, but also offers the added benefit of interpersonal communication with the consumers.
Many consumers use Twitter to directly address large franchises and companies with their queries and complaints, and often get quick, individual replies. This makes the Twitter audience one that could allow most efficacy when running social media brand promotion.
Instagram
Instagram is the largest visually-oriented social media network. Of the 500 million monthly active users, many have made successful careers out of posting pictures and featuring products as a form of paid promotion.
For the promotion of a brand on Instagram, some advertisers may hire users with significant followers and reach, and have them get the message across. Instagram has proven to be remarkably effective and popular for social media brand promotion.
Own App
Another step is creating your own app for mobile devices to advertise your brand. This is most suitable for brands and companies, which are also working the field of ecommerce. In the last years, the revenue from mobile sales has risen by over 600%.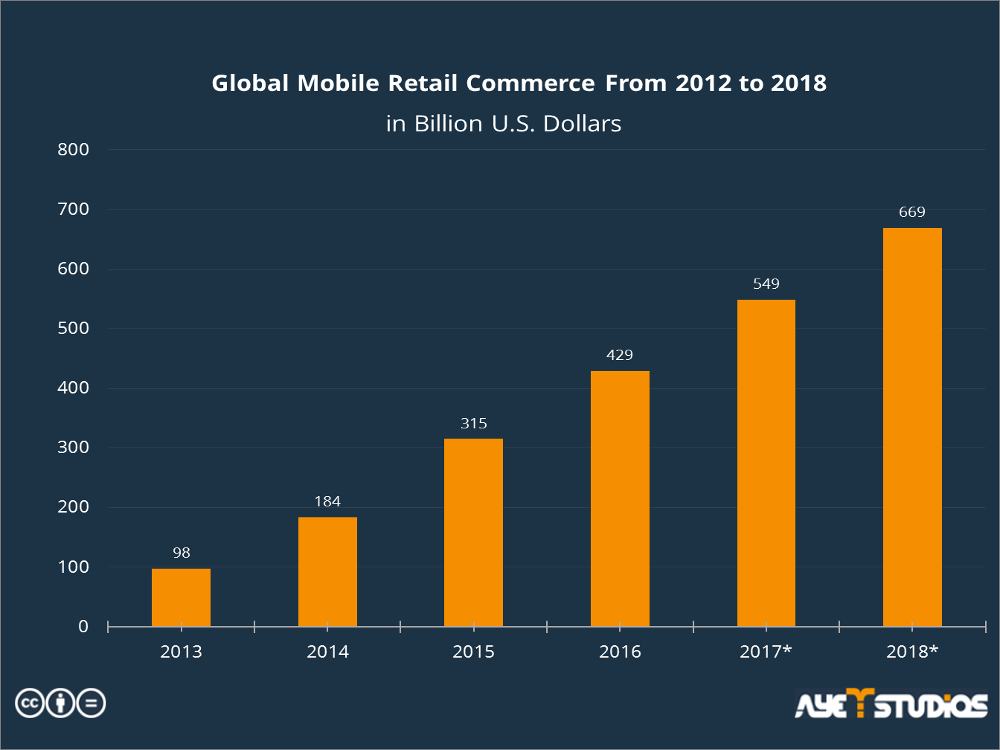 The Growth of Mobile Commerce © ayeT-Studios
With existing ecommerce companies (i.e. Amazon or eBay), the chance a user will look for another shop to make a purchase is much smaller. Also, the owner of the app can use push notifications to inform his/her users about new products, sales or other special events.
ayeT-Studios offers an all-in-one service for brands. We use the most advanced techniques and present advertisers a very efficient self-service platform, which can leverage their brand's awareness.

https://www.ayetstudios.com/wp-content/uploads/2017/10/mark-516277_1280.jpg
903
1280
Pascal Ludynia
https://www.ayetstudios.com/wp-content/uploads/2017/05/ayetstudios_logo_03-200x49-1.png
Pascal Ludynia
2017-10-18 16:22:48
2019-11-14 08:40:25
Mobile Brand Marketing