How to Buy Mobile Traffic – An Important Factor for Your Success
Today, approximately 2.32 billion people own a smartphone. Reaching these users is crucial when aiming to be a successful entrepreneur. You have to invest all your efforts and budget in acquiring visitors for your app or mobile website. To generate an immediate boost of traffic or app downloads, you can buy mobile traffic. In this article, we show you which options and pricing models are available.
Especially when operating a mobile website or developing an app, you have to understand the importance of mobile traffic and view it as part of your marketing strategy. The following chart shows the increased popularity of using smartphones and tablets to browse the web. By now, smartphone usage even surpassed the usage of desktops or laptops.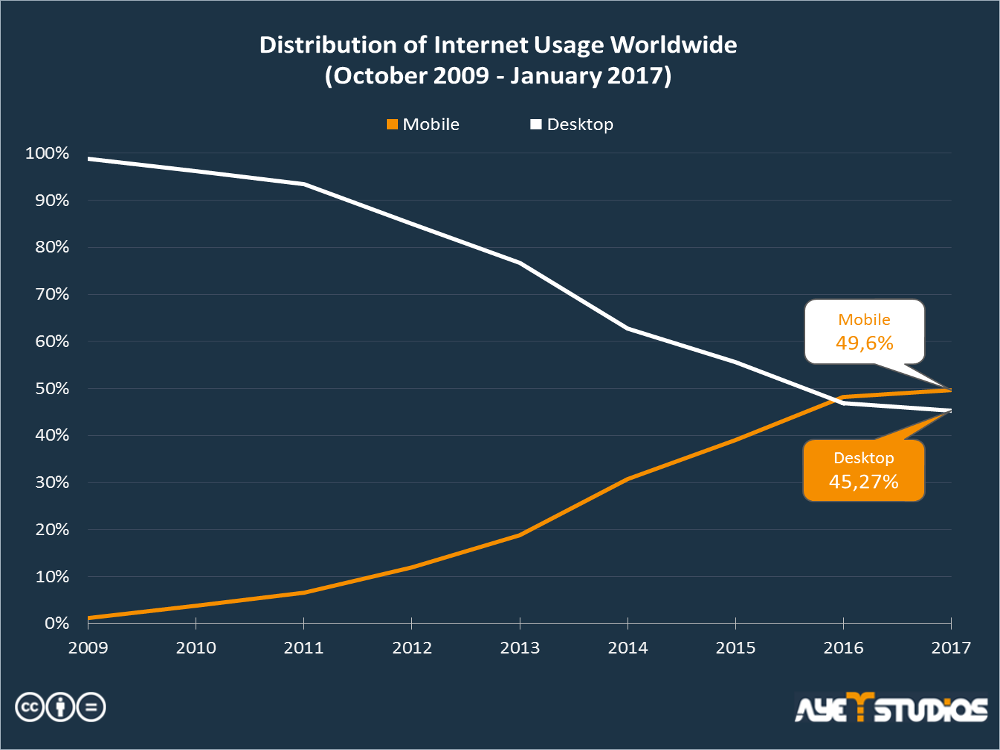 Distribution of internet usage between mobile and desktop © StatCounter
Therefore it is necessary to take a look at your already existing traffic. You can use statistics regarding your mobile website or app traffic to locate any errors in your marketing strategy. This will help you find quick and effective solutions.
The data you get from these statistics portray the visitors of your site and common devices. These are:
Page Views – Which site gets the most views? This indicates which subjects, products and services attract new users.
Hits – The number of total hits your site gets within a day.
Country – Information about the location of your users.
Mobile Devices – Manufacturer, operating system (iOS or Android) and exact model of the used device.
For instance, Google provides such statistics plus a thorough report highlighting important data of your mobile traffic with Google Analytics. Thus, it can be of great assistance while optimizing your mobile site or app.

How Google Analytics Helps You Improve Your Own Traffic
Google Analytics shows you which factors affect mobile success. This knowledge can be beneficial when planning your marketing strategy. The report includes mobile websites as well as mobile apps. We explain the main contents and features of this tool below.
Mobile Apps
Additionally to the tool's basic functions, here you are able to measure your app's performance in different aspects; such as:
Mobile App Audience – Get to know your active users! This data shows how often and long your app is being used, lifetime values and locations of your users. Furthermore, you get an idea of your audience's demographics (age, gender, etc), interests and preferred devices and operating systems. This information will help you optimize your services to target and retain the right users.
Acquisition – See what's happening from search to download! This includes relevant data about new users, popular market places and your most effective marketing campaigns.
Behaviour – Understand your users' interests! You can see which screens and app content attract and engage users the most. The reports "Crashes and Exceptions" along with "App Speed" locate technical difficulties for you to optimize.
Goals and E-Commerce – Measure your conversions and completed actions in order to evaluate your goals! Additionally, you can record your app's total revenue and required sessions to generate a transaction.
Mobile Websites
If you own a mobile website, you can analyze and optimize various aspects. These include:
Amount of Mobile Users – How many of your website visitors use a mobile device? Information like bounce rates, session duration and returning visitors mirror how satisfied users are with your mobile site.
Audience – Similar to mobile apps, here you get relevant data about your users' demographics and interests to target them directly.
Platforms – Find out which mobile devices, in detail model and operating system, are predominantly used by your visitors.
Locations – The report "Map Overlay" shows you where most of your generated traffic comes from. You can now identify regions which will likely grow in traffic and which are worth targeting.
All in all, the data and information you get from these statistics and reports should help you decide which traffic and form of advertising to invest in. This makes it easier for you to calculate the estimated costs and budget when you buy mobile traffic.

How Can You Buy Mobile Traffic?
After figuring out why you need to buy mobile traffic, it is time to find the right campaign. Ad agencies specialized in mobile marketing, like ayeT-Studios, offer various options for you to choose from. Oftentimes, they are connected to other ad networks – a great possibility for you to reach even more users! This also increases the chance of acquiring users on better terms and generating a large number of new visitors.
We would like to explain in greater detail which different ad formats and pricing models are available.
Which Ad Formats Can You Use to Buy Mobile Traffic and Gain Visitors?
When advertising on mobile websites and in apps you should only use formats that are made particularly for mobile devices. Meaning: They should be adapted to smaller display sizes and entirely visible on every device.
Mobile ad formats come in two types: incent and non-incent. The main difference between those two is the advantage for the user. With incent ads, the user gets a reward when interacting. However, there is no guarantee of further or constant usage of your product by this user. In comparison, non-incent ads won't reward the user for an interaction. Instead, he acts due to pure interest and is more likely to actually use your product.
Incent Ad Formats for Advertisers at ayeT-Studios:
Offerwall – Through an offerwall, you can combine various campaigns within one ad. Here, CPI, CPA and CPE campaigns are the most common.
Rewarded Video – This ad format rewards the user for watching a video while generating installs. The assigned pricing model is CPV.
Non-Incent Ad Formats at ayeT-Studios:
Banner – Banner, or display ads, appear most commonly as text or image ads on websites or within apps. The campaign types available are CPM, CPC and CPI.
Interstitial – Interstitial ads cover the entire screen and typically appear at interruption points. These ads can be part of CPM, CPC and CPI campaigns.
Video – Videos are suitable for video distribution channels, but also to indicate the accomplishment of different actions within an app. Videos appear as CPC, CPV and CPI campaigns.
You see, there is a variety of advertising formats you can pick from and combine with your favored pricing model. In the end, your goals and marketing needs determine which campaign fits your product the best.
Click here to get a more detailed insight into mobile advertising and its different ad formats.

How to Buy Mobile Traffic Based on Different Pricing Models
To help you understand the financial side, if you want to buy mobile traffic, we exemplify some of our campaigns and related pricing models below.
Install Campaigns Based on CPI
With the help of install campaigns, you are able to generate new users through an offerwall. The advantages: The user is rewarded and you only pay for every completed install.
Action Campaigns Based on CPA
Action campaigns allow you to set specific actions and goals a user has to accomplish in order to receive a reward. These are actions like completing a level or signing up an account. The offerwall guides the user directly to your app to accomplish your predefined task. At the same time, this results in much higher engagement rates.
Engagement Campaigns Based on CPE
This campaign is a special offer by ayeT-Studios: The user won't be rewarded for installing your app but for actual engagement time. The longer he/she uses the app the higher the reward – hence the significant increase of total engagement.
Campaigns Based on CPC
CPC stands for Cost-Per-Click, meaning you pay once a user clicks on your ad. This pricing model can be combined with most available campaign types and ad formats.
Campaigns Based on CPM
With CPM campaigns, short for Cost-Per-Mille, you pay for every thousand impressions of your ad.
Video Campaigns Based on CPV
When using the Cost-Per-Completed-View, or CPV, model you pay as soon as a user watches your video ad completely. This campaign type works well as a demonstration of your app's or your product's features.
To learn more about this subject, please read our article about Mobile Media Pricing.
ayeT-Studios provides various campaign types to acquire great numbers of new visitors. At the same time, you benefit from our own traffic as well as traffic from cooperations with other ad networks. If you look at our services, you will get an insight on how you can buy mobile traffic.

https://www.ayetstudios.com/wp-content/uploads/2017/02/phone-958066_1920.jpg
1275
1920
Alina Dettmer
https://www.ayetstudios.com/wp-content/uploads/2017/05/ayetstudios_logo_03-200x49-1.png
Alina Dettmer
2017-03-15 13:09:26
2019-11-14 08:57:26
How to Buy Mobile Traffic – An Important Factor for Your Success