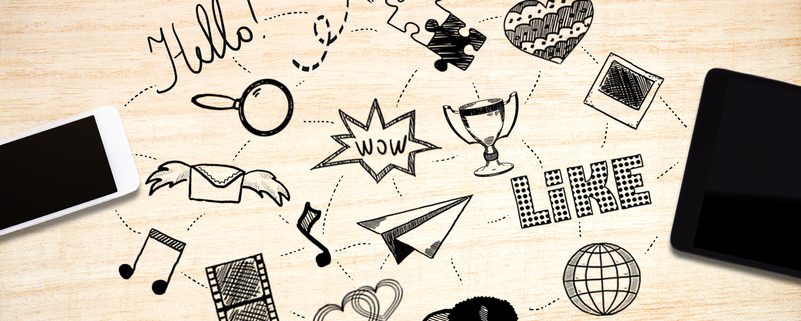 Mobile Advertising – Find the Right Ad Format
Mobile advertising is an important part of your marketing strategy that you should not only keep an eye, but truly focus on.
But what are the best ways to advertise on mobile devices? Which ad formats can you choose? And which mobile advertising trends can you expect in 2017?

What Is Mobile Advertising?
The mobile market is becoming more and more important for marketers. The number of people owning and using a smartphone is growing rapidly.
In 2017, there were already 2.32 billion people worldwide using a smartphone. Because of its growing importance, there are already many marketers who follow the mobile-first- (if not the mobile-only-) strategy.
Mobile advertising is a special form of advertising using special formats, which are adapted to small mobile screens.
There are different types of devices on which mobile advertising is displayed, like
Internet-capable mobile phones or smartphones and

Tablet computers and similar devices (e.g. phablet).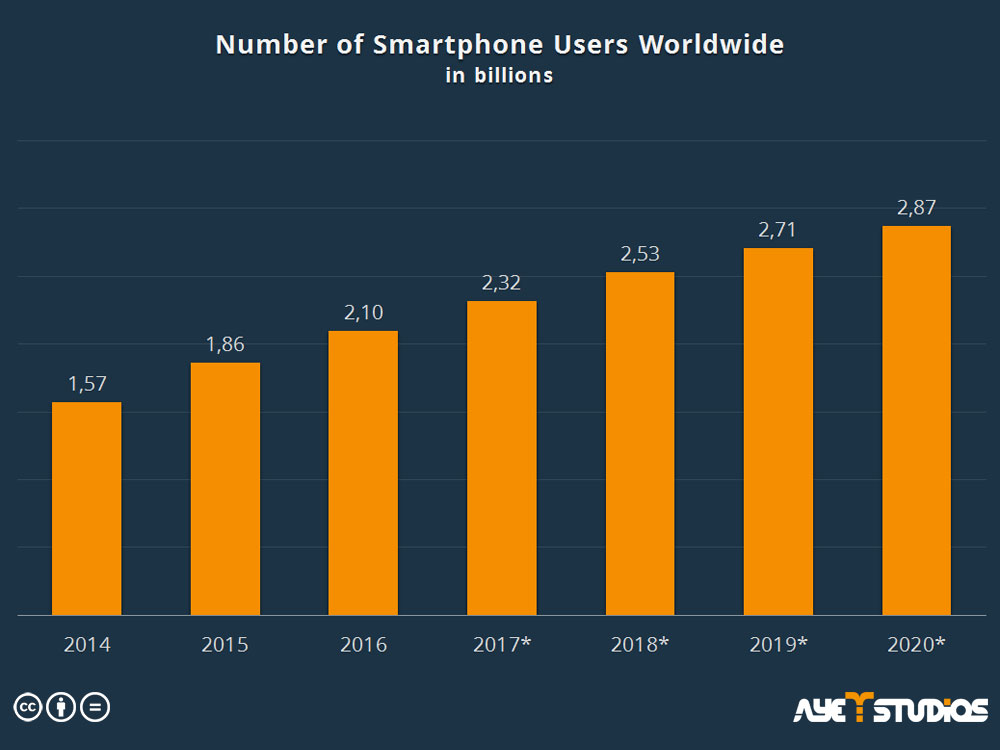 With growing numbers of smartphone owners, mobile advertising is becoming more and more important © ayeT-Studios
Mobile Advertising is a part of mobile marketing. Nevertheless, it should not be part of a traditional marketing campaign: There is much more to it.
Mobile advertising should be looked at from a different point of view, since it is way more complex than plain billboards – with way more opportunities, and therefore also difficulties.

The most difficult part of mobile advertising is to create an ad that the users find interesting and acceptable. A study performed by defacto research & consulting found out that only 14% of the people surveyed would accept a mobile ad that is not personalized, however 30% of the surveyed people would accept a mobile ad that is tailored to their personal interests and needs.
On the other hand, users find it disturbing if the ad is too personalized. They fear being transparent for companies, which leads to suspicion.
Thus, you need to find a balance between personalized mobile advertising and general, professional advertising. Some basic ad formats can be found here.
The main goal of a mobile advertising strategy is to cause interest in your (potential) users with regard to your products and services. However, it is also a tool to remind (former) users of your unique selling points.
But how do you do that while finding the right balance and targeting the right users? Let's find out!
What Kind of Mobile Advertising Can You Do?
There are a few different types of mobile advertising that you can choose from:
Which category you choose, depends on your product and your target audience. But most of all it depends on where you want to place your ad.
In the following, we will explain the different forms and places of mobile advertising.

Search
When thinking about where to place mobile advertising, you definitely should consider mobile search advertisement, hence placing an ad in search engines, like Google.
When a potential user searches a topic related to your product in the web, your advertisement will appear first on their mobile screens.
Mobile search ads are always text ads.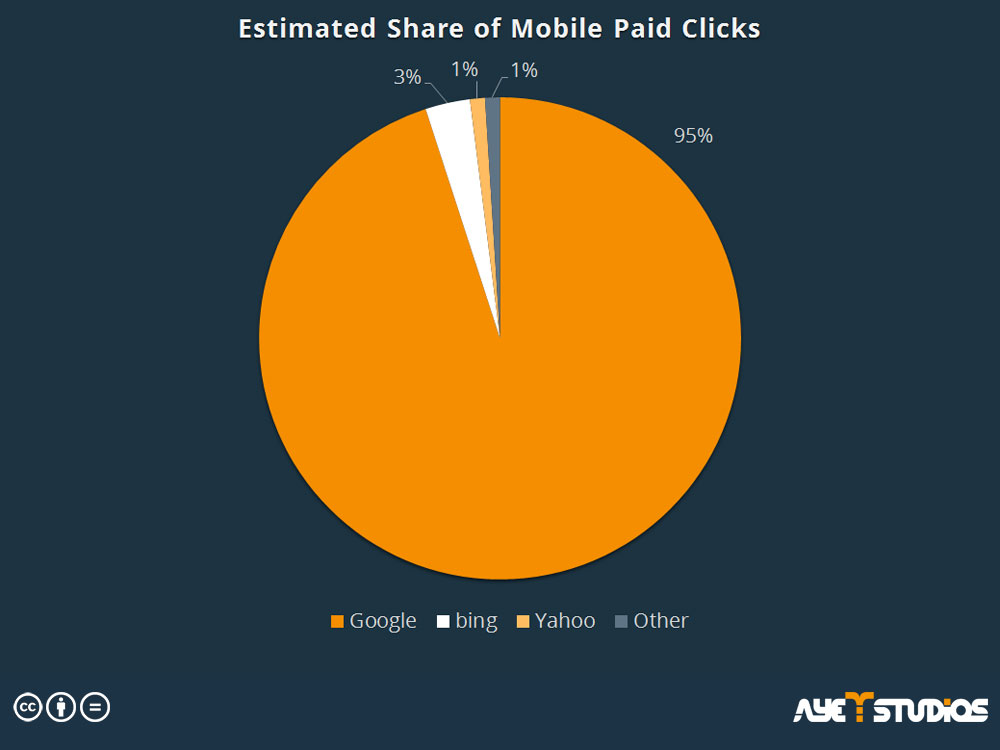 Google is dominating mobile search ads  © ayeT-Studios
Social
Mobile Social ads are endorsements that can be placed on any social media network page, for example on Facebook, Twitter, or Instagram. This type of mobile advertising can be an ad including text, image or video or it can be product placement.
Most people are using social media on their smartphones, so an optimized mobile ad constitutes a good investment and gives your business great exposure.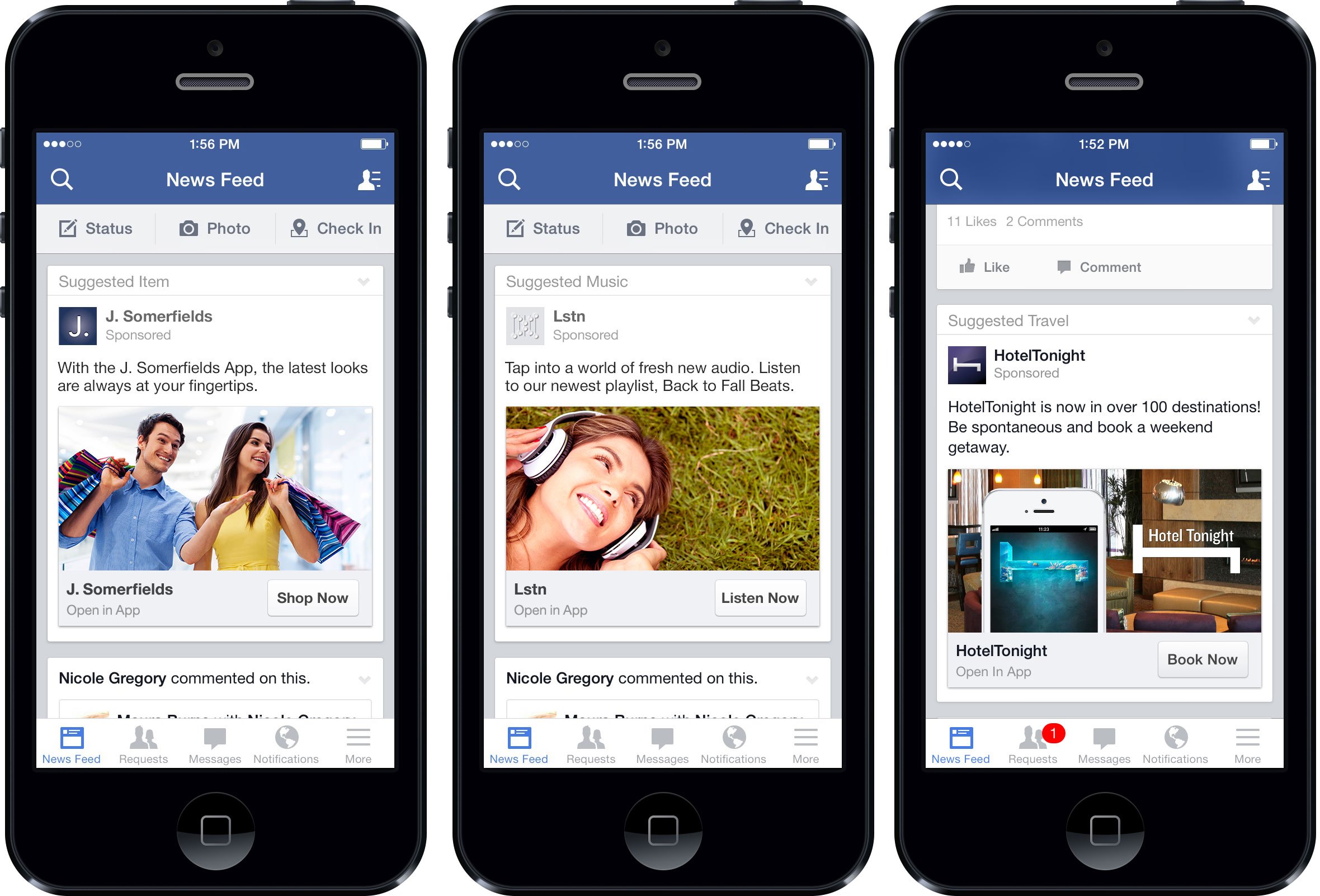 Choose a social ad format that matches best with your mobile advertising strategy © Mashbout.com
Do you want to learn more about mobile advertising on social media? Click here to get an overview of social media app promotion.

Display
Mobile display ads are a form of mobile advertising, which includes text and/or image ads. For most people, display ads are commonly known as "banners".
Display ads are mostly shown on websites of newspapers, blogs or within apps and placed in between the articles.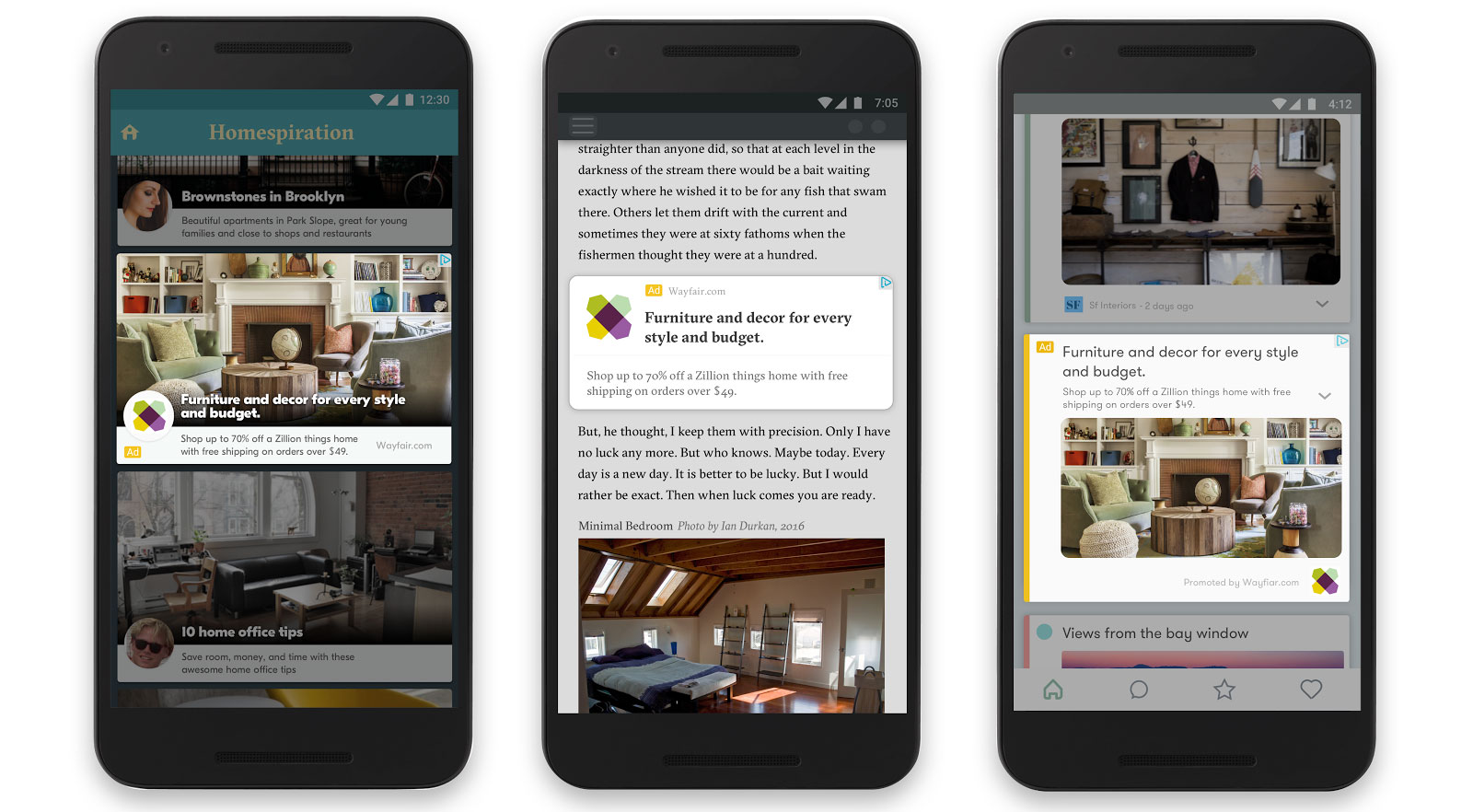 Display ads ("banners") combine text and image © marketingland.com
Video
Mobile video ads can be placed on any video distribution channel, for example on YouTube. Here, the mobile advertising could be placed before or within the actual video (the latter as product placement).
Video ads are are also shown within mobile apps, mostly after accomplishing certain actions, e.g. completing a level of a game.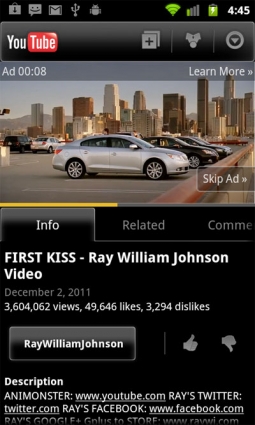 A typical video ad being displayed on a video platform © adage.com
When Choosing an Ad Format…
…your mobile advertising should meet certain quality criteria:
Image Quality


The image layout and quality must be of a high quality and resolution.

Relevance


The information given in the ad should be relevant to the product you are advertising.

Accurate information


All information given in the ad should be accurate and not misleading.

Adult content
Make sure not to create provocative or x-rated mobile ad in order to protect younger users from adult content.

Rich Media Ads – Interactive Ads for a Better User Experience
Rich-Media is a broad term for all display banners that are interactive, animated or dynamic. Companies often use HTML5 technology to create interesting ads.
Rich media ads can be placed on social networks but also as display ads or on a video platform.
Rich Media offers more ways to involve an audience with an ad than with plain text ads or display ads. These kind of ads can cause a stronger user response.
Another advantage is the great possibility to monetize your user's behaviour and interaction with your mobile ad. You can adjust your ad for your next mobile advertising campaign according to the acquired data.
| Standard Banner | Rich Media Ads |
| --- | --- |
| Standard banners are simple GIF, JPEG or FLASH image formats. They usually include texts with visuals such as a 2D logo. | Rich media banners are those ads with audio/video components, making them a lot more versatile than a still image. |
| Small in file size. | Huge in file size, but makes up for it with its versatility. |
| Less or almost no interactivity. In short, static. | Highly interactive. In short, dynamic. |
| No other technology can be used with standard banners. | Rich media banner can be synchronised with technologies like JavaScript & HTML. |
| They have only one interaction point; to be clicked. | They can have many different interactions. |
Comparison between standard banner and rich media ads © ayeT-Studios
Criteria for Successful Mobile Advertising
Mobile advertising is successful when it is creative and unique and encourages the user to engage with the advertised product.
It is also important to consider the target group's wants, needs and behaviour in order to place the mobile ad on the right page with the right format.
Of course, a mobile ad needs a clear message. Users don't have much time (and are not willing) to spend looking at a mobile ad while using their smartphone. Therefore, the ad needs to have a prominent place on the page.

Make It Native
It is also important for the advertisement to suit the look and feel of the website it is placed on – it should be native.
Therefore, it should blend in with the social feed on the app or website and appear just like the other posts and not like an ad (but of course, it needs to be labeled as an ad!).
Nevertheless, there shouldn't be a loss of quality. If anything, the quality of the native ad should be very high.
In total, 25% more users recognize native ads compared to standard banners and 97% of mobile media buyers report that native ads were effective.
These numbers speak for themselves. Native mobile advertising is very effective and should therefore definitely be considered when planning a mobile advertising campaign.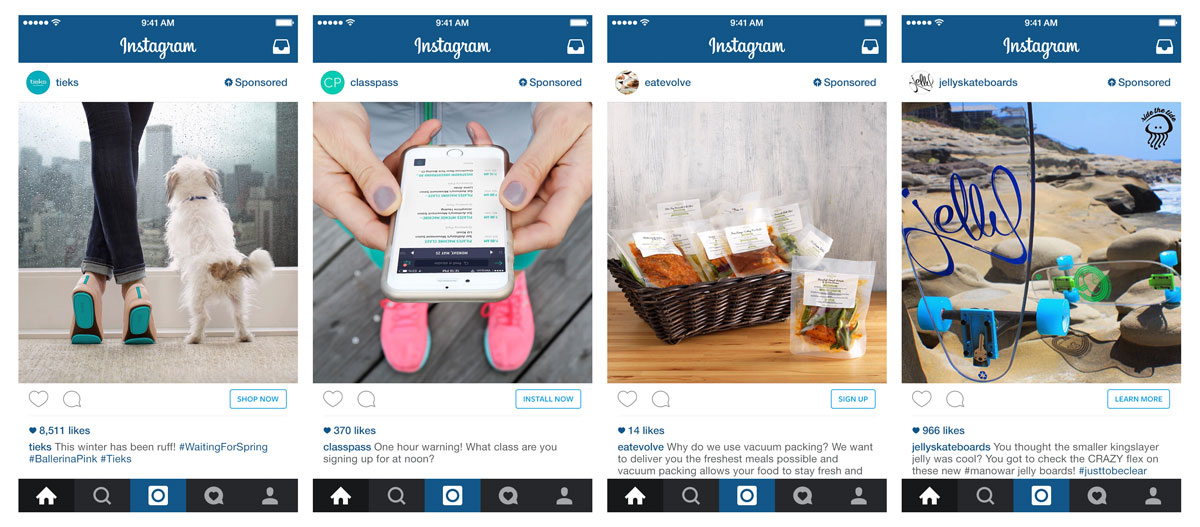 Mobile advertisers can now insert action buttons into their mobile ads © TechCrunch.com
Outlook on Mobile Advertising for 2017
In 2017, there will be some trends that will create more interesting mobile advertising opportunities for companies.
Since mobile advertising is a growing market, more and more money will be spent by companies on effective ads. A total of 60% of Google's global ad revenue will come from mobile advertising this year. In 2018, the number will even grow to 75%.
Companies will spend a lot on creative and interactive ads. The number of users being annoyed by online ads is growing, therefore the ads are going to be more creative and entertaining to offer users a great experience with the brand.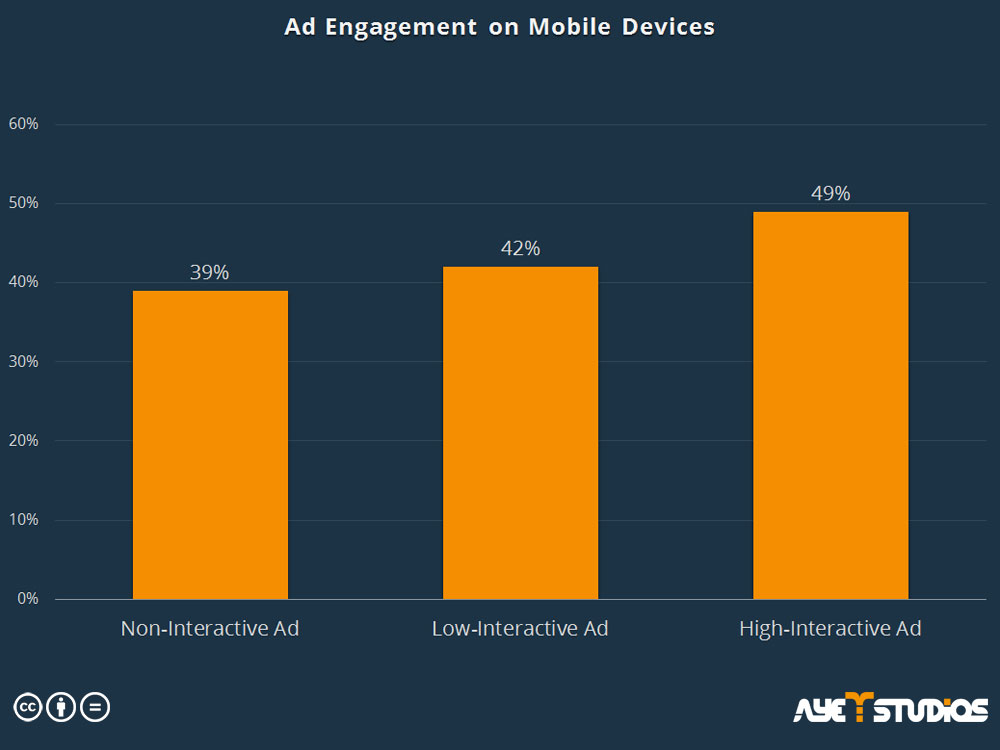 Users are encouraged more by interactive mobile advertising © ayeT-Studios
Mobile Messaging Apps were the number one trend in the past year. We can expect to see some great ads on Whatsapp, Facebook Messenger, and others.
Furthermore, companies will invest more time and money in preventing cyber attacks by ad bots or ad fraud.
Something to worry about for mobile advertising is the high percentage of users who are using ad blockers on their smartphones. In the USA 28% of users have installed an ad blocking software.
Therefore, it is even more important for companies to create extremely creative mobile ads that create word-of-mouth-publicity and go viral.
If an ad is viral, everyone wants to and will see it. That is how you overcome the obstacle ad blocker.
Now that you learnt about the basics of ad formats, how about you check out what mobile user acquisition entails? Check out this article and read more about the key elements to gain mobile users.
For mobile advertising, you can choose mobile ad agencies like ayeT-Studios. They will create your personal mobile advertising strategy to yield the best results across multiple channels.

https://www.ayetstudios.com/wp-content/uploads/2017/01/Fotolia_119395808_S.jpg
599
801
Pascal Ludynia
https://www.ayetstudios.com/wp-content/uploads/2017/05/ayetstudios_logo_03-200x49-1.png
Pascal Ludynia
2017-01-18 11:52:29
2019-11-14 09:43:04
Mobile Advertising – Find the Right Ad Format