We all want to acquire loyal users for our apps – they should download it, use it and keep it on their smartphone for a long, long time. That's the ideal state. But unfortunately, it is not that easy in real life. So how do you do your user acquisition the right way?
Who are your Users?
In order to acquire high quality users for your app, you first need to understand your users, their needs and their wants. Only if you target them right, they will download your app and keep it on their smartphone for a long time.
To establish a user base even before your launch, you can use your existing network: talk to your friends (on- and offline), family, former co-workers, business partners and fellow students about your app, inform them about its features and uniqueness. This way you can start word-of-mouth publicity that might convince other potential users to download your app.
We recommend you to introduce your app to the market via a soft launch in just one or two countries. This way, you can test which user segment is interested in your app and who will download it.
Then, you can do some research on your userbase: What are they generally interested in? What are they searching for on google or in the app stores? Which other apps do they use? On which social media channels can you find them? What are they talking about? Who are they following? At what times are they engaging? How long will they keep your app on their smartphone?
If you can answer all these questions, you can plan your user acquisition the right way.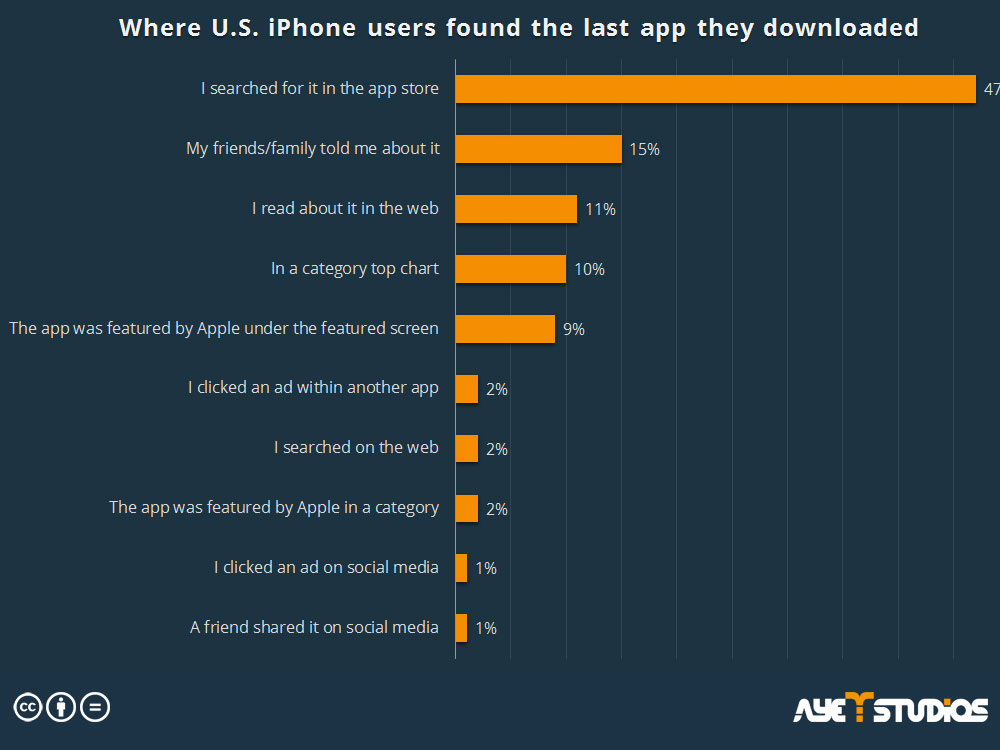 In addition to that, you can also do some research on their demographic characteristics, like age, gender, marital status, nationality, religion, education, etc. by using tracking devices like GoogleAnalytics, Firebase, AppsFlyer, Adjust, Tune or Kochava, you can analyze your users' app usage, for example the duration of each session within the app or the retention rate.
It is important to first understand your users before you start a big marketing campaign. That way, you can target your potential users the best way possible and your user acquisition will be successful..
What is your budget for User Acquisition?
In order to plan your user acquisition strategy, you need to calculate your budget. First, you should select your key performance indicators (KPI) upon what you would like to achieve with your app. Which KPI's are important totally depends on you and your company. Following, we are going to present to you some of the most common calculations that you can use to calculate your budget for your user acquisition strategy.
Cost per Install
The Cost per Install, or CPI, measures the costs that you will have for ads that trigger an installation of your app. CPI varies much by ad formats you use. If you are using non-incent banner ads you will most likely pay much more for each install than buying downloads via an incentivized offerwall.

Cost per Active User
The Cost per Active User measures the user acquisition costs that you need to spend in order to reach users that will use your app actively. Every company needs to define for themselves what active means for them. Some companies might say that an active user is a customer who returns to the app at least once a month. In this case you might also hear the term 'retention rate'. CPAU is always higher than CPI, since not every install you are buying will convert into an active user.



Average Revenue per User
The Average Revenue per User is the amount of revenue each of your active customers (on average) contributes in a specific period of time.

Customer Lifetime Value
The Customer Lifetime Value makes you predict how long your customer will use and generate revenue within your app and therefore, how much the user is worth for your app. It should be your goal to always improve app features that will most likely increase the Customer Lifetime Value of your users. Most of the time this translates into imrpoving retention rate, session duration and total usage time per user for your app. If you operate a shopping app though, the opposite might also be the case. That means reducing session duration by for example optimizing the check out process once a user added an item to his basket. The faster check out process might result in shorter session durations but higher CLTV in the long run. So be aware of what KPI's you have to measure and improve exactly.
With the CLTV you can calculate how much of your budget you can spend for one user at your user acqusition in order to make profit. The CLTV depends on three factors:
Monetization (how much customers contribute to your mobile revenue),
Retention (level of engagement a customers has with your app) and
Virality (sum value of additional users a customer will refer to your app)
Return on Investment
Return on Investment signifies the profit you make with your app compared to your investment. A high ROI means that your profit is way higher than your investment. Be aware that you might not only want to measure CLTV against Ad Spending for your ROI but also all other costs of the business you operate – like rent, HR, infrastructure and so on.
Churn Rate
With the churn rate you can calculate the number of users that will delete your app in a specific period of time. It is a valuable indication of your users' satisfaction with your app.
Conversion rate
There are many different ways to calculate your conversion rate. It all depends on what is important for you as a company and what you want to achieve. You might want to measure more than just one conversion within your conversion funnel from user acquisition to revenue generated. That way you would be able to improve your app on a more sophisticated basis. There are at least two conversions we find worth measuring for almost any app type:
Installs / Active Users: You can calculate the amount of users that installed your app based on your user acquisition campaign and then decided to take specified actions to convert into an active user.
Active Users / User Generated Revenue: You can calculate the amount of users that are using the app and then decide to take action and to generate revenue, for example by doing in-app purchases.

Which tools can you use for your User Acquisition strategy?
After calculating your user acquisition budget, you can start planning your strategy. There are many tools that you can use in order to acquire users, but only a few that you really should use. It all depends on your app and which users you want to reach, you just need to find the right mix that suits you and your potential users. If you want to be successful you need to adjust your user acquisition strategy to your product and service, as well as to your target group. From time to time, when your app or your target group even slightly changes, you need to adjust your user acquisition strategy and the tools you are using.
If you want to acquire users you can use free or paid tools to do so.If you choose to use paid user acquisition services, you can do it in two ways: incentive and non-incentive. In order to understand the difference between these two, you may want to read the following article.
Category
Channels & Formats
Organic Installs
Bought Installs
Ad Networks

Facebook, Google, Tapjoy, ayeT-Studios

Ad Formats

Incentivized Installs
Offer Walls
Native Ads
Banner Ads
Interstitials
Video Ads
Playable Ads

PR / Press

Websites
App Review Sites
Game Video Sharing

Build your Brand
(use your own ecosystem)

App-Website
E-Mail
Social Media
App-Cross-Promotion

Influencer Marketing
(paid installs via influencers)

Facebook
Twitter
Instagram
and more
Overview of possible user acquisition tools
Optimize your app store appearance
The first impression always counts. This also applies to the appearance of your app in the different app stores. Potential users will mainly decide whether or not to download your app based on the presentation in the app store. If they like what they see and if they find all the information they need, they are very likely to install and open the app. Therefore, it is very important that you optimize your app's page to the maximum.
But how do you do that? All the hacks can be found in the following article.
Run a test campaign
As already mentioned before, we highly recommend you to run a test campaign. The benefits are clear: You can test the success of your user acquisition strategy, find out more about your potential users, see what kind of channels they use, what provokes a reaction, and much more.
Don't spoil all your features
With every part of your campaign you should keep in mind to not spoil all of your features at once. It is way more interesting for the users, if you let them know about the different features and possible updates every once in a while.
Use your existing network
As already mentioned before, it is a good strategy to communicate about your app with your family, friends, former colleagues or classmates and thereby create a word-of-mouth publicity. If a potential user gets a recommendation for an app by a friend, he will be very likely to download it because he trusts his friend and his recommendation.
Communicate with the press
You want people to talk about your app? You should talk to the press first! Prepare a media kit with all the necessary information about your app and all its features. Be aware to present it in a nice and appealing way to impress the journalist and to stay in his mind so that he will consider writing about your app. This would be great for your user acquisition, because if journalists write about your app, potential users may read the article and consider downloading your app.
Let your App be discovered
Try to present your app to app discovery platforms. If they like what they see, they might want to present it to their readers. App discovery platforms review, categorize and promote new and yet unknown apps. This is a good tool for your user acquisition, since these platforms only present the apps they believe in and your potential users have a high amount of trust in these platforms.
Make a mailing list
E-Mail-Marketing is an important part of the user acquisition strategy. It is the number one tool for an effective strategy and very easy to use. Services like MailChimp help you with your E-Mail Marketing. There you can maintain a list with all the E-Mail-addresses, which makes it easy to send the Mails to all of your contacts. Make sure to always send interesting content that will differentiate you from regular spam and that offers additional value for the user. It is also important to always include your contact information and links to your website, the app stores and social media channels.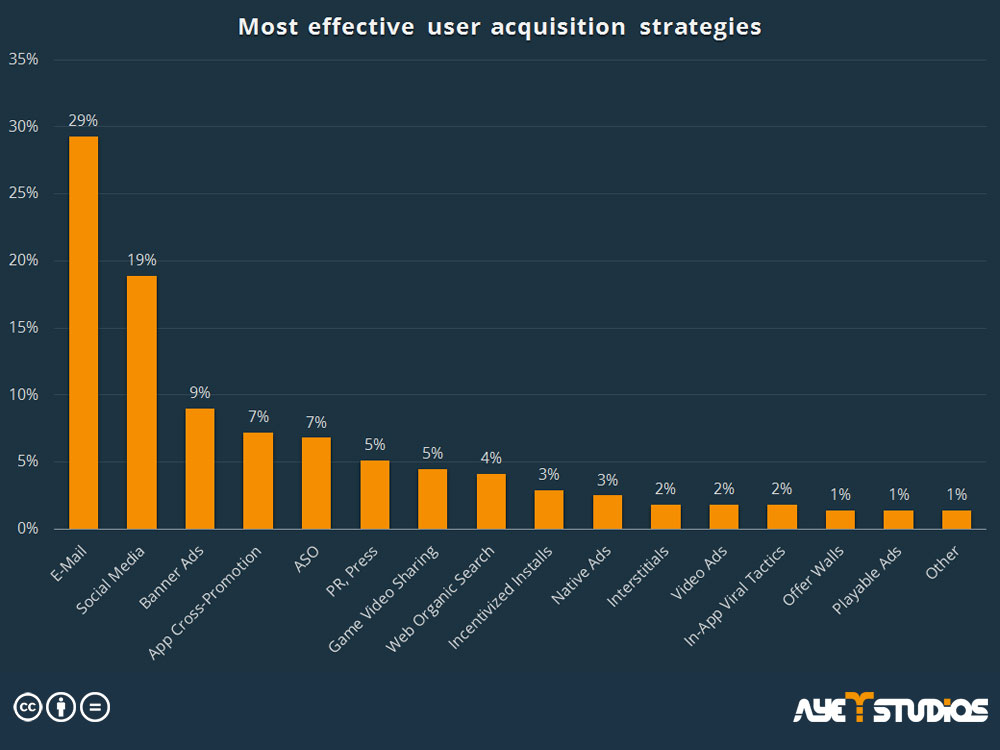 Aim for virality
The second most successful tool for your user acquisition strategy is social media. We recommend you to create your own social media channels on the platforms that matter the most for your potential users, for example facebook, twitter, instagram or YouTube. Social Media has a great advantage: it is mostly free of charge. Only if you want to start an ad campaign, you need to invest some part of your budget. It is also easy to use with a high scope and a great tool to communicate with your users. This way, you can directly respond to feedback or questions and make use of it in your next app updates.
Work together with other apps
A great way for user acquisition is to work together with other, maybe bigger, app companies and to promote your app within their app. You can do that for example with a banner ad or even a video ad that will be displayed when the users open the app. In exchange, you can also place an ad of your partners within your own app.
Talk to influencers
Another way of getting people to talk about your app is to present it to so called "influencers", for example blogger, YouTuber or other Social Media Stars. If you get them talking about your app you have a high chance of reaching a high amount of potential users that are very willing to download your app. The people that follow influencers have a high amount of trust in them. So, when they recommend an app, their follower will believe that this app is great and download it, which will help you a lot with your user acquisition.
Finally…
…User Acquisition is a process that changes over time and needs to be adjusted according to your success and the number of users acquired. So keep in mind to check your achievements regularly and, if necessary, recalculate your budget and rethink your strategy and the acquisition channels you have used.
https://www.ayetstudios.com/wp-content/uploads/2016/12/Fotolia_121988775_M.jpg
1126
1687
Jana Barske
https://www.ayetstudios.com/wp-content/uploads/2016/09/ayetstudios_logo_03-300x73.png
Jana Barske
2017-01-09 09:51:03
2017-01-11 13:46:00
Understanding your Users: A Beginner's Guide to User Acquisition