ASO – How to Do App Store Optimization the Right Way
After months of hard work, you finally finished the development of your mobile app. Now it is available in the app store(s) – but did you consider app store optimization?
This aspect of mobile app promotion is a crucial part when you ask yourself: What makes people download my app and how can I reach more users?
About the App Stores
Various factors are part of app store optimization – visible and invisible for the user. Are there several app markets you need to take into account?
Yes, however within iOS, it is impossible to download apps outside the App Store. Within Android, the number of downloads outside the Play Store are negligible. So, we will focus solely on the two main app stores.
For a start, we have some recent facts about the app stores.

New Apps
In 2016, there were thousands of new apps published in Apple App Store and the Google Play Store:
With these gigantic numbers, it is nearly impossible for your app to be successful without further help from app store optimization techniques.
You must become active to let your app thrive. Of course, there are many different ways to advertise your app: You can place a banner in print magazines, buy a radio or television spot or even rent a billboard. Click here for more information about ad formats that you can use for app promtion.
User Behavior
82% of users never look below the top 25 search results in order to find apps in the app stores.
Additionally, 30% download the app, which is ranked #1, 17% download the app #2 and 12% download the app ranked in third place. If you analyse download rates for search results below the #10 or even further down, it is close to 0%.
From this data, you see how important it is to get a good position in the app stores. If you are lucky, you can get featured in the app stores and get a more visible position.
These featured positions cannot be bought. Instead, apps are chosen by the managers and editors of the respective app store. So, it is in your hand by making use of app store optimization.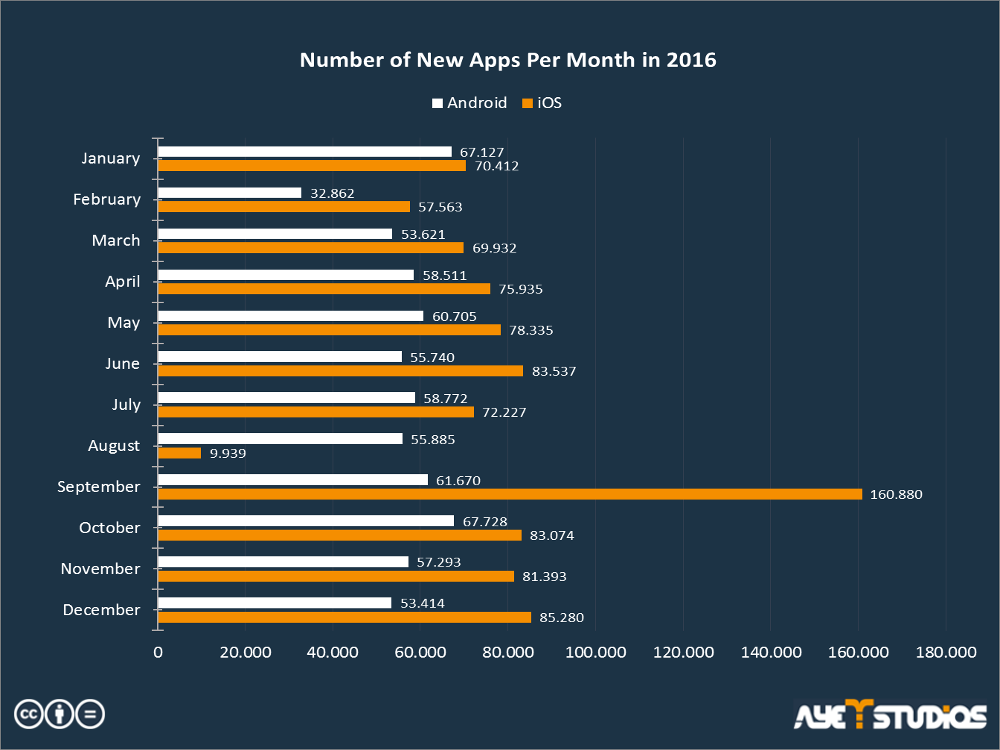 Downloaps per month in 2016 for iOS and Android © ayeT-Studios
You have to optimize your app store page as much as possible to achieve a high rank in the app stores. That's the only way to receive a good amount of organic downloads and leverage your app.
In this article, we will show you the different aspects of app store optimization and what you have to pay attention to.
There are two important aspects of app store optimization:
Findability 

includes factors that play a role in optimizing the way people find your app. They affect Apple's and Google's search algorithm and are mostly text-based: app name, description, keywords and brand name.

Appearance

includes everything visual about your app in the app search results or on your app store page. With these visual features, you try to convince users to download your app:

icon, feature graphic, screenshots and videos.

Findability
Optimizing the findability of your app means taking into account the ranking algorithm and improving your rank with the textual content on the app store page itself.
This is a very important point if you consider using ASO.
App name
The name of your app is relevant regarding different issues:
It is one of the first things a user recognizes when he or she looks through the app store.

The name plays a key role for the search algorithm of the app stores.
So, you should balance your efforts when creating an app name. It should be catchy and unique and furthermore include one main keyword.
The name should also indicate the purpose of the app and represent its main message.
A very good example for this is the app Letgo: Buy & Sell Used Stuff

The name and icon of "letgo" as it appears in the Google Play Store © Google
In this example, potential users get all the important information about the key functions of the app, and it also has an emotional conjunction.
Do not try to cram as many keywords as possible in the app name. Users will recognize it as spam and won't visit your app store page – the opposite of what you actually wanted to achieve with your app store optimization.
Description
If you managed to get users to your app store page, you can now show them what your app is capable of in detail.
Both stores offer full descriptions with up to 4000 characters. For app store optimization, we do not recommend using the entire space because most users won't read that much text. You should instead focus on the main aspects. 
Try to find a compressed phrasing in the beginning because this is declared for the short description. It is always displayed, so if it is interesting and inviting enough, the user will be eager to read more about your app. Your chances for a download increase, so make sure to get straight to the point in this element of app store optimization.
The description should be well-structured and show clearly what the app is about. Try to keep it simple and inviting and list the main features and functionalities of your app.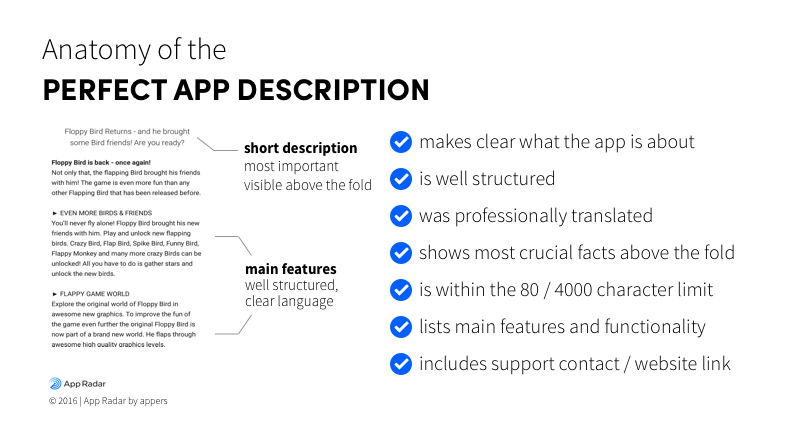 A checklist on how to write a good app description © www.appradar.com
Keywords
Keywords are one of the most important things to consider when you doing app store optimization. They help you get a good position when a user searches for a mobile app.
There are three important factors in order to find the best keywords:
Relevance
How relevant is the keyword for your app? Ask yourself how likely it is that a user downloads your app if he or she searches a keyword you have chosen.
You should check the environment you're trying to rank in. For example:
Ranking #1 for the keyword "bicycle" when operating a shopping app for bicycle parts is great, but maybe a little too inaccurate. Try to rank #1 for the keyword "bicycle shop" instead.
Competition
Try to imagine:
If you rank #481 for a highly frequented keyword which has millions of searches, your benefit will be quite small – nobody scrolls down that far.
Try to rank in the top 10 for a keyword with less traffic instead.
Search Volume
Our tip for app store optimization: Work on relevance and competition before looking at the quantity of searches that a keyword receives in the app stores. The amount of searches is important as a last step.
Click here to read a much more detailed article with insights about finding the right keywords for app store optimization.

Brand & Backlinking – Website, Social Media and Other Channels
Next to the basic information about your app and its features, you also need to insert more detailed information about your app and your company, too.
Brand Name
For app store optimization, you should create a brand relating to your mobile app. Like this, potential users can recognize your app and associate all the benefits they will get from downloading.
At first, you should decide what your brand should be like:
Overarching design

Visual language

What it stands for

What experience users should associate with your brand
Landing Page
It is always a good idea to begin with a website for the app. It should be informative and well-designed. Users should get access to all the information they need to learn about all your app's features.
Make sure to include links to your app store pages in order for the users to get to it without any hurdles. Also ensure to provide contact data to your support team in case a user has a problem or a specific question. Connecting the website to Google or Apple is vital for app store optimization.
Blog
Another factor when creating a brand is to write an interesting blog. This is a good way to keep your users informed about updates of your app and the brand in general. Always use the design and visual language you previously set for your brand.
Social Media
If you create social media channels, you can reach out to many (potential) users very easily. You add all your social media profiles to your app store page so users will be aware of how they can always be up-to-date.
Be sure to choose the right platform and consider to use not only one platform but two or more. All channels that can be used to present your mobile app are important for your app store optimization.
Check out this article for more details about how to use social media for your app promotion.
Try a few channels and analyse which one generates the biggest benefit. There are some more possibilities to leverage social media channels for successfully launching your app.
If you click here, you will find more detailed information about this topic.

Appearance
This category includes all factors that should lead the user to your app store page and download your app. It contains the visual elements that are necessary for your app store optimization.
Icon
The icon is one of the first things potential users see of your app. Thus, you should create an extraordinary and distinct icon that every user understands and recognizes easily. It should invite the user to visit your page in the app store and finally download your app.
Try not to use words in your app icon (but there are good working exceptions!) and keep it simple. The most successful apps, like Spotify, Instagram or Snapchat just use a simple symbol, which makes it easy to recognize their app – a great advantage for app store optimization.
Feature Graphics, Screenshots and Videos
A picture is worth a thousand words; at least if you add screenshots that make it easier for users to understand what your app is about.
Great screenshots emphasize the app's sales arguments and its unique selling point. Don't use the same or same looking image twice because users want to get a broad overview of your app.
If you look at the app store page of our app Giftpanda, you will find a good example for simple but useful screenshots. It's a simple but highly important element for app store optimization.

This is how the app store screenshots of our app "Giftpanda" look © ayeT-Studios
Differences in App Store Optimization – Google vs. Apple
The App Store and the Play Store are the two main players in the app store market. Although they may look quite similar: The way of optimizing each app store page is different.
Google Play Store
The main title can be a maximum of 30 characters long. Use one of your main keywords in the app name.

The maximum amount of characters for the description is 4000. Try not to include each of your targeted keywords more than 5 times.

The first 167 characters are the most important ones, because the user will definitely see them. For further description, he/she has to use a drop-down menu. So, make sure the beginning of your description is as inviting and interesting as possible.
Keywords are pulled from the description, so make sure not to waste characters by using your targeted keyword too often and thus, spoiling your app store optimization. Google will recognize a keyword a maximum of 5 times.
Adding screenshots, feature graphics and videos helps a lot with improving the appearance of your app. Make sure these visual elements are well-produced and show the benefits and experiences the user can expect when downloading your app. 

The maximum amount of screenshots on your app store page is 5 and you should really take advantage of all of them for your app store optimization.

Apple App Store
The app name can contain a maximum of 50 characters. Apple advises to choose a length of around 23 characters or less in order to present the full name on every device.
Keywords are placed in a designated keyword field. You can use 100 characters to define your keywords. Try to use as many characters as possible, but don't use generic ones. Don't double the keywords by using their plural form. You shouldn't use the keyword "app" itself or unauthorized trademark terms or celebrity names. This can cause legal problems so be sure to use correct terms in your app store optimization.
Choose the right category. You can define two categories that your app will appear in. When displayed in the search results, your app will be shown for the first category you've chosen. Make sure you select the category that best describes the main function of your app.

You can upload up to 8 screenshots of your app, which should show the main functions of your app. A

preview video about your app will give potential users even more insight into your app but this feature is only available on iOS 8 or later. Nevertheless, you should use all elements available during app store optimization.
| | Play Store | App Store |
| --- | --- | --- |
| Downloads | ✓ | ✓ |
| Revenue (only paid apps) | ✗ | ✓ |
| App Starts (usage) | ✓ | ✓ |
| Number & Value of Reviews | ✓ | ✓ |
| Keyword Relevance | ✓ | ✓ |
| Recently Updated | ✗ | ✓ |
| Retention/Uninstalls | ✓ | ✗ |
| Country | ✓ | ✓ |
| Social Proof | ✓ | ✗ |
| Backlinks | ✓ | ✗ |
Differences in factors that influence your rank in the app stores
The main difference in app store optimization between Apple and Google is the utilization of the keywords:
In the Google Play Store, the algorithm pulls the embedded keywords from the description.

In the Apple App Store, you define your keywords directly in the keyword field.
However, the three important factors (relevance, competition and search volume) mentioned above for keyword use in app store optimization apply to both app stores.

Example Apps
Now that you know about all the different aspects of app store optimization to generate more organic downloads and improve your app's ranking, we will look at two example apps and analyze their ASO.
Good Example
At first, we will look at a very successful app: "Runtastic – Running & Fitness" managed to be one of the leading apps in the fitness sector, using all elements of app store optimization.
App name
It may seem surprising but you should consider changing your app name for the sake of app store optimization. A search optimized app contains its most important keyword in the app name.
The App "Runtastic – Running & Fitness" is a great example for the use of app store optimization regarding your app name.
Currently (January 1 2017) Runtastic is ranked
#1 for the search term " running",

#7 for the term "fitness" and

#7 for the keyword "run".
For the keyword "run", the app is even able to compete with endless runner games (a game type that typically tries to target that keyword).
For the user it is also very clear what the app is about. It has a great portmanteau from the words "run" and "fantastic". Also, two of the main keywords are in the title.
The icon shows a conventionalised person, who is running along a trail. Users get a very good idea of what the app is about, just from the icon – the perfect basis of app store optimization.

This is how the app "runtastic" looks when a user sees it in the Google Play Store © Google
Screenshots & Videos
The app store page of "Runtastic" is flawless in all aspect. If the user visits the page, the second thing he sees is a video and screenshots. To see the video, he/she has to start it but the thumbnail already gives a first impression of it, showing a smartphone with the opened app.
The first screenshot alone gives the user crucial information what the app does in detail. He/she sees that the app tracks basic fitness metrics like workout duration, running distance and calories burned.
It also shows a map so that the user understands the app's tracking function and path visualization. These visual elements of app store optimization are applied in the best possible way.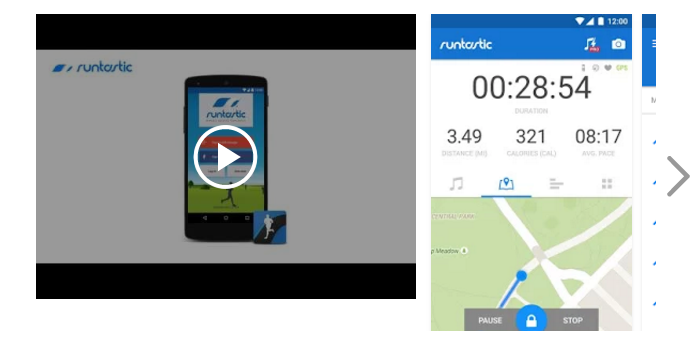 The screenshots and the video of "Runtastic" are very well chosen © Runtastic

Description
The user already gets an idea about the app's functions just reading the app name and/or watching the screenshots.
However, the first sentence of the app description is a very good example of how to start your description during app store optimization. It directly introduces a key function of the app: GPS tracker.

The description of "Runtasic" is very well written © Runtastic
From this optimized app store page, the user gets all important information within 10-15 seconds. If the user is for a fitness or running app, he or she is very likely to download it.
Bad Example
In the final part of this article, we do not want to mock a specific app but rather analyse which aspect could be improved regarding app store optimization. Every app needs refinements to get a better ranking.
App name & icon
In this section, we will take the app "Santa Park – Running Game" as example.
Theoretically, the name of the app is quite good. It is not complicated, can be used with regard to branding and also has two main keywords in it –  app store optimization was well implemented.
Is the app name well chosen in terms of relevance, competition and search volume? We will discuss that in more detail below.
The icon is not on the same level as the app name:
On one hand, it is neatly designed and has a connection to Christmas.

On the other hand, it doesn't hint at what features to expect from the app.
The developer could think about adding gaming elements to the icon, e.g. an element regarding movement since it is a jump and run game.

The icon and keyword of the app "Santa Park" © Fuboo Games
Keywords
Using Sensor Tower, we found out that "Santa Park" ranks for the keywords
"Santa",

"Park",

"Running" and

"Game"
However, the app is not able to rank in the top 10 (or even top 100) in any of them.
First of all, these keywords are all simply part of the app's name and very unspecific. It definitely requires app store optimization to make the app competitive.
Imagine the following situation: If a user searches the word "game", he/she will maybe already have a specific type of game in mind and will not download a jump and run game.
It is a good idea to use a more particular keyword like "Santa Running Game" or "Santa ´Game" because users who are looking for this combination are more likely to get to your app store page.
Secondly, 3 of these keywords ("Santa", "Running", "Game") are in a very competitive environment when it comes to the value of searches and number of searches. This lowers the chances of ranking within the top 10 significantly.
Another negative aspect is that "Running Game" is quite a generic term. The app developer should try to think of better keywords for his app store optimization. We recommend to use less competitive keywords with lower search volumes but also a lower number of apps targeting for those keywords.

Screenshots
Looking at the screenshots, we recognize another issue: There are only 4 screenshots and no video to present the app visually. Every screenshot looks pretty much the same and the first and second screenshot are in fact the same.
This is not the best way of generating potential users. For app store optimization, we recommend adding some additional screenshots, which show various parts of the game, like the main menu or i.e. the level selection.
Especially for a mobile game, a demo video is crucial. The user can see, for example, how fast/slow the game runs and whether or not it satisfies his expectations.
Description
The description has been worked out better. It uses 3996 of the 4000 given characters and the is well structured. Although, the description tends to be pretty generic.
From a user's point of view, we don't see any benefit from downloading "the most addictive mobile game ever created", especially if the description does not further describe why it is so addictive.
We cannot get this information from the screenshots, nor can it be found in the description. The developer missed the chance to make clear the real value of his app, which can be corrected with app store optimization. 
There is a link to a website of the app but unfortunately it's just a website to leave comments for the developer without additional information.
Social Media
There is also no activity on any social media channel. That makes it more difficult to get attention for your app or to stay in touch with your users for receiving important feedback for improvements.
All in all, there are some aspects regarding app store optimization the developer of "Santa Park – Running Game" needs to edit. If he/she improves them, the ranking of his app will increase and more traffic will come to the app store page of his/her game.
Getting the Best Results in App Store Optimization
App store optimization is not a one-off: You need to monitor and improve your app's settings permanently to give your app a good ranking. This implies hard work in all elements of your mobile app. If you are not sure about this process and you want to pass this task to experts:
ayeT-Studios offers a personalized app promotion strategy for Android and iOS app developers. With their multichannel ad solutions, they can reach a bigger audience to help your application go viral.

At the end of this article, we want to give you a comprehensive infographic about all the things you should take care of in app store optimization. Feel free to share it and put in onto your website!

https://www.ayetstudios.com/wp-content/uploads/2017/02/clock-70189_1920.jpg
1357
1920
Pascal Ludynia
https://www.ayetstudios.com/wp-content/uploads/2017/05/ayetstudios_logo_03-200x49-1.png
Pascal Ludynia
2017-02-17 13:24:45
2019-11-14 09:02:28
ASO – How to Do App Store Optimization the Right Way