If you want to be successful with your app, the development itself won't be enough: Publishing your app the right way is the key! You have to promote your creation in order to stand out amongst the competition. As one way to improve visibility, you can buy app downloads. How? We are going to answer your question in this article.
In Google's Play Store alone, there are more than 2.6 million apps available, and the number is continuously growing.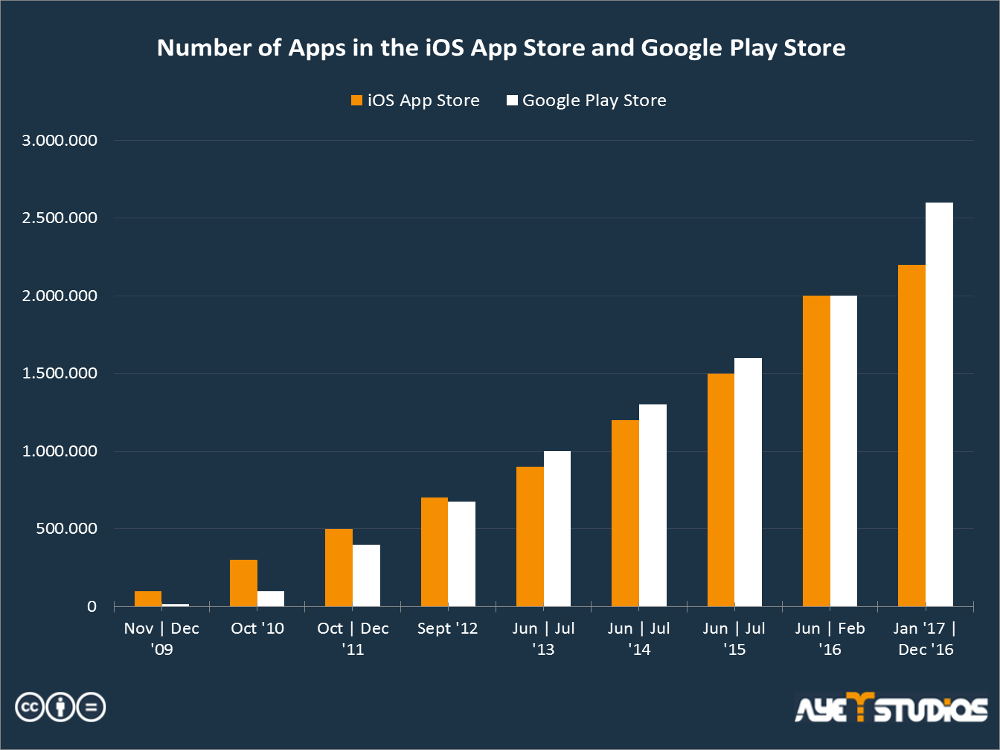 The number of apps in both app stores is growing continuously © ayeT-Studios
As you can imagine, it is very easy for you to get lost in the crowd. But don't worry: We will show you how to make your app go viral!
Buy App Downloads As Part of Your Marketing Strategy!
To see your own app fail after months of hard work and effort is every developer's worst nightmare. You can avoid this by creating a sophisticated promotion strategy. Think about your target audience first and find suitable methods to approach these users.
There are many possibilities for you to promote your app. For instance, ASO (App Store Optimization) can help you impact your app's ranking position before it's even published. In order to improve findability, you can optimize the name and description of your app along with its app store keywords. Furthermore, by creating an inviting icon and adding significant screenshots or videos, you can optimize the appearance of your app and attract the user's interest. Read this article for more information and tips on how to use ASO.
Of course, there are many different promotion strategies after you published your app, as well. Depending on your budget, you have the options of free or paid app promotion. Again, feel free to click here if you want to learn more about this topic.

Free App Promotion
For one, you can always use social media platforms or relevant app promotion sites to advertise your app. In addition, you should consider creating a website, a blog and multiple social media channels for your app, to be able to reach out to your users.
Paid App Promotion
In this article, we will focus on explaining how to buy app downloads as a way of promoting your app. Paid installs result in a sudden increase of your app's ranking, but there are a few things you have to keep in mind.
When you buy app downloads, and the same goes for paid app promotion in general, there are two options to choose: incent or non-incent.
Incent App Downloads
With incent install campaigns, the user will get rewarded for any interaction with your ad. Due to higher ranking positions, this leads to much higher visibility and eventually to an increase of organic traffic. There is also a downside: the effects are rather short-lived and permanent usage of your app can't be guaranteed. Furthermore, Google and Apple use various criteria next the number of installs to determine your ranking in the App Store and Play Store.
Read more about the factors influencing your ranking in the section below: App Store Keywords.
High Retention Installs
This campaign is a special offer from ayeT-Studios. When you buy app downloads, the user has to keep your app for at least three days before getting a reward. Thereby, your retention rate improves significantly.

Non-Incent App Downloads
In comparison, non-incent install campaigns don't reward the user for interacting with your app. Users show real interest in getting active, which can be more beneficial for the advertiser in the long run, simply because the chances of further engagement increase significantly. Make sure the rate of loyal users to installs is higher when buying non-incent app installs as opposed to incent installs. This campaign type can be leveraged by banners.
Before you decide on your campaign, beware that higher a retention rate alone won't make any advertising material more favorable. You have to analyse retention rate in comparison to cost per paid install. The table below clarifies this kind of calculation.
| | Incent | Non-Incent |
| --- | --- | --- |
| Cost Per Install | 0,10$ | 1,00$ |
| Loyal User (Retention Rate) | 5% | 25% |
| Cost per Loyal User | 2$ | 4$ |
Costs per loyal user as a result from cost per install and retention rate © ayeT-Studios
Nevertheless, every developer has to determine his own concept of a loyal user. For some, this user engages with the app for longer than thirty days. For others, it might be anyone who completed a transaction or the tutorial within the app. As soon as this is set and measurable, the developer can compare different marketing channels and advertising formats.
Buying Incent or Non-Incent App Installs?
In general, there is no clear answer to this question. Every developer has to decide how to buy app downloads. This decision depends on different aspects:
Your Marketing Goals – Do you want to boost your app's ranking while users might not keep it for long? Or do you prefer to generate potential long-term users who show real interest in your app?
Your Time – With non-incent install campaigns, it can take quite some time before seeing any positive differences in your app's ranking.
Your Budget – How much money are you able to spend? Often, incent install campaigns are much more cost-effective than non-incent campaigns.
With sufficient budget, combining these two campaigns might be the best option for you to buy app downloads. Initially, you can enhance your app's ranking to generate organic traffic directly after its launch. At the same time, you are able to reach lasting, interested customers, which improves your retention rate and long-term ranking.
iOS or Android?
This is the question every developer asks himself before creating a new app. In the table below, we compared different features of both app stores to help you decide.
Google Play Store
iOS App Store
Higher amount of downloads and installs than Apple. In turn, the number of uninstalls affects your ranking position.
In comparison, Apple developers generate higher revenues with their apps. The Apple algorithm considers these numbers for the ranking.
Fast admission process and more freedom with the app's content. However, there is less guidance which can be detrimental for inexperienced developers.
Long process to get the app approved. Developers get a lot of feedback in terms of improvement and why the app was rejected.
Users mostly install free apps. Developers have to find different ways to make profit with their apps.
iOS users are generally more willing to pay for great apps.
Featured Positions
Apps get featured in the section "Editor's Choice" and in each category.
The section "Featured" highlights apps for every category on the store's front page.
The categories "Top New Apps" and "Top New Games" present new free apps, while "Top New Selling Apps / Games" highlight new paid apps.
Apps get much more visibility by getting featured in special categories like "Popular Apps", "App of the Week" etc.
Top Charts: Order by free, paid and top grossing apps, the category "Games" is presented individually.
Top Charts: Each category is sorted by "Paid, Free and Top Grossing".
Some features of both App Stores in comparison © ayeT-Studios
As you can see, both app stores have their advantages as well as disadvantages. Analyze both of them to decide which one will satisfy your own marketing goals and needs.

What to Keep in Mind When You Buy App Downloads
In this last part of our article, we would like to give you some advice for buying app downloads the right way and promoting your app successfully.
1. Free vs. Paid Apps
If you want to buy app downloads, make sure your app is free and available worldwide! This is a requirement of many providers of app downloads and installs.
2. What Happens after Buying App Installs?
Many providers assure you that users will open your app at least once after downloading it. Therefore, your app should be as bugless as possible and catch the user's interest. If you can convince him or her of its value, the user will be more likely to keep your app. Nevertheless, few download providers can guarantee permanent engagement even after the install and first interaction with the app. Even so, ayeT-Studios offers a great possibility of increasing your retention rate with its High Retention Installs.
3. App Reviews
Don't buy app reviews, please! We know, many providers offer app downloads and app reviews in combination, which is very compelling. In fact, users often prefer downloading an app with many positive reviews. Imagine: Isn't it rather conspicuous than believable if your app gets tons of positive reviews in a short amount of time? Yes! Users will notice this contradiction and probably refuse to download your app. Furthermore, both Apple's and Google's guidelines prohibit any manipulation of ratings and reviews. Our suggestion would be to try to reach out to your users on a personal level. As an example, you could set up an option for ratings within your app.
4. Volume
Most providers work in a programmatic manner, like ayeT-Studios. As soon as you set a bid, available ad spaces of publishers will be requested in the ad network. Hence, there is no guarantee for any amount of volume as supply and demand determine the market. This is similar to securities trading at the stock exchange. When demanding higher volumes, the price per install or download rises simultaneously since the supply of ad spaces remains stationary over short periods.
To Summarize
Think about your marketing goals before choosing your campaign! Determine your target audience, your time and available budget. In the end, these are the Key Performance Indicators to measure your success and achievement of your goals. ayeT-Studios offers different and fair install campaigns for you to buy app downloads as well.

https://www.ayetstudios.com/wp-content/uploads/2017/03/desk-1399811_1920.jpg
1166
1920
Alina Dettmer
https://www.ayetstudios.com/wp-content/uploads/2017/05/ayetstudios_logo_03-200x49-1.png
Alina Dettmer
2017-03-15 13:10:23
2019-11-14 08:56:24
Buy App Downloads – Improve Your App's Visibility!