After months of hard work, it is finally here: the day of your app launch. Now you want to introduce your app to the market and convince potential users to download it.
But what if you don't have a huge budget available for promotional tools? One way to avoid many costs is free app promotion.

App Store Optimization: Free App Promotion in Google and Apple
The first important service that can be used for free app promotion is: App Store Optimization (ASO).
We highly recommend you to present your app in the app store in a visual appealing way, as well as to make use of keywords and a great description to ensure that your app will be found in the app store.
The amount of apps that float around in the different app stores is huge. In July 2016 there were 2 million apps in the apple app store and even 2.2 million apps in the Google Play store – and the numbers are increasing every day.
It is extremely hard to get the user's attention for your app if you compete with that many other apps that might be interesting for the user, as well.
Therefore, app store optimization is a free app promotional tool that is vital for your success.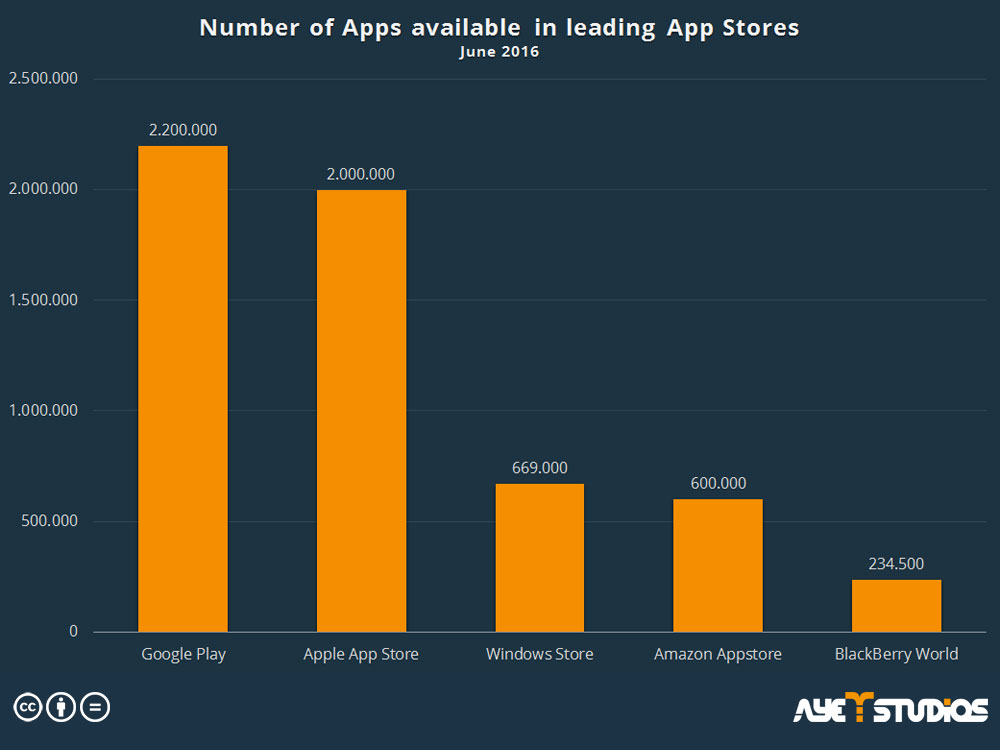 Google and Apple are the leading stores regarding the amount of apps available © ayeT-Studios
5 Steps for Successful App Store Optimization
As mentioned before, a great tool to promote your app for free is ASO. There are two main factors that are crucial for successful app store optimization: the findability and the appearance of your app in the store.
The users are more likely to download your app if it is easy for them to find your app and if they like what they see and find it interesting enough to at least download your app and try it out. So these 2 aspects are a must-do when starting with your free app promotion.

Findability
App name
The first thing that the users will see in the app store is the app name. Therefore, you need to find a catchy but unique name for your app that describes its main features or the experience that the user will have with it in the best way possible. Also, you might want to include a main keyword in the name. But be careful: too many keywords seem like spam to users, so that they might ignore your app and it would have counter-productive effects on your free app promotion.
Keywords
When using keywords, you need to consider the following three characteristics: relevance, difficulty and traffic. How relevant is the keyword for your app? How difficult will it be for your app to rank for the keyword? How many users search for the keyword?
Your ideal goal should be that your app ranks in the top 10 for all its keywords. In order to do so, you need to select your keywords carefully and monitor them on a regular basis to make sure keywords support your free app promotion. If your app is not ranked in the top 10 you should look for better keywords, for example by using synonyms, searching for good keywords with a keyword tool, or using keywords that your competitors used before. Also, you can choose words that your users used to describe their experience with the app in the app reviews. That way, you are using your user's language.
Description
Write a detailed description of all the features of your app and the experience the user will have with it. Be realistic and avoid lying or spinning. The users will realize they have been fooled and payback will come in form of bad reviews. Also, describe the app in a lively and interesting way to make the user curious of it. Use some of your keywords in the description without making it appear as spam. A good way to avoid that is to use a maximum of four to five keywords. Make sure to update your description every once in a while when your app gets an update and evolves, as well. By this, you will also push your free app promotion.
Appearance
Icon
Beside the app name, the icon is the first thing users will see – so make sure you create a unique and clear icon that stands out. It might help to get the user interested to the point that he will read your app description, check out you screenshots and demo video and finally download your app. Do not use words in the icon, just choose a nice and simple symbol that represents the app. Make it easy – the most successful apps, like Facebook, WhatsApp Messenger or Facetune just use one symbol without many details that is easy to recognize. Also, you can use the main character of your app, for example if your app is a game. A good example for that is angry birds where the app icon consists of just one bird. This has a positive effect on your free app promotion.
Screenshots and Demo Video
Screenshots or a demo video can show the user what his experience with the app will be like – a great tool you can use for your free app promotion. Therefore, make sure to include pretty screenshots and, if possible, show a quick demo video of your app. The best screenshots emphasize the app's sales argument and its unique selling point. A good example for nice screenshots is our app GiftPanda. We show the user everything he can do with our app and guide him through the experience.


Well-designed screenshots presenting your app's main features are inevitable © ayeT-Studios
Curious about this topic? Check out this article for more detailed information.

App Store Optimization in the Google Play Store
The Google Play Store and Apple's App Store are the two main players in the app store world. They may look similar from their interface but they are way different when it comes to app store optimization of the listed apps. This means it is important for your free app promotion strategy in which OS you will launch your app.
In the Google Play Store you can optimize your app's appearance by the following:
Use your main keyword in the app title. The titel cannot be longer than 30 characters.
Include keywords in the description up to 5 times max. The description cannot be longer than 4.000 characters.
Set your focus on the meta description (= the first 167 characters) since this will be visible the most.
The keywords are pulled from the description.
Provide screenshots and a short promo video.
App Store Optimization in Apple's App Store
Here are some important factors you should keep in mind for using ASO as free app promotion tool in the App Store:
Create a significant app title (you can use your main keyword only if it's appropriate). The title cannot be longer than 50 characters, but we recommend you to use a shorter title.
You can insert your keywords in the keyword field. Use 100 characters for your keywords, seperated by commas.
App description is not given as much attention as it's given in the Play Store
So the main difference between these app stores is the usage of keywords: direct placement (App Store) vs. embedding (Google Play). It's an important element for your free app promotion.
However, it is important for both to choose the right keywords your app should rank for. They should have a good mixture of relevance, difficulty, and traffic.
Make sure that you give your app an expressive and unique app name, and create high-quality screenshots for your apps. By this, you can use these free app promotion tools in the most effective way.

History of smartphone platform market share (2009-2016) © Statista

Building Your Own Brand
To get your app well known among its (potential) users you need to build your own brand for the app. It is important that the users will recognize your app directly and associate it with the benefit they will get from downloading it. Building your own brand is also part of free app promotion, since some of the tools are for free.
There a many ways to build your brand. First you should decide what your brand should be like, what it should stand for, what its design and visual language should look like and how you can create a unique experience for the customers. When you are sure of these factors, you can start communicating this to the outside with your free app promotion.
The first way of presenting your brand to the outside should be your own website. We recommend you to create an informative, but also clear website that informs users about the features of your app and what they can do with it. It is also very important that you include links to the app stores, so that the users can easily download your app, if they like it.
Furthermore, you should include all links to your own web presences, for example to your blog or your various social media channels. This will also have an impact on your free app promotion.
This leads us to the next two steps to build your own brand: Create an interesting blog and be active in social media.
When writing your own blog, you have the opportunity to present your brand or your brand, as well as to inform about recent changes in and news of the industry you are operating in. Keep in mind the way you want your brand to look like and write the articles according to that. Check the language, the pictures, graphics or colors you are using and adjust it according to your brand.
Furthermore, you can create your own social media accounts. Study the different possible channels and only choose the ones that are most suitable for you. It is more important to create good content on some channels than to create bad content on many.
It is also important which channels your potential users are using at the moment. You need to get in touch with them where they are.
If you want to acquire a broad audience with high quality, one way to promote your app is to involve an influencer who is well known among your potential users. The influencer introduces your app to his audience in an interesting way, for example through a video or a blogpost.
Since the people trust the influencer and are very willing to listen to him, the chances that they will download your app are very high.
Another thing that you can do is to work together with the press: prepare a mediakit and a press release and distribute it to the most important journalists. Pitch your app to journalists and try to convince them to interview you and talk to you about your app.

Free App Promotion Sites
Free app promotion sites are almost self-explaining: These sites place reviews and tests of your app on their site or on sites from other companies who are willing to promote your app. People that your can reach there are already interested in new applications and are therefore more likely to download your app.
But keep in mind: Not all app promotion sites offer their service for free.
Channels that are definitely for free are app promotion forums or forums that concentrate on new apps. There you can present your app to a high quality audience.
You will find more information about free app promotion sites here.
More Tips for Your Free App Promotion
There are various means to promote your app without paying a single penny. We offer a well-elaborated concept for app promotion – just click here.
As basics, you should keep in mind the following aspects for your free app promotion.
First impression
It counts a lot. Your app needs to leave a good impression on the user. Since there is a lot of competition in the marktet the users might choose any other app instead of yours if they are not satisfied with the first impression of your app.
Keep an Eye on Competitors
Keep a tab on your competitors, check their policies and marketing strategies. Follow the ones that are most suitable for you, they could give you an idea about how to make your free app promotion even better.
Directly Present Your App to Potential Users
Get in touch directly with your potential users through different blogs, websites and forums and present your app to them. Join different groups on Social Media and let the members know about your app. Make use of hashtags to make your app viral. You can also create your own hashtag to boost your free app promotion even more.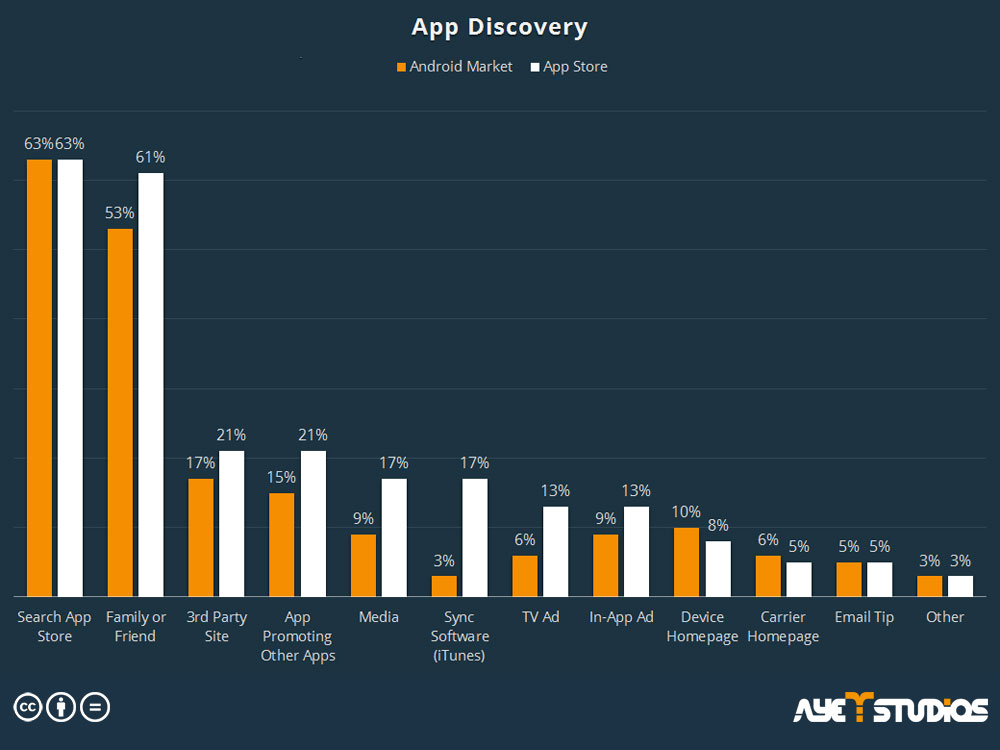 Distribution of how mobile apps are discovered the most © ayeT-Studios
Word of Mouth through Personal Contacts
Your family, friends, and other contacts on social media can be of great help in free app promotion. Share your app with them and ask them to download it and forward to others.
Loyalty Programs
Create loyalty and referral programs. The users will market your app through word-of-mouth publicity and encourage others to download it. Even if they charge you some amount of money or demand incentive or bonus points, these costs will still be less than paid app promotion.


Beneath you can find informations about our pricing:
Rewarded
Advertising
Android
(starting at)
iOS
(starting at)
CPI
0,07$
0,15$
CPE
0,30$
0,30$
CPA (Signup, Registrations)
On request
On request
Rewarded Video (CPV)
0,020$
0,020$
Rewarded Video (CPM)
0,50$
0,50$
Non-Rewarded
Advertising
Android/iOS/Website
(starting at)
CPC
0,02$
CPM
2,00$
CPV
0,02$
https://www.ayetstudios.com/wp-content/uploads/2016/11/Fotolia_112468033_S.jpg
566
849
Jana Barske
https://www.ayetstudios.com/wp-content/uploads/2017/05/ayetstudios_logo_03-200x49-1.png
Jana Barske
2016-12-05 10:17:25
2017-09-08 15:24:14
Your Guide to Free App Promotion