Although the industy around mobile applications is quite new, it behaves like every other business: The product itself has to be as good as possible successful! But did you also think about how to market your app to make it even more popular with the help of app promotion services?
To brave the vast amount of competitors in this industry you can choose from a variety of app promotion services. They offer different tools you can use to help you to advertise your mobile app.
Navigation

What Types of App Promotion Services Are There?
We like to separate the app promotion services into 4 different categories:
Paid User Acquisition
App Store Optimization
App Promotion Sites
Building Own Channels
For each category there are several full-service-providers as well as specialized companies offering only sub-services of a certain categories.
Lets enhance that statement by looking at an example. Taking a closer look at App Store Optimization shows that nowadays it is crucial to create a compelling video for your app in order to improve your Play Store entry. Therefore there is a bunch of companies specialized in app video creation, like wyzowl.com and makewebvideo.com.
App Store Optimization is much more than creating a video though. You need an app description, an app icon, your app name, feature graphic, screenshots and all of that should be keyword targeted. Hence video creation is a sub-service of App Store Optimization.
If you want to get to know more about App Store Optimization, read this article!
Taking a Closer Look at the Different App Promotion Services
Now that we showed you a quick overview of the categories, let's take a closer look at each service category and their sub-services.



1. Paid User Acquisition
Getting as many users as possible for your app is one of the key factors to give your app a good ranking in the app stores. But it is not easy to reach the masses of mobile users, especially if you want to acquire users for free.

Paid user acquisition is an effective way of app promotion service to reach out possible users for your mobile app.
Ad Networks
When choosing an ad network to spread the word about your app, you will find a enrmous amount of companies providing this app promotion service. It is important to think about in advance:
How much money can you spend?
In which format should your app be advertised?
There are many different ad formats offerd by ad networks to push your app (you will find a listing of various ad formats further down in the article).
If you're not sure what kind of ad network you should choose as app promotion service: Don't worry! Even big companies like Google ("Google AdWords") and Facebook ("Facebook Ads") act as ad networks where you can promote your mobile app.
Both offer app promotion services that are based on a bidding system, meaning the more you spend for your ad, the better it will be placed. This aspect gives you the opportunity to adjust your advertising costs to your current budget which is an important factor for app developers with a small budget.
Since the mobile market and mobile advertising have increased over the last few years (and it keeps on growing!) some ad networks set their focus on mobile advertising.
Major companies for app promotion services are e.g. ayeT-Studios, Tapjoy, and Fyber.

Incent vs. Non-Incent
Another factor to use app promotion services is the way you want to attract people:
When offering a reward for downloading and using your app this is called incentivized – it's the cheaper way to generate users. They will download your app and receive e.g. virtual currencies for a mobile game they're playing in exchange.
On the other hand, if you want potential users to download your app out of genuine interest you can choose non-incentivized advertising in your app promotion service.
The costs for this kind of service are difficult to explain since you want to get 'loyal users' for your app. Incentivized app installs themselves are cheaper than non-incentivized, however, you need to consider the retention rate in this context to talk about the real costs for these users.

In this article you will find more information about retention rates as well as incent and non-incent installs for mobile apps.
Ad Formats
There is a wide range of ad formats, depending on the app promotion service you pick. Before choosing an ad format you should take your time to think about how you want to present your app to the audience: Design, text and structure of the respective ad can have an deep impact on how users will react to your ad.
Here are the most common ad formats:
Banner: It is the founding stone of mobile advertising and improved a lot in the past years. Banners are displayed at some part of the screen, with a standard size of 350×50 pixel. In contrast to the beginning, when users thought of banners being disruptive, they can nowadays be implemented way more effectively in the context. The prototype of web banners was developed really early. Nowadays banners doesnt have to be static anymore, they can be animated, have a sound-layer or even get the information of a live-stream!
Interstitial: You could also call it full-screen banners because they will be displayed on the whole screen. By this, more information can be provided and users will receive an immediate impression about the product.
Video: In the last years, mobile videos have had a real boost. According to eMarketer, the numbers of mobile video ad budget spend in 2014 doubled in comparison to 2013 – from $720 Million to §1.5 Billion. This progress shows the huge potential mobile videos have when choosing them as app promotion service. Due to the time the video will play there can be even more context shown to your audience. An option for using mobile video ads in an incentivized way are so-called rewarded videos where users will receive a reward for watching the whole video.
Native: This is the modern type of banners where ad components will be displayed. When choosing the right place and structure of the ad it can be very effective: Because users won't be disrupted when being online and will see the ad as part of the website/app.
Offerwall: This ad format describes a page in an app where different offers are shown to the users. They can choose and complete an offer and will receive an incentive in exchange. Offer types may vary, from downloading and using a mobile app over watching a short advertisement about a certain product to completing a quick survey. It is always a good idea to scale the size of the reward with the amount of work a user has to to to  fulfill the task.
There will be even more ad formats available for different app promotion services but we think that these are the basic ones app developers and publishers should know.
No matter which ad format you choose: Always analyse your app performance and adjust the strategy of the app promotion service you're using. A well-chosen mixture of some ad formats is the best solution to make sure that you will attract many users.



Influencer Marketing
Making your app viral is a tough road, with millions of other apps competing for new users. That's why some app promotion companies also offer influencer marketing:
There's no other place on the internet where news can be spread faster than through social media.
A video about your app on YouTube, a post on Facebook reaching millions of fans, or a tweet that will be shout out to the followers – there are plenty of people that gathered a great fanbase. So when selecting this app promotion service you can be sure that these people will hear about your app.
Here you can find more detailed information about this topic.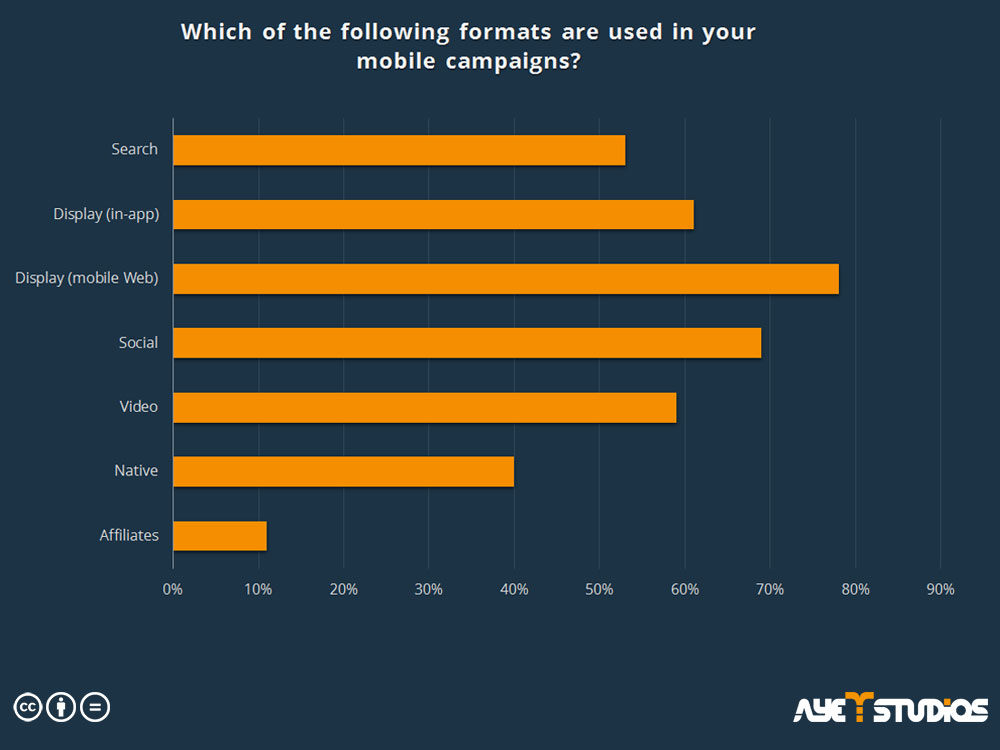 These formats are used the most for mobile campaigns © ayeT-Studios
2. App Store Optimization

The first impression of a mobile app is important for new users but you can also give you a better ranking with a well-designed content in the respective app store. App store optimization (ASO) is a key element when it comes to app promotion services – here are some aspects that should be considered.
App Name
Next to the icon, people will see your app name at first so make sure that it attracts users in the right way. It should contain the main keyword and, if you have a well-known app or brand, the brand name. Sometimes you need to be creative and gather a few ideas to get the best name for your app, or you can ask app promotion services for help.
App Description
A well-written app description can convince the user that it is what he is just looking for and attract the buyer to purchase a product, in your case to download the app.
App promotion services offer professionally written app descriptions to give potential users a detailed overview of every feature that your mobile app offers. With the descriptions provided, it is easy to elaborate the uses of your app, making a prospective customer in no time.



Keyword Research and Optimization
Companies for app promotion services emphasize on effective keyword research and look for the best set of keywords for optimizing your app in the right way. Through this approach, your app will get a highly optimized and highly viewed profile in no time.
But make sure that your app description is not overloaded with key words. Otherwise this could lead to a worse ranking in the app store. A high-quality app promotion service will find a good mixture and make it appealing to potential users.
App Design and Icon
Great app design and a great-looking icon are the basics of app promotion. They are very powerful in convincing people to download your app. Among the app promotion services is to make a coherent and beautiful design as well as an engaging app icon for your app.
They are not only creating but also testing design and icons to check out their effectiveness and functionality.
Screenshots & Feature Graphic
When clicking your app in the app store on their mobile device, the first thing users will see is the so-called feature graphic. This image at the top of the page is only available on mobile devices so you need to make sure that you don't forget this element in your app store page.
The design should match your app, and don't forget: Mobile devices do not have a very big screen so make sure you choose an appropriate font size.
The same goes for screenshots: Make sure that they look good and do not contain either too little or too much content.
Video
People love watching videos more than reading a simple text because they can get the information automatically. Take advantage of this feature in the app store and make sure that it is not too long – otherwise it can have a negative effect. App promotion services can offer beautiful videos about your app, in a high-quality design.
To gain a deeper insight just click here to get to know more about ASO.
Most of the apps are found when browsing the app store © ayeT-Studios
3. App Promotion Sites
Before purchasing a product, people check information, reviews and comments in advance.
Well, the same goes for your mobile app: Starting on your app store page, people will leave ratings and comments about it which will be seen by new users. But there are various other websites where your app can be listed, too.
App promotion services offer to place your app on the website, give detailed information about it, and rate it or leave a comment about it. This can boost your app's reputation and ranking, too.



App Review Sites
App review sites deal with listing and evaluating apps from the app stores. It is a hotspot for potential users who want to get to know new apps, so you can generate many new users for your app if people will find it on such a website.
However, the quality and quantity of articles about apps varies a lot: From very short app descriptions, placing your app with 5 other apps of the same category in one article, to really detailed reviews, including screenshots or even a video about your app to make sure people understand purpose of your app. App promotion services cooperate with such websites to place your app in there, too.
There are free as well as fee-based app review sites – it is up to you what format you want to use as app promotion service. Mobyaffiliates offers a short list of app review sites for both Android and iOS, paid as well as free. You should take a look at the website first and decide if you want your app to be presented this way.
No matter what app review site you will choose: By this, you will not only gain more media placement for your app but the app can also get a better ranking because of inbound linking from those websites.
Press Release
App promotion services are just working online? You're wrong!
The classical press, e.g. a printed article about your app or your company, may seem as an outdated way of app promotion service. But there are many fans and subscribers who will get newspapers and journals automatically or buy them. These people are keenly interested in this topic. Especially the audience of professional journals will be interested in its news and articles.
If your app is mentioned in these media you can be sure that the quantity of potential users is way higher than on other channels. And most of the printed medias are now available on the internet, too. This leads to your app going even more viral because the press release about your app can be re-posted, linked, commented, and the like.
App promotion services can help you publishing some words about your app in these media.
Websites and Communities for Startups
There are millions of apps in the app stores and every day there comes a new app or a new company launching its app. It is hard for them to compete with the big brands for some space for advertising but among app promotion services you will also find websites or communities only for startup companies. Like this, it is easier for you to push past the big brands and promote your mobile app with equal brand competitors.
The good thing is that people visiting such communities intend to discover brandnew products, so if you have just launched your new app this one of the places to be. You can either register on these websites on your own and pay a small fee (or, if you're in luck, it is for free) or you can use an app promotion service to get you online.



Specialized Websites and Blogs
Nowadays, there are blogs and websites for nearly every topic, even for techies and people who love mobile devices, gadgets, and apps.
The chances that you will gain new users are high because blogs mostly have a loyal fanbase who love the same topic like the author. If your favourite author is talking about the app, it can be worth a try.
You can ask the admin or owner of the channel yourself or you can contact a company for app promotion services to do that for you.

For more information about app promotion sites click here.
4. Building Own Channels
You can also create websites and profiles for your mobile app where you can provide basic information about your app outside the app store. Remember:
The more channels you can be found in, the more visibility you will get for your app.

Website for Your App

It is important to create and optimize the landing page of your app sites. There, people can read all information about your product and your company. If you connect the landing page with other online channels you will increase visibility on the internet.
Social Media Channels
There are plenty of social media channels available and there will probably be even more coming up in the next few years.
It is hard to predict on which channel your app will gain the most users. But make sure that your app is visible on the main social media channels like Facebook, Twitter, and YouTube. Depending on the function of your app you might also place it in channels like Instagram, Pinterest, Snapchat, and many more.
Also here you can decide: Do you want to do this on your own or do you want to make it in the most professional way and hire an agency for app promotion services.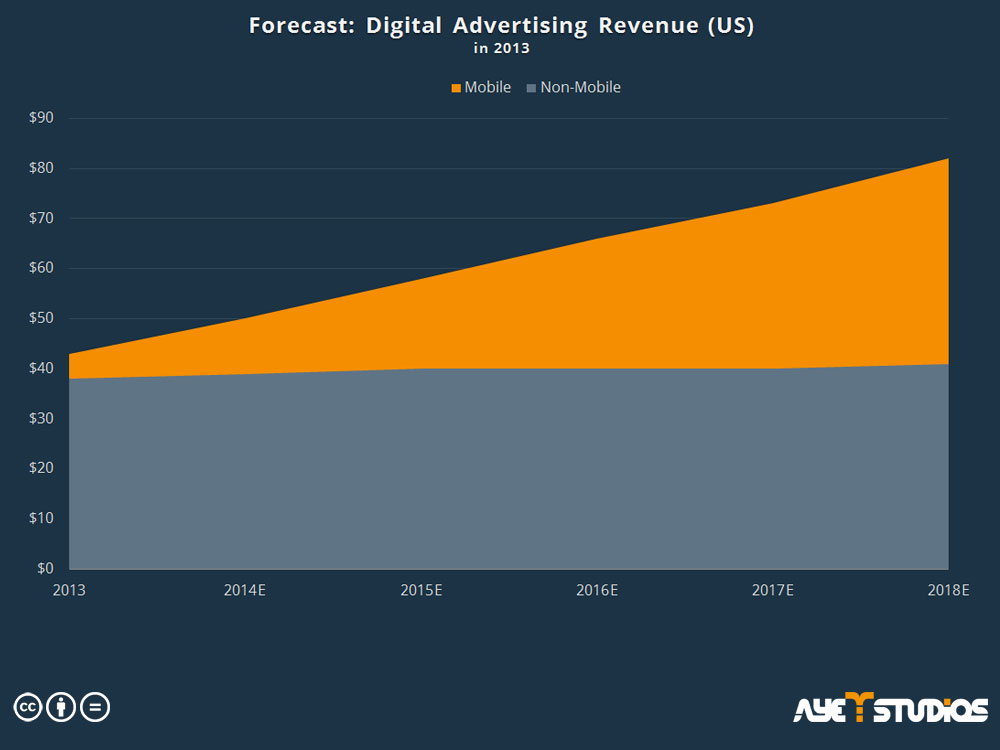 Expectations for revenue in digital advertising until 2018 © ayeT-Studios
Where Can I Get These Services
Anyone who is going to release an app should be willing to do the extra work that is necessary for their app promotion.
Almost all people who are likely to purchase your app will not ever get to know about it unless you push it out there. For some app developers, this process is more difficult than creating the app itself.
This is where app promotion services come to play in helping your app release to a success, no matter if it is for Android or iOS apps.
Let a company for app promotion services like ayeT-Studios recommends you the best combination of tools that will provide the best app promotion services for your app.



Beneath you can find informations about our pricing:
Rewarded
Advertising
Android
(starting at)
iOS
(starting at)
CPI
0,07$
0,15$
CPE
0,30$
0,30$
CPA (Signup, Registrations)
On request
On request
Rewarded Video (CPV)
0,020$
0,020$
Rewarded Video (CPM)
0,50$
0,50$
Non-Rewarded
Advertising
Android/iOS/Website
(starting at)
CPC
0,02$
CPM
2,00$
CPV
0,02$
https://www.ayetstudios.com/wp-content/uploads/2016/12/app-promotion-services.jpg
566
848
Yvonne Peter
https://www.ayetstudios.com/wp-content/uploads/2017/05/ayetstudios_logo_03-200x49-1.png
Yvonne Peter
2016-12-30 14:44:39
2017-09-08 15:20:20
Which App Promotion Services Can Boost Your App?