To attract the attention of potential users for your app or mobile game, you have to market it. In this article, we will introduce you to effective app marketing strategies and explain them thoroughly.
Ways to Market Your App or Mobile Game
To get started, we collected a few strategies – both free and paid – in this overview:
Free Options
Paid Options

App Store Optimization
Social Media & Landing Pages
App Review & Promotion Sites
Blogs
Media Kit & Press

Ad Networks

Incent / Non-Incent Campaigns
Various Combinations of Ad Formats & Bidding Types

Influencer Marketing
Overview of effective free and paid app marketing strategies © ayeT-Studios
For more detailed insight on these methods, read our article about the basics of effective app promotion.
Special Options to Market an Android or iOS App
Besides the general strategies, we want to introduce you to some strategies that specifically apply to both Android and iOS apps.

Android App Marketing
Connect your marketing campaign with Google Adwords! This online advertising tool by Google lets you promote products via various ad formats, displayed on different channels. You can promote Android apps with it, too.
There are two campaign types you can choose from:
Universal App Campaign
This option enables you to promote Android apps via different ad formats and on several networks available by Google. Text and visual elements are taken from your app's app store page (one more reason for ASO).
This campaign type is based on a CPI bidding system, meaning you can choose how much you are willing to pay for users installing or opening your Android app. This way, you can promote your Android app and increase your marketing budget if the results are satisfying.
Mobile App Installs Campaign
With such campaigns you only target one network to generate app installs. Depending on the specific campaign model, you can choose between CPA, CPV, and CPI as your bidding option to promote your Android app.
There are three different campaign models, each of them targeting another network:
Display network app installs campaigns (text or image app install ads)
Search network app installs campaigns (text app installs ads on)
TrueView for app installs campaigns (video ads on YouTube)
According to your Android app promotion strategy and your target audience, you can select the campaign type that best fits your needs. With Google's bidding system, you can adjust it to your current marketing budget. Click here for more information about mobile app installs campaigns with Google AdWords.
iOS App Marketing
Apple offers two options for your app marketing:
Search Ads
With Search Ads, iOS app developers are able to place their app on top of search results. Since more than half of app downloads are generated through search in the App Store, this is one great opportunity to promote your iOS app more effectively.
With its self-service dashboard, creating a Search Ad campaign is very easy. There is no minimum spend for it and costs only incur when users tap the ad. Apple has set a bidding system for this feature, which makes it possible to set a price according to your current budget.
In combination with ASO, you can take advantage of your app's information (e.g. description) and graphics (e.g. screenshots) through "Search Match". This feature takes metadata of the app from the App Store for your iOS app marketing. You can also either use keyword recommendations made by Apple or select keywords on your own, just like Google AdWords. It is not possible to change the ad creative, this data will only be taken from your metadata.
Furthermore, relevance is more important than bidding regarding apps being displayed via Search Ads. Here, Apple again shows that it prefers high-quality to monetization. Hence, when you've already done a great job with your ASO, you can draw on it.
Check out Apple's website for more detailed information.
Apple's Editorial Choice
This is no direct promotion tool for app developers but it may attract them to create the best app possible. Apple's editors choose great iOS apps continually that are displayed in these special sections of the App Store – so Apple will promote your iOS app.
Next to its appearance, features and quality, your app can also get the chance to be placed by lowering its price for a limited time. So, consider offering a discount from time to time.

Rewarded vs. Non-Incent App Marketing
If you want use app Marketing to push the quantity of installs for an app, there are different ways to do so. You can buy installs and choose between incentivized and non-incentivized types, meaning:
Users will either receive a reward for installing your application (incentivized) or
they will download your app out of true interest and without being rewarded (non-incentivized).
Both types have different advantages and disadvantages.
Incentivized
In general, you can choose between two app promotion strategies when driving incentivized installs for your app. One of them is based on the amount of installs generated in a certain time whereas the other one considers the loyalty of your users.
Advantages and Disadvantages
As mentioned before, one advantage is the number of installs you can generate in a small period of time and the resulting boost of rank. Another important factor you should keep in mind is the cost for each kind of install:
The CPI (=cost per install) for incentivized installs is way cheaper than that of an app promotion strategy only based on non-incentivized ones. The downside of incentivized installs is that users might download and install your app only for the reward, resulting in less user engagement, lower lifetime value and smaller retention rates.
Non-Incentivized
The advantage on one side is the disadvantage on the other: Since users won't receive a reward for installing your app, you have higher costs in order to generate the same amount of installs of an an incentivized campaign. If you've just started your app business, this could take a big chunk of your marketing budget.
Conclusion
Now, the most important question needs to be asked: Which type of install is suitable for your app promotion strategy?
Can you choose a method where you only deal with the benefits and leave the drawbacks behind?
Take advantage of both of them. The mixture of rewarded and non-incent installs helps your app marketing strategy gather pace up and your app will climb up the charts.

App Marketing Campaigns
The main goal of app marketing is to acquire new users but there are various ways to advertise an app. These not only differ due according to the ad format, but also according to who is carrying the risk – the publisher or the advertiser?
Install Campaigns
With this app marketing campaign type the advertiser pays the publisher for every generated install (CPI). The install can be rewarded for the user or be of non-incentivized nature. If the advertiser wants the campaign to be incentivized, he/she can expect the download rates to be very high. Users install the app in order to get the reward.
For the publisher, incentivized installs are quite interesting, because they only want to deliver installs and do not care about what happens after the installation. For marketers, non-incentivized installs are more promising because a targeted group of users downloaded the app of their own interest. This results in higher retention rates and consequently a higher revenue for the developer of the app.
So, the difference between rewarded and non-rewarded installs also underlines the shifting of the carried risk between marketer and publisher. Rewarded installs pose a low risk for publishers but a high risk for the advertiser. Non-incent installs imply a high risk for the publisher, (as it is not clear what percentage of his/her audience will install the advertised app) and low risk for the publisher.
Action Campaigns
Action campaigns offer a reward to the user, as there is always an objective the user has to fulfill. This mobile campaign type allows the advertisers to spend budget only if the user has fulfilled a specific action in their app. Like that, he/she gets to know the product a bit better and might continue to use it. Although the risk for the advertiser is the same as with incentivized install campaigns, the audience of the publisher might only take the action to get the reward.
Mobile Video Campaigns
From a marketing point of view, videos as advertisements are very unique because it is so versatile to monetize and to calculate the bid. What advertisers should know first: a study showed, that 71% of mobile game players think that video ads are the preferred way to "pay" for an app.
When using video ads, marketers can also choose to reward users or to leave it non-incentivized. The possibility to choose the right bid-type is what makes it special.
The three main bid-types are Cost Per Install (CPI), Cost Per Click (CPC) and Cost Per View (CPV).
Here, the model cost per install is used in the same way as in the install campaign. CPI video ads can be both rewarded and non-incentivized: the advertiser pays the publisher for delivered installs. The CPC bid-type only pays the user when he/she interacts with the ad and gets directed to a landing of a mobile browser or the page of an app store. As the action of clicking implies less work for the user than installing an app, the reward is a bit smaller. This can also mean that the user interacting with the video is generally interested in the product. The same applies to non-rewarded video ads. With this mobile campaign type, the publisher carries the risk and the advertiser only pays when a user interacts with the ad.
Non-Incent Video Ads
In terms of incent video ads, you have various options of implementing them in your app marketing strategy. You can either:
place them in social networks like Facebook, Twitter, Instagram, Google or some video-focused ad networks,
place them before, within or after a video on YouTube,
include them on your app's website or landing page or
create videos for your app store page.
With all these methods, you are able to give more detailed insight into the functions and benefits of your app. If you create a professional and compelling video, it might just convince users of downloading your app!
Rewarded Video Ads
A rewarded video is short video clip, on average 15 to 30 seconds long, that is non-skippable and designed for in-app environments. It offers users a reward in return for watching the video, though the download itself is the user's choice. Thereby, it represents a mixture of incent and non-incent advertising.
That is not the only feature of rewarded videos: they also provide huge advantages for both the user and the advertiser and benefit them alike! On the user's side, they interact with this ad format by choice since rewarded videos are fully opt-in. Users only have to watch the video if they want to receive the reward. Hence, this format doesn't disrupt the user experience but increases user engagement with the advertisement. On the developer's side, this last point is very important: higher engagement rates also mean increasing revenue and higher viewability rates for advertisers. This interplay of both sides allows advertisers to monetize their app through advertisements without disturbing the experience for the user.
There are many more campaign types you can use to market your app, click here for more information.

App Marketing Costs and Budget
Knowing how to calculate your budget is crucial when wanting to conduct successful app marketing. First, you should select your key performance indicators (KPI) upon what you would like to achieve with your app. Following, we are going to present to you some of the most common calculations that you can use to calculate your budget for your user acquisition strategy.
Cost Per Install
The cost per install (CPI) measures the app marketing costs for ads that trigger an installation of your app. CPI varies a lot according to the ad formats you use. If you are using non-incent banner ads, you will most likely pay more for each install than when buying downloads via an incentivized offerwall. If you use an incentivized offerwall you can calculate very precisely how many installs you will get for a certain amount of money.

Cost Per Acquisition
This simple yet interesting formula helps you calculate app marketing costs because you can measure very clearly how effective your marketing efforts are. It is not limited to a specific model like CPI or CPAU.
For the mobile advertising industry, this pricing type is more commonly used for setting actions like completing a tutorial, reaching a certain level, registering an account or subscribing a newsletter.

Cost Per Active User
The cost per active user measures the app marketing costs for reaching users that will use your app actively. Every company needs to define for themselves what 'active' means. In this case, you might also hear the term 'retention rate'.

Average Revenue Per User
The average revenue per user is the amount of revenue each of your active customers (on average) contributes in a specific period of time.

There are many more KPIs to optimize your app marketing strategy. Click here to get the full overview.
App Marketing Solutions
In this section of the article, we want to introduce and explain app marketing solutions that we developed for our customers.
Programmatic Buying
With Real Time Bidding (RTB), you can buy ad spaces like mobile banners, interstitials, and mobile video in real time via OpenRTB protocol.
The OpenRTB compliant ayeT-Studios DSP is the most versatile programmatic and managed supply source for precise and targeted buying of inventory. Our demand side platform comes with integrated programmatic and managed supply sources from thousands of publishers.
IAB Ad Unit Standards
Since our services fully support the IAB standards, ayeT-Studios can guarantee access to premium, brand-safe inventory across all supply sources. Since we are compatible with HTML5, Vast and VPAID 2.0, you can take full control of your media buying and maximize flexibility of where your ads can be served.
Data Driven Optimization
Rely on our data-driven approach and proprietary optimization algorithms to improve your advertising outcomes. Our algorithms will optimize your campaigns based on massive amounts of historic data, new data processed on a daily basis and a combination of multiple data points in order to make informed predictions, on which users will most likely show the highest interest for your ad and consequently result in a conversion.
In particular, all technical data points, such as the device model, operating system, location, and time, will be intelligently weighted, thereby enabling precise addressing of target audiences and informed decisions to buy inventory on a real time basis.

Fraud Prevention
We prevent your ad spend from possible fraud with the help of proprietary technology, strong partners, and a dedicated team.
We combine automated real-time data analysis and hands-on examination of accumulated historical data by our experts to identify abnormalities and fight publisher fraud. That way, we provide the highest level of security for your media buying. Additionally, you can monitor your performance and data in real-time with our dashboard.
In detail, we fight fraud by:
Measuring performance discrepancies
Using third party ad tracking
Detecting non-human traffic (NHT)
Monitoring statistical indicators
Built-in proprietary technology to:

Analyse abnormal user behavior
Measure unexpected CTR/CR ratios
Detect abnormalities in traffic quality in real-time
Examine suspicious performance distribution
ayeT-Studios Dashboard
With our self-serving dashboard, we can provide our customers with full control over their media buying and marketing outcomes. You just have to setup a campaign by choosing a campaign type like install campaigns, engagement campaigns, banner ads or mobile video. If you want to target a specific audience, you can set granular data like targeting location, language, device, OS type and more. To guarantee a fully transparent campaign performance, we cooperate with third party tracking providers Appsflyer, Tune, Adjust or Kochava. Furthermore, with our dashboard, you can react to real-time reports fast and optimize across all supply channels.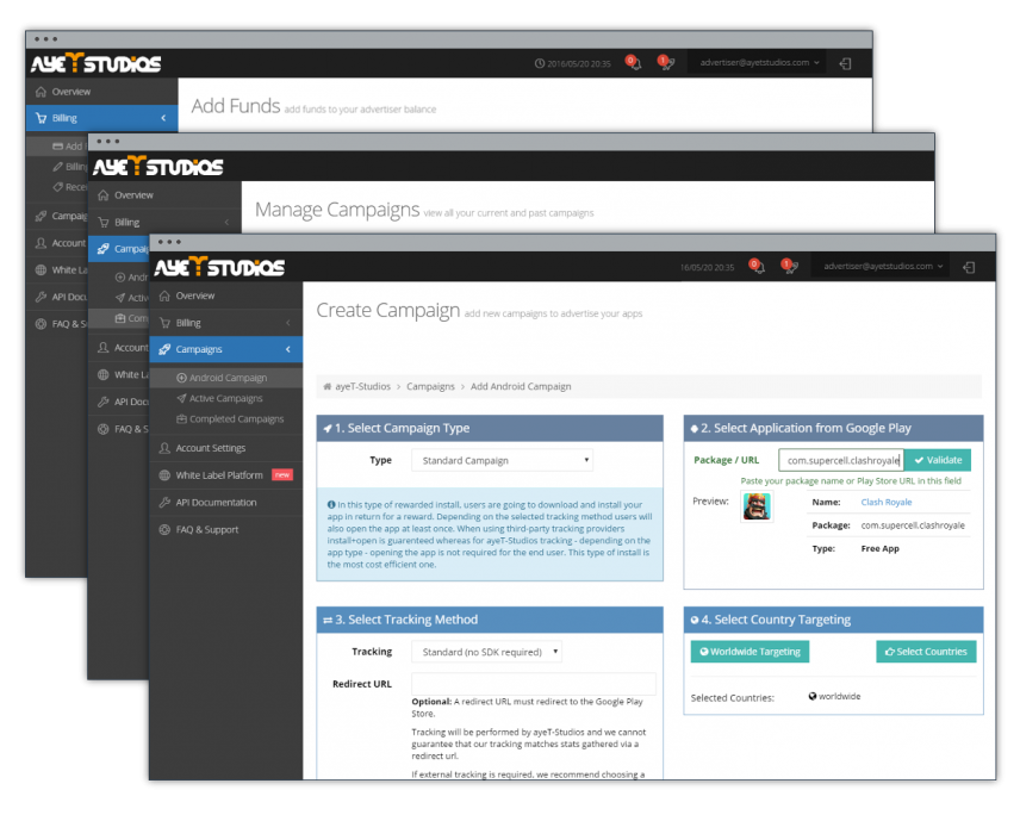 To sum up all the advantages of our dashboard:
Self-serve capabilities
Real-time reporting
Buy from ad exchanges and premium publishers
Manage and optimize all your ad campaigns with ease
Optimize across all supply sources
Precise targeting
Integrated third party tracking
Multiple bid types available

https://www.ayetstudios.com/wp-content/uploads/2017/11/businessman-2606509_1920.jpg
828
1920
Alina Dettmer
https://www.ayetstudios.com/wp-content/uploads/2017/05/ayetstudios_logo_03-200x49-1.png
Alina Dettmer
2017-11-13 13:22:03
2019-11-13 11:40:42
How to do App Marketing