To attract potential users for your mobile app, you have to be visible in the app store. One thing to consider is app store optimization (ASO) and especially finding the best app store keywords – one the most difficult but most important elements of ASO.
In the following, we will explain how to find the best app store keywords possible for mobile apps and give insight into appropriate tools and strategies.

The Main Factors of ASO
There is a great variety of adertising formats you can choose from to promote your mobile application. Typical types, as well as special ones for the mobile world, can be used and mixed to generate as much traffic as possible. We have listed the most important models for mobile advertising in this article.
These two key factors lure more users to your app store page: Findability and Appearance.
Findability
To improve findability, the name of your app is a very important point. It should be catchy and already have one or more of your targeted keywords in it.
The description should mention all the features and experiences the user can expect when using your app.
You should also think about creating a brand for your app and promoting it on social media channels to build a remarkable amount of backlinks.
Appearance
The icon is one of the first things users notice about an app. It should be unique and appeal to the user to cause him/her to visit the app store page.
Additionally, screenshots and videos on the app store page emphasize the sales arguments of your app.
A well-produced video can give an overview of the look and feel users will have with your app.
Findability is more important than appearance but one can't work without the other:
If you put all your work in the appearance of your app, maybe nobody will find it.
Or your app store page looks plain, having a great name and very potent app store keywords but nobody is attracted by its design
You have to balance these two factors to ensure success for your app. If you are looking for more detailed information, you can read this article about App Store Optimization.

App Store Keywords: Research and Selection
How to find good keywords? One thing is to make sure to choose keywords that are not overused while still being able to compete with other apps.
Great App Store Keywords and Practical Tools
The following steps outline how you should prioritize the different characteristics of keywords:
Relevance

– How likely is a user going to download your app if he uses the keyword you've chosen?




You really need to check the environment you're trying to rank in. If you rank #1 for the keyword "bicycle" and have a shopping app for bicycle parts, it is great, but not precise enough. Ranking #1 for "bicycle shop" would be much better.

Competition

– If you rank #431 for a keyword that gets millions and millions of searches, nobody will see your app in the app stores. The majority of users will not scroll that far in the search results. It is better to use keywords, which have less search traffic but for which you are able to rank in the top 10.

Searches

– In the end, the amount of searches is what counts! However, it's very important to work on the first two factors before looking at the number of searches a keyword collects in the app stores.
The importance of this factor is decreasing. The number of searches is not the most important thing for finding app store keywords – it's the last thing you should take care of. Start with concentrating on 1. and 2. Only work on 3. if you've figured out the first two.
Tools To Use
Having talked about the fundamentals of the right approach to picking good app store keywords, we will now introduce you to some services you can use to find the right ones.
There are quite a lot of different platforms you can choose. We listed some of our favorites:
Google Keyword Planner – More Than SEO
Google does not just provide one of the best tools for SEO: You can also extend it as an ASO tool to find the best app store keywords for your mobile application.
It can help you find out how competitive your keyword is in comparison to other apps and how it ranks in a predefined region.
Due to differences in the search volume of web searches and searches in app stores, you cannot expect the ratio to be "1:1".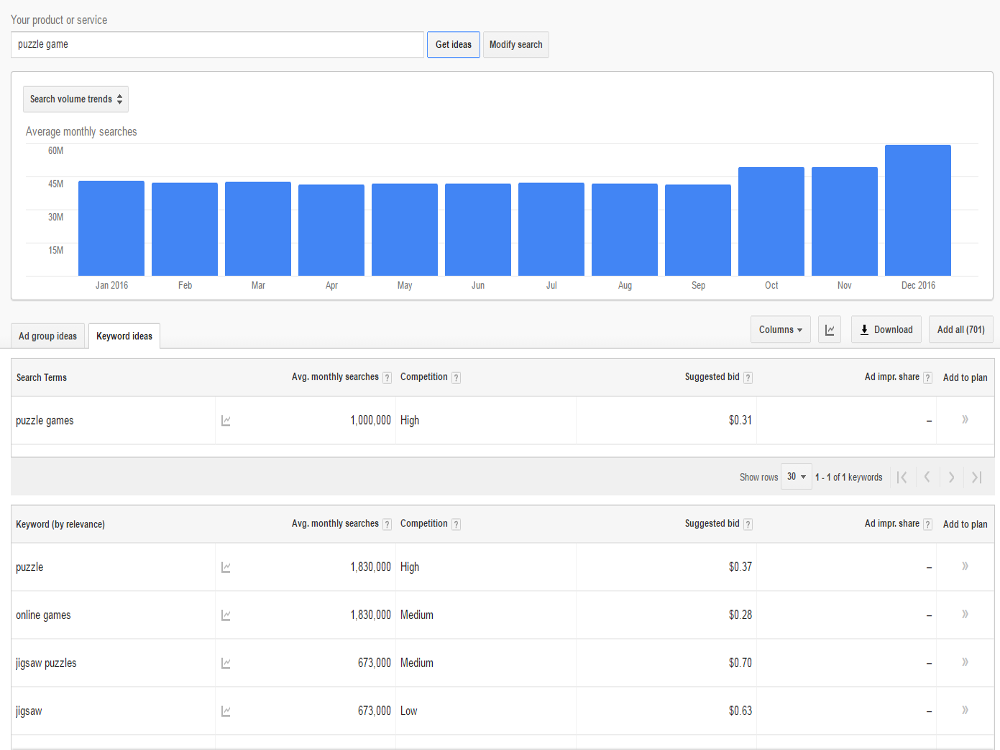 Results in Google Keyword Planner for the app store keyword "puzzle game" © Google

Reversedictionary.org
Another way to optimize keywords is reversedictionary.org, where you can search for keywords you want to find an alternative for.
This website provides a humongous amount of possibilities. Combining them with, for example, the Google Keyword Planner, you will find awesome new app store keywords.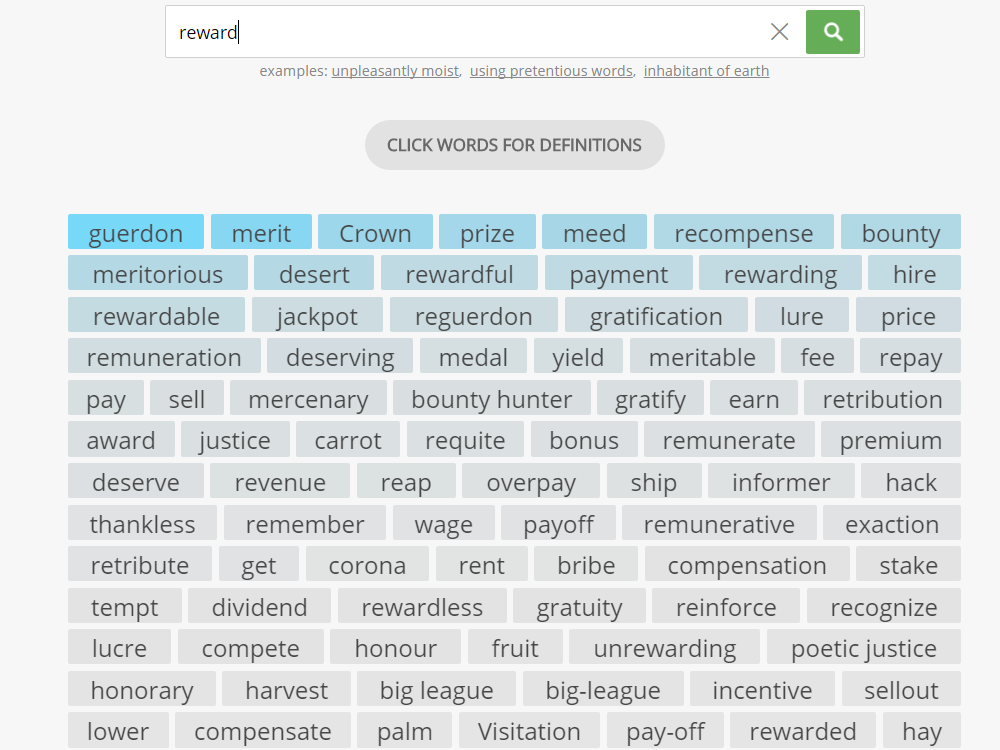 Reversedictionary.org shows words that are connected to your targeted app store keyword © reversedictionary.org
Thesaurus – Finding Synonyms
thesaurus.com offers considerable potential to finding synonyms for an application keyword you have never thought of. The only negative point is: You can only use it in English.
Like reversedictionary.org, it is a good additional tool to find non-competitive and new keywords.
SensorTower's Keyword Spy Tool – Check Out Your Competitors
A word of warning about this tool first: Please only use the results from SensorTower as an inspiration for your own keywords. Apple and Google don't plainly disclose keywords.
However, this service can be very useful when trying to find out which keywords your strongest competitors rank with. You can also compare them with the rank of your own app store keywords. Furthermore, you get enormous input for finding new keywords.
You will find a list of websites, which can be used to find the most fitting keywords for your mobile app below.
These providers can help you find new app store keywords or can even tell you which keywords competitors use.
Please keep in mind: You usually have to pay in order to use the full service of these platforms. So you need to find the tool that best fits your needs and budget. If you want to know more about free app promotion check out this blog post.

Keyword Ranking
Finding the most successful app store keywords means you should try to understand what causes a keyword to thrive. The problem is that Google and Apple keep their search algorithms a secret.
Nonetheless, the following aspects can be optimized:
Number of ratings: How many users have reviewed and rated your app?
Ratings itself: How high/low are they?
Amount of downloads: How many downloads can your app generate?
Uninstalls: How many people uninstalled your app?
Download growth: How did your downloads grow over the last 30 days?
Usage frequency: How often is the app used? How long per session is the app used? How many app screens does a user see per session?
Links to store page: "Getting people to write about your app improves your search rankings in the Play Store" (Google I/O June 2012).
You will find many tools that help with promoting your mobile application, not only regarding ASO but also in general. Click here to find the best app promotion services available.
App Store Optimization in Google and Apple
Let's start by comparing factors that influence your app's ranking in the App Store and Play Store:
| | Play Store | App Store |
| --- | --- | --- |
| Downloads | ✓ | ✓ |
| Revenue (only paid apps) | ✗ | ✓ |
| App Starts (usage) | ✓ | ✓ |
| Number & Value of Reviews | ✓ | ✓ |
| Keyword Relevance | ✓ | ✓ |
| Recently Updated | ✗ | ✓ |
| Retention/Uninstalls | ✓ | ✗ |
| Country | ✓ | ✓ |
| Social Proof | ✓ | ✗ |
| Backlinks | ✓ | ✗ |
Factors that influence your rank in the app stores © ayeT-Studios
50% percent of traffic on app store pages comes from direct searches in the app store, so you definitely need to optimize yours as much as possible.
The right app store keyword and app name are vital factors for success. Although the App Store and Play Store appear quite similarly, the use of app store keywords and a good app name is very different.
In the next paragraphs, we will describe aspects and differences you should consider of the main two app stores.

Keywords in the App Store
Let's take a look at how Apple deals with its keywords and where you can place them for your mobile app.
App Name
The app name is limited to 50 characters. You may want to get one of your app store keywords in it but keep it user-friendly at the same time.
Make sure not to use any special characters in your app name (like "copyright" or "trademark") because your app name defines the URL of your app in Apple's App Store.
Keywords
When it comes to keywords, Apple has clear guidelines about how many to use and where to put them. You can use 100 characters for your iOS app store keywords. Separate them with commas and use plurals if these fit better to increase your app's reach.
Sensor Tower offers an easy-to-use tool that helps you count the amount of characters. Like this, you can see how many characters you have left for your keywords.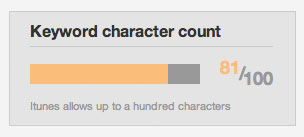 Counted characters for your app store keywords © sensortower.com
Some more tips regarding app store keywords:
Make sure to use all the provided space.

Don't use trademarks as keywords, this could become a problem with its rightholder.
It is better to be ranked in the top 10 results with an ordinarily-searched keyword than in the top 100 for a keyword, which is well-searched.
Try to find a synonym for an app store keyword if you feel that it's overused.
Never use complete phrases made of several words like "spanish lesson". It is better to separate them: "spanish, lesson"
Publisher Name
The App Store search algorithm also includes publisher names in its ranking calculations. However, it can be a bad idea to use a keyword in the publisher's name or at least opinions about this topic are divided. Our tip: Focus on app store keywords in other aspects of your app.
Name of In-App Purchases
This is an unproven factor for ranking in the App Store. It may happen that users find your app by searching the name of your in-app purchases. Only if the search term matches the IAP name exactly. So, this factor should be considered last when trying to optimize your app in the App Store, using your keywords in this section.
Please always keep in mind: Optimizing keywords for iOS is not a thing you do only once. It needs constant measuring, testing and analyzing.
Try your keywords for some time, then change some of them and take a close look at how your downloads increase or decrease or how many new users come to your app. Nothing is constant and static, neither should your keywords.
Curious about more information regarding iOS app promotion? Then check out this article.

Keywords in the Play Store
The process of how app store keywords work in general resembles the Play Store. There are some differences in how to integrate them in your app store page. We have gathered how to find, analyze and select the perfect keywords.
Finding
When trying to find good working keywords for Google, you should always think of keywords, which cause the user to download your mobile app. Be creative and don't use generic keywords.
You have 30 characters for the app name. Google recommends to use "brand + key function". A very good example is the app "hotels.com" because it combines all aforementioned elements.

This is how the app "Hotels.com" looks in the Google Play Store © Hotels.com / Google
You should also make sure to use long-tail keywords. Especially if you are a new developer/publisher and don't have a big brand behind you (yet).
It is always a good idea to take a look at reviews of your app to get input for new or better app store keywords. With this method, you use the language of your users and find suitable keywords for your app more effectively.
You already gained some downloads? In this case, it can be very helpful to use a tool that looks through all the reviews in order to find good new app store keywords, like the one for Mobile Action below.
Take a look at the example below: All reviews were browsed through for the word "fun" and results are shown on the right side. 

With the help of "Mobile Action", you can search your reviews for keywords © Mobileaction.co
Now, you can read through them to find hints for keywords that users associate with your app and the word "fun".
Like finding app store keywords for iOS, you can also use the service of Sensor Tower for Google and find out what your competitors' keywords look like.
Reminder: The Google Play Store does not openly reveal the keywords for apps published on its platform. So, please only use these results of your research as educational input.  

Analyzing
You've gathered a decent amount about app store keywords and you think they will lead your app to success. Now it's time to get some hard data and metrics on each keyword.
It is necessary to get the help of an analysis tool for this step. Here, we will use the metric system of Mobile Action. There are two important factors to consider when using this tool:
Search Score is the relative number of searches that a keyword receives. The higher the number, the more traffic it gets.
Chance is the possibility of the app store keyword ranking in the top 10. The closer you can get to 100%, the better.
This metric system is specific for Mobile Action only. Other providers like Sensor Tower use different calculations to rate the app store keywords.
Selection
Now you can select the app store keywords you want to rank in the top 10 charts with.
In Google's Play Store, you place the keywords in the description up to 5 times, therefore keyword length is not a big problem.
Don't make the mistake of targeting keywords, which are highly competitive since it will be really hard to get a decent rank. Try to find easy keywords users will search for to download an app but don't make the mistake of using generic phrases.
You should choose keywords based on the following criteria in decreasing importance:
Download relevance – As mentioned before, you have to select a keyword what users search for to download an app.
Ability to rank – Especially for new apps, you should choose keywords with a good chance of ranking highly or that are not difficult to rank with in general.
Searches – In the last step, you should look at the amount of downloads your aimed keywords has.
Always remember that the numbers you get from these services do not cover all factors that influence the ranking of your mobile app. Make sure to add well-designed screenshots and videos as well.
Need more information on how to promote Android apps? Click here for more information.
If you are unsure about how to start the search for app store keywords, you can contact ad networks like ayeT-Studios. Not only will they help you with your app store page – they can also push your app's visibility with various multichannel ad solutions. Like this, you will get the best possible traffic for your app.

https://www.ayetstudios.com/wp-content/uploads/2017/02/computer-767776_1920.jpg
1280
1920
Pascal Ludynia
https://www.ayetstudios.com/wp-content/uploads/2017/05/ayetstudios_logo_03-200x49-1.png
Pascal Ludynia
2017-02-20 15:47:27
2019-11-14 08:59:48
How to Successfully Find New and Non-Competitive App Store Keywords