Effective Strategies to Promote iOS Apps
There are many criteria for developing a mobile app for Apple's App Store. Developers need to have an idea about how to promote iOS apps to make sure that its visibility improves constantly.
We collected some basic facts about proper iOS app promotion.
Navigation
Android vs. iOS App Market
People mostly decide between the two big giants of the mobile world: Android and iOS.
The same decision goes for app developers because they rarely upload an app to both operating systems. Here are some facts about the rivals.



Apps In The App Store
As an iOS app developer, you should first analyze the desire and behaviour of your target group to understand what your future users will expect from apps like yours. Regarding differences between iOS and Android apps, it is shown that:
There are less indexed iOS app downloads than for Android.
The aggregate app revenue is higher in the App Store than in the Google Play Store.
Prior to release, Apple's review process conducts more thorough app checks in comparison to Google.

Android's number of downloads is pushed by many different markets and their demand. Apple users are willing to pay more money in the App Store.
Furthermore, Apple sets its focus on high-quality apps for its users and monitors more strictly with regard to iOS app requirements.
Distribution of OS Versions
Both Google and Apple constantly publish updates of their operating systems to provide the best possible service. How many users are really using it?
Many different devices use Android as their operating system, meaning there is a wide range of factors that should be kept in mind to reach as many potential app users as possible. Additionally, according to the official site for Android Developers, most of these mobile devices have Android 4.4 (21.9%), 5.1 (23.1%) or 6.0 (30.7%). Only 1.2% are used with its latest version Nougat.
The Apple Developer site, in contrast, states that 79% of its users have iOS 10 and 16% of their mobile devices are used with iOS 9.
This leads to the following conclusion: iOS users have a high-quality standard and are technically up-to-date in most cases.
These quality standards also affect the concept of your App Store promotion.
Where are iOS and Android predominant? © DeviceAtlas
Basic Knowledge on How to Promote iOS Apps
As an app developer, it may seem difficult to figure out an app store promotion concept by yourself. Don't worry, there are some basic steps that everyone can realize to promote their iOS app and give it the best start position possible. The good things is that they can all be performed by yourself, meaning you can save money, too.

App Store Promotion: DIYs
There is no special know-how you need for taking the basic steps in iOS app promotion. The following ones only require a little time investment for improving the app's appearance and discoverability.

Click here to find a complete guide for your free app promotion.
App Store Optimization (ASO)
Even before publishing your app, you can already optimize its features and appearance in the App Store. If you improve these factors to promote your iOS app, it will improve its rankings and consequently guarantees more organic users.
There are various elements that play an important role for your app's ranking:
App Name
Here you need to make a good first impression since this one of the two elements users take a look at. Apple has set the limit to 50 characters so no keyword spamming, please!
Your app name should present its main idea, combined with your brand name and some creative features. In combination with the main keyword(s), this is the perfect start to promoting your iOS app.
Keywords
100 characters are allowed for your app's keywords, so they should be choose wisely.
Our tip: If you avoid spaces (and use commas instead) you create more opportunities of keywords combination. You will rank for far more keywords than if you separate them.
There are many criteria for which exact keywords app developers should use to make the best of their iOS app promotion.
Relevance
Competition / Rankings
Search Popularity / Volume
The right choice of keywords can have an important impact on your app's visibility. You can find various ASO tools for the App Store that will help you create a list with the best keywords to promote your app in iOS. Learn all about how to find the right keywords for your app in our detailed article.

App Icon & Screenshots
The app icon is THE visual eye catcher in the App Store. Make sure it is coherent with your whole app design and its idea as well.
When uploading screenshots of your app, try to show the main features of the app. Users will get a feeling about how your app works and what visuals they can expect.
Of course, they should be of high-quality, so don't hesitate to hire a graphic artist for this task: It will definitely be worth it! Great design means great results for your App Store promotion.
App Description
Here you can present all the great features of your iOS app to convince new users to download it. You need get to the heart of your app in the first 3 lines because this is what users will see first.
Before uploading your app description, make sure that there are no grammatical errors or typos. The same goes for translations: If you hire a translator, you will get the better results and promote your iOS apps more effectively.
We have set our focus on only some elements in this article. Click here to find a more detailed explanation about ASO.
App Store Revenue in China, Japana and the United States increased from 2014 to 2015 © ayeT-Studios
Creating Your Own Channels
Now that your app is perfectly embedded in the App Store, it is time to take the next step to promote your iOS app.
There are many ways to use online and other media channels to promote your iOS app. Nearly everybody has some kind of profile in the world of social media. But not only people are registered on these channels:
Companies use Facebook, Twitter & Co to present their services and products to their audience, always keeping them up-to-date.

You can create your profiles and start your iOS social media app promotion straightaway.
Why not create a landing page for your iOS app? On this website, you can present all the information about your app and also provide brand and company details. Make sure that the website is also suitable for mobile devices. Like this, you can be sure to reach all potential users during your iOS app promotion.
Other Channels You Can Take Advantage Of
To help your mobile app go even more viral, you should not only use your own channels but also contact other people to write an article or a review about your app. This way, you can expand the reach of your media coverage when promoting your iOS app.
There are many websites that offer app reviews and promotions for free. You can let your app get listed and let the admins write a review, giving basic information about your app and its features, too. Check out this article for more information.
You can also get in touch with editors and ask them to publish a line about your iOS app. Since they receive many requests every day, you should be well prepared and gather all the needed information in a press release – if your app is good enough, some editors might give it a try; a nice extra for your iOS app promotion.
Nowadays, there are blogs or video channels about every topic that people might be interested in – even techies find websites with gossip and news about mobile devices, equipment and apps. Share your app with these kinds of influencers and give them a good reason why they should promote your iOS app on their channel. If it suits their content, they will at least tend to take a look at it.

Most of the afore mentioned optimization tricks will directly help you improve your app ranking in the App Store. You will drive organic downloads, which is the cheapest way of generating installs.
Other channels like social media or building a website are a more passive way of driving installs. They won't help with improving your ranking directly (at least not for the Apple App Store), but will build your brand in the long run, leading to word-of-mouth advertising and hence more downloads.
Check the table below to see what works best for iOS and for Android ASO.
| | Play Store | App Store |
| --- | --- | --- |
| Downloads | ✓ | ✓ |
| Revenue (only paid apps) | ✗ | ✓ |
| App Starts (usage) | ✓ | ✓ |
| Number & Value of Reviews | ✓ | ✓ |
| Keyword Relevance | ✓ | ✓ |
| Recently Updated | ✗ | ✓ |
| Retention/Uninstalls | ✓ | ✗ |
| Country | ✓ | ✓ |
| Social Proof | ✓ | ✗ |
| Backlinks | ✓ | ✗ |
Differences in rank-influencing factors in the app stores © ayeT-Studios
Paid iOS App Promotion
If you are not sure about how to set up and start your iOS app promotion concept, you can take experts on board, too.
Ad Networks
Contact ad networks, who offer various kinds of services to promote iPhone apps. Depending on your budget, they will create a personalized app promotion strategy, including various mobile advertising formats.
Click here if you want to know more about ad networks.
Incent vs Non-Incent
You can choose if you want to use a method of rewarding users or not.
So-called incentivized offers give users an incentive for interacting with the app. The greater the attraction, the more users are willing to use the app. Such rewards can be items or other currencies for apps.
Potential users can also be encouraged to install and use a mobile app that is displayed on their mobile device – without receiving a reward for it. This is called non-incentivized offers, based on the true interest of potential users in your iOS app.
Which type of offer you should use for your iOS app promotion mostly depends on your app promotion strategy and your marketing budget. There are big differences in pricing for both types. Take a look at this article for more information about these 2 offer types.
Ad Formats
These are the most common ad formats used in mobile advertising for iOS app promotion. You can divide them into 2 groups.
The typical incent ad formats are:
Offerwall: Several offers are shown. When completing one, users will receive a reward.
Rewarded Video: Like non-incent videos they will play and show an end card at the end. However, in this case, users receive an incentive for watching the video. The install itself is always non-rewarded. Therefore, this ad format is basically a mixture of incent and non-incent advertising.
And these are non-incent ad formats:
Banners: The cornerstone of mobile advertising. They are obvious ads on the mobile display.
Natives: The modern banner, which is integrated seamlessly into the rest of the mobile content.
Interstitials: A full-screen banner that needs to be closed for continuing your activities.
Videos: They play on the user's display and show an end card (interstitial with an invitation to download the app).
Pricing Models
Depending on your iOS app promotion goals, it can make sense to choose different pricing models. To help you get an overview, we created a table below to match pricing models to the most common ad formats for incent and non-incent advertising.
You want to learn more about the most common pricing models? Check out our mobile media pricing article.
Pricing Models
Incent – Ad Formats
Non-Incent Ad Formats
CPI
Offerwall
Banner
Interstitial
Native
CPA / CPE
Offerwall
–
CPC
–
Banner
Interstitial
Native
CPM / CPV
Rewarded Video
Banner
Interstitial
Native
Video
Typical ad formats and their pricing models © ayeT-Studios

Promote Your iOS App Via Apple

Apple itself also offers some services to iOS app developers for boosting app discoverability.
Search Ads
With Search Ads, iOS app developers are able to place their app on top of search results. Since more than half of the app downloads are generated through search resluts in the App Store, this is a great opportunity to promote your iOS app more effectively.
With its self-service dashboard, creating a Search Ad campaign is very easy. There is no minimum spend for it and costs are only incurred if users tap the ad. Apple has set a bidding system for this feature, which makes it possible to set a price according to your current budget.
Earlier in this article, we talked about ASO and how important it is to provide the best possible information and graphics. You can take advantage of this metadata through "Search Match". This feature takes metadata about the app from the App Store for your iOS app promotion.
You can also either use keyword recommendations made by Apple or select keywords on your own, just like with Google AdWords. However, it is not possible to change the ad creative, this data will only be taken from your metadata.
Furthermore, relevance is more important than bidding regarding apps being displayed via Search Ads. Here, Apple again shows that it prefers high-quality to monetization. So, when you already did a great job on your ASO, you can draw on it.

Check out Apple's website for more detailed information.
Apple's Editorial Choice
This is no direct promotion tool for app developers but it may attract them to create the best app possible. Apple's editors continually choose great iOS apps that are displayed in these special sections of the App Store – so Apple will promote your iOS app.
Next to its appearance, features and quality, your app can also get the chance to be placed by lowering its price for a limited time. So, you might consider offering a discount from time to time.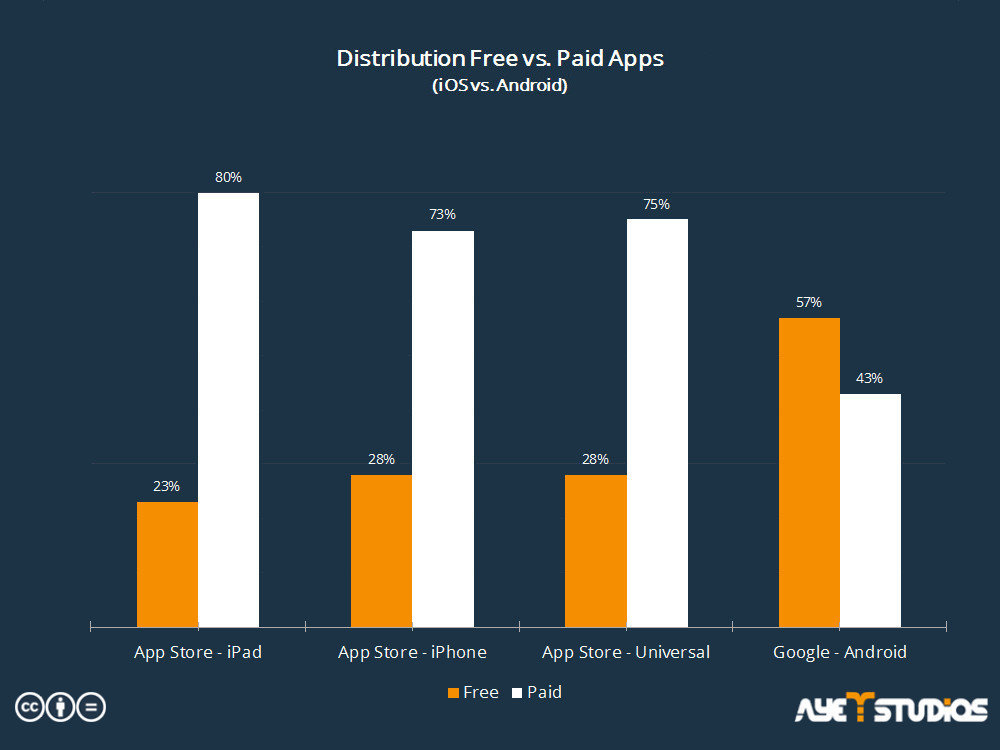 Free and paid app distribution for iOS in comparison to Android © ayeT-Studios
Last But Not Least: Monitoring
This aspect affects every piece of your iOS app promotion, no matter if you started it on your own or with an ad agency. You should always keep an eye on your data, statistics and results for your iOS app to make sure you invest in the right place at the right time.
Basically, this means that you have to change information and elements to see which way works best for your app. Especially in ASO, keywords can be switched to measure which ones are returning the best results.
Promote Your iOS App with ayeT-Studios
ayeT-Studios is specialized in app promotion for both iOS and Android. With its mobile ad solutions, it belongs to the leading ad agencies in the mobile market.
Below, you can find information about our pricing:
Rewarded
Advertising
Android
(starting at)
iOS
(starting at)
CPI
0,07$
0,15$
CPE
0,30$
0,30$
CPA (Signup, Registrations)
On request
On request
Rewarded Video (CPV)
0,020$
0,020$
Rewarded Video (CPM)
0,50$
0,50$
Non-Rewarded
Advertising
Android/iOS/Website
(starting at)
CPC
0,02$
CPM
2,00$
CPV
0,02$

https://www.ayetstudios.com/wp-content/uploads/2017/01/promote-ios-app.jpg
400
900
Pascal Ludynia
https://www.ayetstudios.com/wp-content/uploads/2017/05/ayetstudios_logo_03-200x49-1.png
Pascal Ludynia
2017-01-27 15:06:35
2019-11-14 09:18:42
Effective Strategies to Promote iOS Apps