If you've picked Android as your operating system, you need to promote your Android app in the most effective way to get awesome results.
Navigation
The World of Android
Before we start, let's look some basic information about Android itself.
Market Share
According to TechCrunch, Android hit 86.2% market share in Q2 of 2016 (while iOS had a market share of 12.9%). Android can be used by different mobile manufacturers, hence it isn't surprising that it is so popular worldwide.
This popularity makes it harder to publish and promote Android apps: Since every device manufacturer has different standards, it's a tough road to provide the best UX for all Android users.
The need for good mobile app promotion has risen in the last few years © ayeT-Studios
The Play Store
There are +2,000,000 Android apps available on Google Play Store, with thousands of new mobile applications being published on a monthly basis.
Most apps downloaded from the Play Store can be downloaded for free by the user. The statistics of Statista show that only 4% of the 100 highest-grossing apps in the U.S. require payment for usage.
So, choosing the right monetization model is an important factor for Android app promotion to increase their apps' popularity. Android users do not like to spend money for mobile applications unless they are really worth it.


Promote Android Apps for Free
Let's get started: How to promote Android apps in the most effective way without paying any money for it?
You can choose between many services that are ready to boost your app's visibility. Let us show you steps you can take by yourself first.

There are several things you can do to promote your Android app's discoverability. Since they are for free it is the perfect solution for a tight budget.
ASO on Google Play
To give your app the best ranking possible, the first thing you can do within your Android app promotion strategy is optimizing its page on the Play Store.
Nobody knows how Google's algorithm works in detail. But be sure: The information on your app's Play Store page is one of the most important factors, so arrange it right.
App Name
This is where ASO to promote Android apps starts:
The app name is the textual flagship of your mobile app and the place you have to combine creativity, function(s) and keywords – all in one title with 30 characters.
App Description
In the app description, you're also limited by a maximum of possible characters (4.000). Set your focus on the first 167 characters to promote your Android app because they will always be displayed.
The description contains all the information about your app that is necessary for the user. If you can make it attractive, users might want to take a closer look at your app.
You should make sure to use your keywords no more than 5 times in the description. Google will filter them out for keyword searches.

Keywords
Relevance, competition and search volume – these are the elements that will count for the correct choice of your app store keywords when promoting Android apps.
If you are not sure how to select the right ones, you can click here for detailed information about ASO keywords.
App Icon
App name and app icon: These two things are the main focus of attention when mobile users first check out new apps.
When you create the app icon, it needs to be consistent with your app's design. Otherwise, it will have a negative effect on your Android app promotion.
You can take a look at competitive apps in your app category to catch some ideas.
Screenshot & Feature Graphics
Mobile users have access to the so-called feature graphic, which is the small picture at the top of the page. It is a plain yet expressive picture, containing app name or icon only. Make sure not to forget it when you promote Android apps.
Potential users always want to see what your app can do before downloading it. With screenshots, you can perfectly show them features, feelings and use of your Android app.
Video
People love videos, so you can take advantage of it when you promote Android apps and create a short clip. Demonstrate what your app can do and why users should download this app.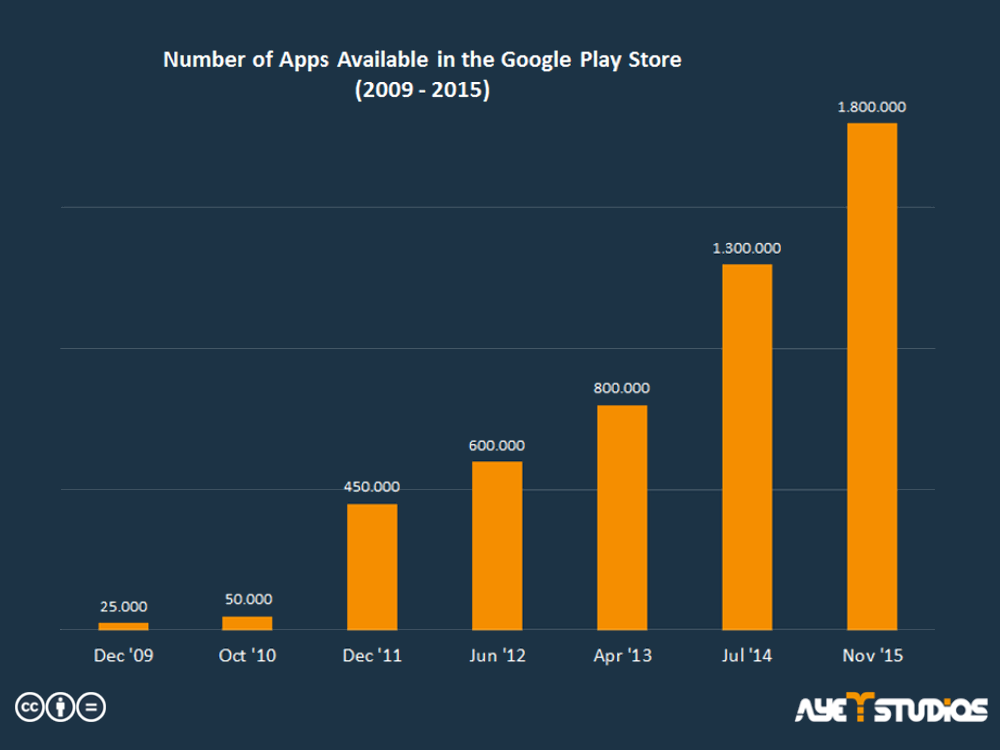 The amount of Android apps in the Play Store is growing steadily © ayeT-Studios
Your Channels for Your App
Now that your Play Store page is perfectly curated, you can get down to all the other channels. Spread the word and promote your Android app wherever possible.

Social Media
The perfect place to let your app circulate around the worldwide web is social media. Everybody knows about social media outlets and, for example, with an average of 1.15 billon active mobile Facebook users in December 2016 (as stated in the Facebook newsroom), there is quite a big potential for attracting new users in there.
You can take the chance and register your mobile app on the main channels and share
a post (Facebook),
a tweet (Twitter),
a picture (Instagram) or
a short video (Snapchat)
with your target audience. Check out this article about the perfect app promotion with social media.
App Website
Users don't want and need every single detail on the Play Store page. However, if you create a landing page for your app, users can take some time and take in all the information about your mobile app, your company and all other channels.
You will convey way more reliability by presenting a well-designed website for your Android app promotion and your company. Bear in mind to make it suitable for mobile devices, too.
External Websites, Forums and Blogs
Another step you should definitely take when working on Android app promotion is publishing it on other websites than your own and in hopes of making it go viral.
There are many review websites where mobile apps are rated and tested (just like nearly every product nowadays). Users might take a look around and search for certain app categories or even app names.
When you are listed on such websites, you can increase your app's discoverability. The good thing is: There are app review sites where you don't have to pay for such a service. All you need to do is register your app or contact the website admin. You can very easily promote Android apps this way.

In forums, like-minded people chat, discuss and share information about their favorite interests. Mobile technology lovers could be interested in your app, so you should definitely take the chance to register as a user and examine potential forums. Maybe you will find some to promote your Android app.
Another idea to promote Android apps are blogs. You can either create your own and give users insight on your app, news, updates, and so on.
Furthermore, you can contact bloggers to give a word about your app. If you can convince them of your app idea, they will show it to their audience.
More app promotion sites are listed here.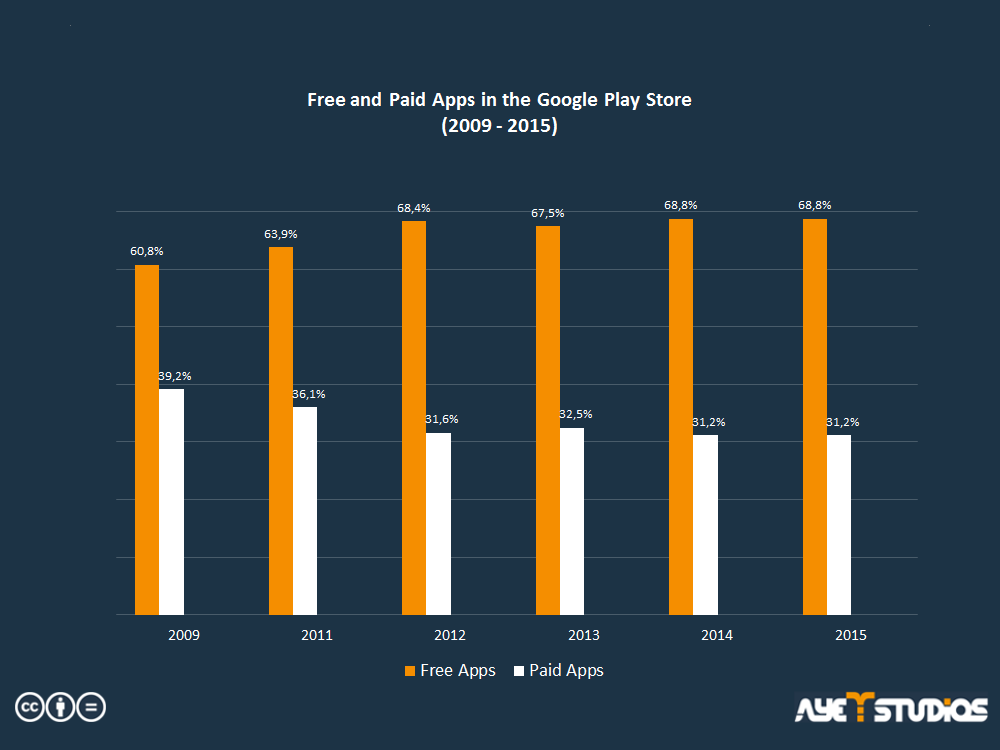 How paid and free apps are distributed in the Google Play Store © ayeT-Studios
Paid Promotion to Promote Android Apps
The afore-mentioned strategies already represent a great start to promote Android apps.

Is there more you can do to give your app a real kick? Yes, there are plenty of promotion services you can choose from if you invest some money.
Ask an Ad Agency
Many steps to promote Android apps can be taken by professionals in this business. Ad agencies have access to a widespread network they perform in and work with.
Furthermore, they collaborate with various people and channels on different media to offer the best adjusted service to promote Android apps.



Incentivized or Non-Incentivized?
This is an important question, not only for your budget, but also for your traffic and user behavior.
We will explain both types to you with regard to promoting your Android app. However, our tip is: It's always a good choice combining both strategies to get the best effect.
Incentivized
This ad model includes the exchange of items (e.g. virtual currencies or game items, upgrades, discounts, etc.) for user interaction.
More precisely: When a mobile user downloads/uses/interacts with your Android app, he/she will receive a reward for this behavior.
This model is cheap when choosing it for Android app promotion but leads to early abandonment of your mobile app, too. The most common ad formats exercising this model are offerwalls and rewarded videos. There, users have the chance to receive rewards if they complete tasks at hand.
Non-Incentivized
The non–incentivized ad model promotes Android apps without the exchange rewards. It simply means that engagement generated with the app were solely out of initial interest in the app, yet there is no guarantee the user will complete any further action.
The main advantage of non-incentivized app promotion strategies is that the users have no virtual benefit associated with the install of the app and that is why they are more likely to keep it and use it lately. This will bring great results when you promote Android apps.
The basic mobile ad formats for non-incentivized strategies are banners, interstitials, natives and videos. Users will start using the displayed mobile app if the ad attracts the sheer interest of the people in the app.
Click here for more detailed information about mobile app promotion and ad formats.
Pricing Models
Incent – Ad Formats
Non-Incent Ad Formats
CPI
Offerwall
Banner
Interstitial
Native
CPA / CPE
Offerwall
–
CPC
–
Banner
Interstitial
Native
CPM / CPV
Rewarded Video
Banner
Interstitial
Native
Video
Typical ad formats and their pricing models © ayeT-Studios
Pricing Models
There are various pricing models available for Android app promotion. To make sure that you receive the best results with your strategy, here are some of the basic media pricing models:
CPA: Cost Per Action (payment for a certain action)
CPE: Cost Per Engagement (payment for an interaction – ayeT-Studios offers this type for direct engagement time!)
CPI: Cost Per Install (payment for an install)
CPM: Cost Per Mille (payment for every 1,000 impressions)
CPV: Cost Per Completed View (payment for watching a video)
You want to learn more about the most common pricing models? Check out our mobile media pricing article.




Insider Tips

Promoting your Android app with the methods we discussed will already improve your app's discoverability noticeably.
Now, we have some tips that might lead to even more success for your app.
Make Use of Alternative App Stores
Google Play is the biggest and most famous store for Android apps. Additionally, there are way more app stores that contain apps based on this OS.
Although publishing an Android app directly in Google Play seems to be the most attractive option, there are many advantages for choosing third party app stores to promote your Android app.
Target Audience
It is hard to get access to some countries and their users, either due to national regulations or because of the popularity of regional app stores. If users have more trust in these stores than in Google Play, you will barely attract potential users from these regions.
Take China as an example, where Google Play is not even available to promote your Android app at all.
App Category
When users want to download an app from a specific category (e.g. games) there are app stores available that specialize in certain classes.
For example, the Chinese app store "D.cn Games Center" has set its focus on mobile gaming. If you promote your Android app in such stores you can be sure to reach the perfect target audience for your application.
Revenue Share Model
While Google offers a 70/30 revenue split, some alternative app stores offer app developers a higher percentage. "Soc.io Mall" distributes revenue 80/20 – in favor of app developers.
Furthermore, these app stores also offer various tools to promote your Android app's visibility. Such elements are not given in the major app stores, which is a great benefit for app developers.
Mobyaffiliates gathered some data about alternative app stores, their users and downloads. These numbers are quite impressive: AppChina has 30 million users, with 600 million apps downloaded monthly.
These facts prove that publishing and promoting Android apps in other app stores mostly carries advantages for your app. It should be definitely worth a thought.



Get Connected with Google AdWords
This online advertising tool by Google lets you promote products via various ad formats, displayed on different channels. You can promote Android apps with it, too.
There are two campaign types you can choose from:
Universal App Campaign
This option lets you promote Android apps via different ad formats and on several networks available by Google. Text and visual elements are taken from your app's app store page (one more reason for ASO).
This campaign type is based on a CPI bidding system, meaning you can choose how much you are willing to pay for users installing or first-opening your Android app. Thus, you can promote your Android app and increase your marketing budget if results are great.
Mobile App Installs Campaign
With such campaigns, you target only one network to generate app installs. Depending on the specific campaign model, you can choose between CPA, CPV, and CPI as bidding option to promote your Android app.
There are three different campaign models, each of them target a different network:
Display Network app installs campaigns (text or image app install ads)
Search Network app installs campaigns (text app installs ads on)
TrueView for app installs campaigns (video ads on YouTube)
According to your Android app promotion strategy and your target audience, you can select the campaign type that best fits your needs.
With its bidding system, you can adjust it to your current marketing budget. Click here for more information about mobile app installs campaigns with Google AdWords.
Get Connected with ayeT-Studios
Ad agencies like ayeT-Studios provide different kind of app promotion services for both Android and iOS. With their multichannel ad solutions, they can tap into a wide variety of different channels to optimize campaigns across publishers. Facebook and Google only combine for around 50% of the mobile advertising market, leaving behind a big chunk of other (often times cheaper) opportunities to promote your Android app.
Combined with the optimization across ad formats and pricing models, ad agencies like ayeT-Studios can offer a highly competitive alternative to Facebook and Google to promote your Android app. Try it yourself!
Beneath, you can find information about our pricing:
Rewarded
Advertising
Android
(starting at)
iOS
(starting at)
CPI
0,07$
0,15$
CPE
0,30$
0,30$
CPA (Signup, Registrations)
On request
On request
Rewarded Video (CPV)
0,020$
0,020$
Rewarded Video (CPM)
0,50$
0,50$
Non-Rewarded
Advertising
Android/iOS/Website
(starting at)
CPC
0,02$
CPM
2,00$
CPV
0,02$

https://www.ayetstudios.com/wp-content/uploads/2017/01/promote-android-app_1.jpg
390
890
Pascal Ludynia
https://www.ayetstudios.com/wp-content/uploads/2017/05/ayetstudios_logo_03-200x49-1.png
Pascal Ludynia
2017-01-27 15:07:07
2019-11-14 09:07:07
How to Effectively Promote Android Apps