You've finally finished the development of your app and now want to introduce it to the mobile world? The deciding factor for being successful is acquiring and building a wide user base. Not just any users! It is important to attract the right users, who want to engage with your app for a long time! In this article, we will explain the most important aspects and effective methods for your user acquisition strategy.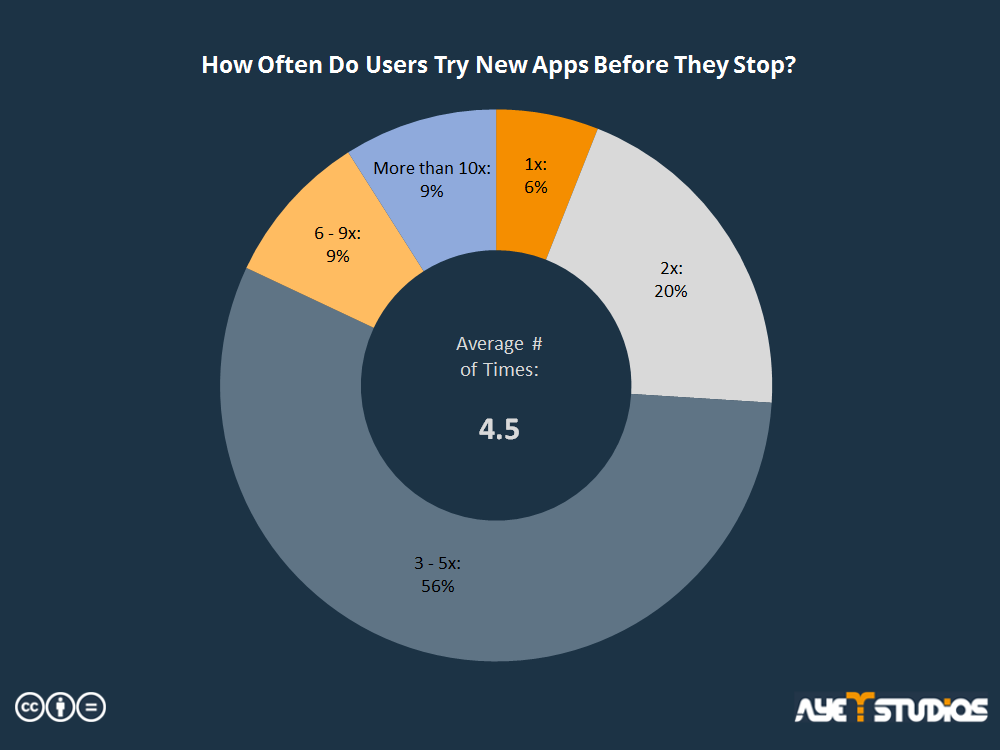 Users try new apps an average of 4.5 times before stopping © ayeT-Studios
Before Starting Your User Acquisition
Don't dive into the user acquisition straightaway, even if you already have a rough strategy in mind! First, you have to be certain of a few remaining questions:
Is the Development of Your App Finished?
Make sure that the development of your app is truly finished before introducing it to the market. It should be as bugless as possible to ensure an enjoyable experience for the user. If this is not the case, no user will be willing to keep your app after downloading it.
Did You Set a Concrete Plan and Goals?
You should always think about your favored achievements before implementing a strategy or even starting a campaign. Determine the channels you want to use, metrics to measure your success, your time and your needed staff. In short, specify your Key Performance Indicators (KPIs), which tell you if you are on the way of achieving your goals or not.
Did You Estimate Your User Acquisition Costs?
Before planning your definite user acquisition strategy, you should calculate your budget! A very important metric are the user or customer acquisition costs (CAC), which measure how much you can spend on each user. You can determine your CAC by taking all your marketing expenses divided by the acquired users within a specific period of time. Even if you haven't acquired any users yet, you should always keep estimated numbers in mind. The CAC are a crucial factor for the success and profit of your business!
Take a look at this article to learn more about this topic.

What Is the First Step of Your User Acquisition Strategy?
You should start off your user acquisition strategy by identifying the right users for your app. Undoubtedly, it is important to understand your (potential) users before investing money in a big marketing campaign. The risk is targeting the wrong users, which makes even the best user acquisition strategy futile. Therefore, we recommend publishing your app in only one or two countries first, which is called a soft launch. This allows you to analyze specific user segments, who are interested in downloading and keeping your app. While doing so, you should also think about the following questions:
What are your (potential) users generally interested in?
What are they searching for on google or in the app stores?
Which other apps do they use?
On which social media channels can you find them?
What are they talking about?
Who are they following?
At what times are they engaging?
How long will they keep your app on their smartphone? You can gauge this by using tracking providers to analyze session duration and retention rate.
What about demographics like age, gender, marital status, education, etc.?
Consider the answer to each question while planning your mobile user acquisition strategy! Thereby, you are able to target a specific audience rather than too many users, who may not be interested in engaging with your app.
Which Tools Can You Use for Your Mobile User Acquisition Strategy?
After clarifying the remaining questions and determining the right user group for your app, you can finally start planning a definite user acquisition strategy. Of course, there are many different ways of approaching your users, though not all of them are appropriate for you. You have to choose the most suitable method according the kind of app you're publishing and your targeted audience. Keep in mind that even the slightest changes in either of these factors should result in an adjusted strategy.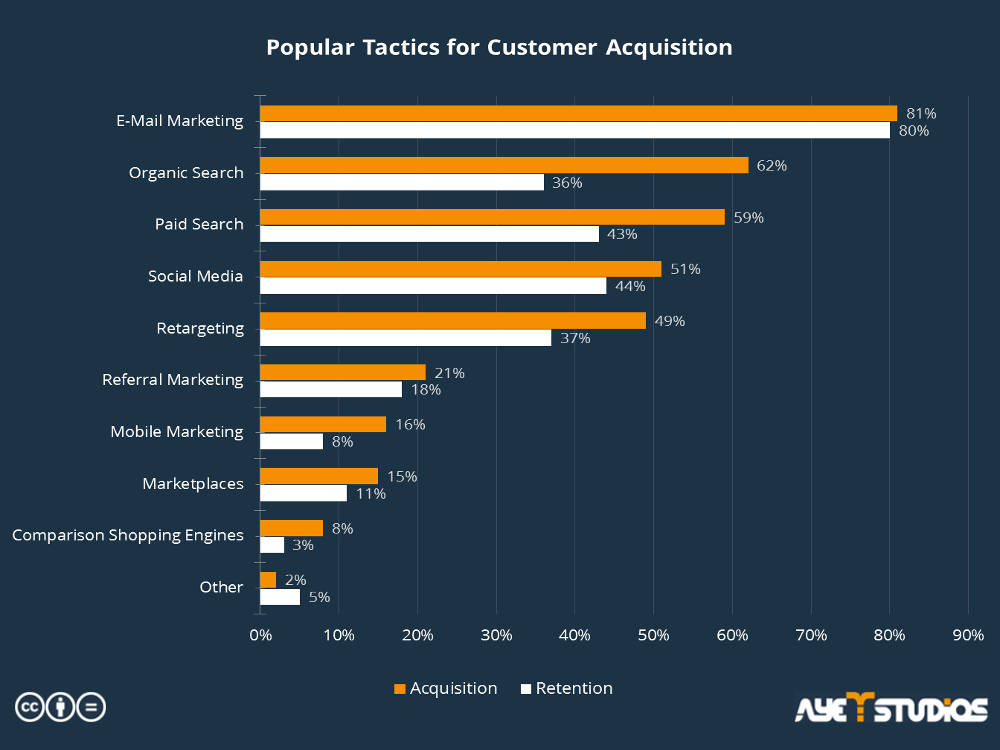 E-Mail marketing is the most popular tactic for both user acquisition and retention © ayeT-Studios
We collected quite a few organic, as well as paid tools, which we are going to explain in greater detail below.
Organic Methods
You can use many different channels for your mobile user acquisition strategy that are absolutely free of charge. They work well for generating new and interested users for your app, but often you have to invest time to be successful.
Activate Your Own Social Network
A very simple way of building a solid user base, even before you published your app, is talking to your own social circle. Tell everyone you know about your product and which feature makes it special and unique. Whether it's your family, friends, colleagues, business partners or fellow students, each of them could start word-of-mouth publicity for your app. This is a great way of attracting potential new users since they will certainly trust the recommendation of someone they know well.
Focus on Ratings and Reviews
Carefully read all existing reviews! They indicate exactly how satisfied your users are with your app and sometimes even provide ideas for possible changes and improvements.
Additionally, think about submitting your app to app discovery platforms and review sites. These present, review and promote new and unknown apps. If they like your app, this presents a good chance of acquiring new users since many users have trust in the opinion of these sites.
Use ASO to Optimize Your App Store Appearance
Just like with most situations in life, the first impression is crucial. Users decide whether or not they want to download an app mostly due to its appearance in the app store. If your app visually attracts them and informs them of all features and benefits, they will most likely install and actually engage with it.
Click here to learn everything about optimizing your app store appearance to convince users of downloading your app.

Create A Website for Your App
Another important factor of ASO is creating a landing page for your app. This is a good way of providing important information about your app and showing its main features. The website should be well designed and include links to your app store page. Thus, the users won't have any difficulties getting to your app. Additionally, include contact information of your support team in case active or potential users have any problems or questions.
Tweak Your E-Mail Marketing
A mailing list is a good opportunity to keep your users updated at all times. With services like MailChimp, you can compile a list containing your important contacts and send a mail to each of them with just one click.
Make sure your content is interesting and offers relevant information for the users since you don't want to end up in their spam folders. Furthermore, don't forget to include your contact information and links to your website, app store page and social media channels.
Use Social Media Channels for More Virality
You can create an account on the social media channels that you and most importantly your users prefer, for example Facebook, Twitter and/or YouTube. By doing so, you can reach out to your users and communicate with them on a personal level. Therefore, you have additional possibilities of reacting to feedback or occurring questions and spreading news or updates much faster.
Build Your Own Brand
Next to your social media presence, you should also focus on building your own brand. Within this endeavour, it is important to define key features like the overarching design, visual language and message of your brand and the experience that you want the users to associate it with. You should match these key features to your app since users will be more inclined to recognize it. This highly improves the chances of them downloading your app, as well.
Furthermore, think about creating a blog to inform your users about any news and updates of your app. Again, use the features you defined for your brand.
Talk to the Press
If you want to communicate with the press, make sure to prepare yourself! Have a complete media kit or press release including all relevant information about your app at your hands. Invest some effort into an appealing design to convince the journalist to write about your app. The chances of people reading an article and downloading your app will rise.
Talking to the press guarantees your app a lot of attention and far reach. This method enriches your user acquisition strategy since many people have trust in the press as long as it is credible.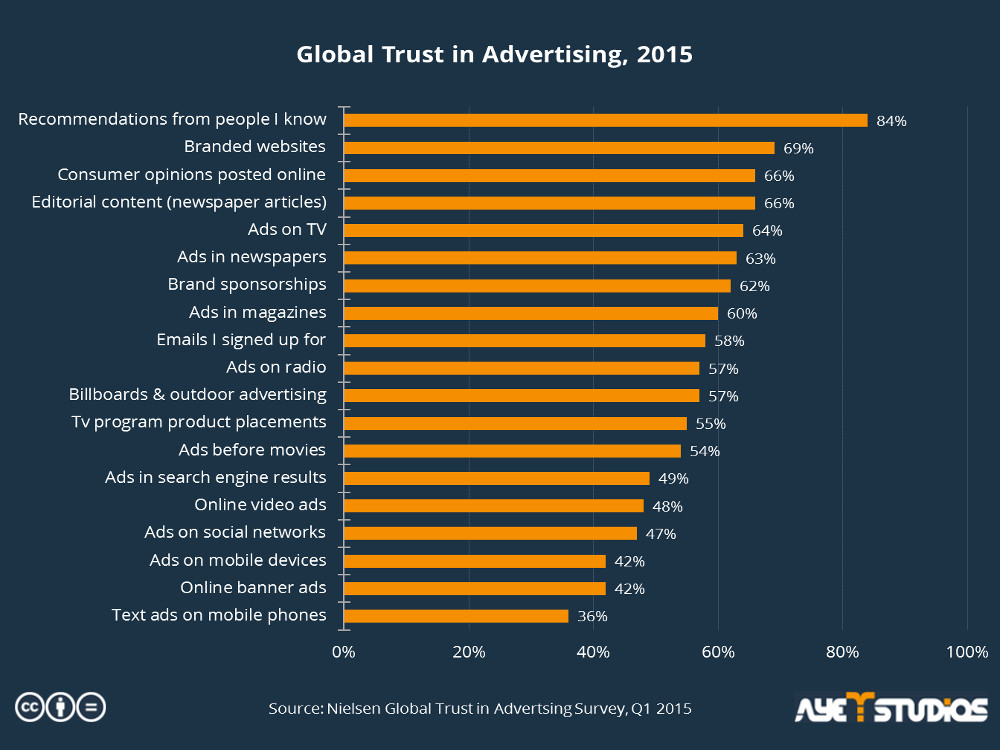 Which advertising channels do users trust the most? © ayeT-Studios
Paid Methods
With the right budget, there are paid methods for your user acquisition strategy as well. Below, we will show you some of the most effective ones available.
Install Campaigns Based on CPI
With install campaigns, you are able to boost your number of app installs and as a result your ranking in the app stores as well. This leads to higher visibility of your app and consequently to more organic traffic and installs.
The pricing model for install campaigns is CPI, which means you pay for every completed install of your app. There are two different options you can choose from: incent or non-incent campaigns. The former describes install campaigns where users are offered a reward for downloading the app. Here, the results are immediate and your ranking improves significantly. However, there is no guarantee for long-term engagement of your users, which means the effects may be rather short lived.
In comparison, non-incent install campaigns don't reward a user for downloading your app. They decide to engage with your app on their own accord. Since they are truly interested in your app, the chance of them keeping it for longer is very high. Though, non-incent campaigns are usually more expensive than incent campaigns and it often takes more time before you see any results.
Another, special, type of install campaign is called High Retention Installs – a unique offer by ayeT-Studios. The main idea is only to reward the user if he or she kept your app for at least three days. Like that, your retention rate increases distinctly.
Read a much more detailed article about this topic here.

Use Social Media Ads
Although social media platforms are mostly free of charge, you can also invest some of your budget in social media ads. Since Facebook is the biggest social network, with 1.86 billion monthly active users in 2016, it's certainly one of the best choices in terms of reach. It's still wise to consider other platforms such as Twitter, Instagram or YouTube as well.
Communicate with Influencers
Another way of using social media as a paid method for your user acquisition strategy is influencer marketing. Besides the press, as we mentioned earlier, you can also get in contact with so-called influencers. These are people who have large follower bases on different social networks like bloggers, YouTubers or other social media stars. Getting them to recommend your app offers you many potential users since most of these followers trust their idol's opinion.
Cooperate with Professional Ad Networks
Ad Networks like ayeT-Studios that are specialized in mobile marketing provide a great platform for advertisers to implement user acquisition campaigns. Additionally, you can choose from different pricing models and combine them with your favored ad format. Which one you pick is entirely up to you, your target audience and what kind of app you offer.
Different Media Types for Your User Acquisition Strategy
As there are many different approaches, there are various media for your user acquisition strategy, as well. Below, we explain the most common media types and their main functions in greater detail. Furthermore, we compiled an overview of these types plus some examples for your better understanding. In general, a balanced mix of these media types works very well. However, you have to decide on the exact ad formats that best suit your marketing needs and goals.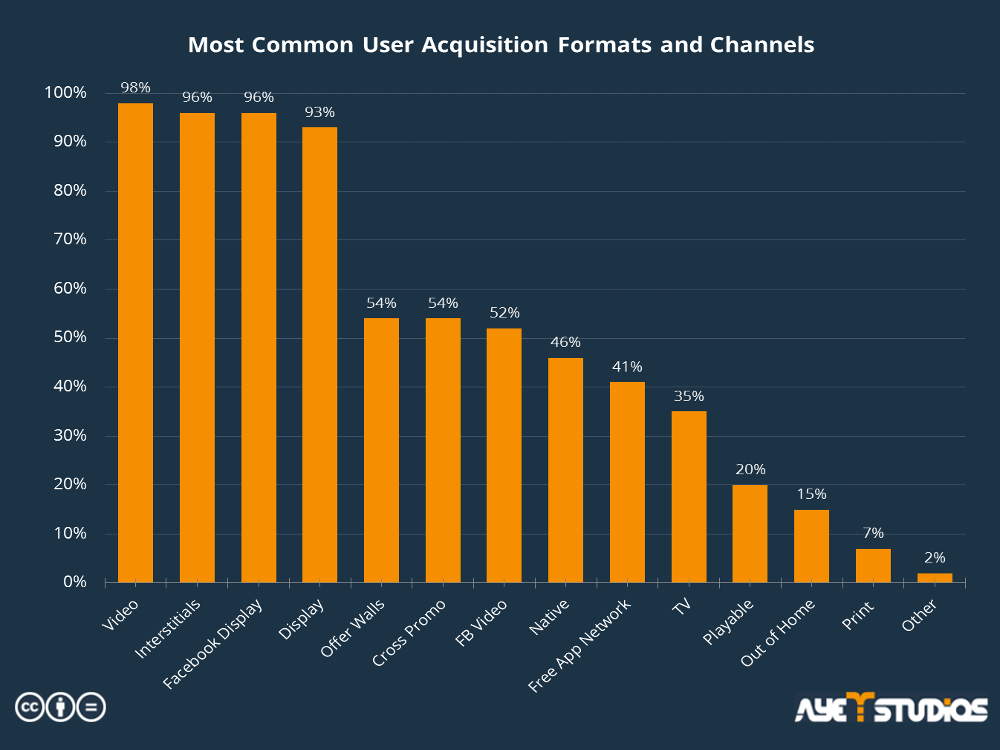 The most common user acquisition formats and channels © ayeT-Studios
Paid Media
This media type includes all kind of paid advertising campaigns during the marketing process. They can appear in the form of various ad formats on any media like tv, print, internet, radio, the cinema as well as out-of-home media (e.g. on billboards). Here, another advertising method is native advertising. The advertiser can decide through which format and content he wants to deliver his message. The downside: This kind of advertising requires quite a large budget.
Earned Media
Earned media describes various content that has been created outside of the company and wasn't paid for or assigned in any way. These are primarily social media posts (which are organic and might go viral) and contributions or recommendations on review sites. If you practice authentic PR and sufficient CRM, independent media will draw attention to your company.
Owned Media
The term 'owned media' includes all content that has been created and published by the company itself. These can be websites, customer magazines, (corporate) blogs and various social media channels and accounts. Oftentimes, this kind of media is referred to as Corporate Publishing, which refers to the communication between the company and its own media channels. Companies check these contents permanently and mark them as company content for customers. However, this could lead to mistrust due to potential biases of the author/publisher.
Paid Media
Earned Media
Owned Media
Advertising
Public Relations
Social Media Posts
Sponsored Content
(Non-paid) User Reviews
Content Marketing
Marketing Collateral
Influencer Marketing
Word-of-Mouth Advertising
Website
App Store Page
An overview of different media types for your user acquisition © App Annie
A Few Last Tips
To make sure your user acquisition strategy is as successful as possible, we wish to give you a bit of advice. Use these tips during your actual user acquisition campaign!
Don't Reveal Too Much Too Fast!
Make sure not to reveal everything at once! Announce updates and upcoming features one at a time to keep users curious and interested in what's new to come.
Constantly Measure Your Success!
For every marketing campaign, it is crucial to know which channels provide the best results. Naturally, user acquisition is a process that changes permanently. Therefore, you have to measure its efficiency and success constantly and, if necessary, change your approach. Otherwise, you won't be able to detect whether your current user acquisition strategy is worthwhile or pointless.
Continue Testing!
Again, the aim is to know which channels work best for you and your app. Therefore, you have to change your strategy and your methods regularly in order to compare the results and identify the most effective ones.
And Finally: Retain Your Acquired Users!
One of the most important factors for being successful with an app is user retention. Therefore, generating users should not be the only part of your user acquisition strategy. Keep in mind to update your app and reach out to your users regularly in order to retain them as well! For instance, if you chose an incent approach for your user acquisition, make sure to constantly reward your active users.

https://www.ayetstudios.com/wp-content/uploads/2017/04/business-690675_1280-e1491488736655.jpg
758
1280
Alina Dettmer
https://www.ayetstudios.com/wp-content/uploads/2017/05/ayetstudios_logo_03-200x49-1.png
Alina Dettmer
2017-04-06 15:39:54
2019-11-14 08:53:53
Find the Best User Acquisition Strategy for Your Mobile App!